Collection Spotlight: AAPG Datapages
A database containing current and archived publications and data sets from around the world for petroleum geologists and students.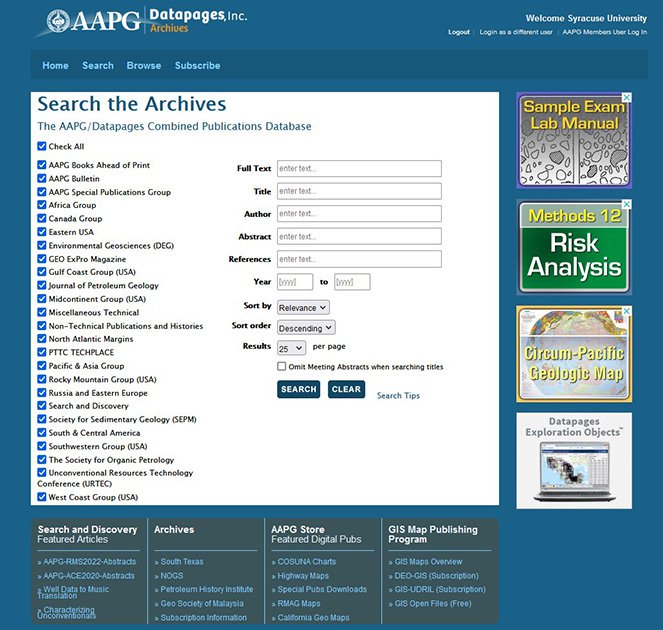 by John A. Olson, Librarian for Government and Geo-Information
AAPG Datapages, from the American Association of Petroleum Geologists (AAPG), is comprised of the archives from 51 different petroleum focused publications grouped into 25 different categories. Searching is easy by querying the entire database or selecting one or more groups together. Some content is published by AAPG while other materials are gathered from the archives of more than 30 different organizations and associations and include: conference proceedings, research journals, reports, newsletters, field trip guides and special publications. Some content dates to 1917. Most titles are available in full text but there will be a few titles that are only available as abstracts. Selecting an article will display available full text on screen, which can be downloaded as a PDF. There is a section within this database with links for downloading various GIS layers that have been collected by AAPG's GIS Map Publishing Program. There are also direct links to other state and federal geological surveys.
This database is a one-stop-search interface for selecting specific associations or publications; you can specify your subject or keyword terms with wildcards into the search for best results. The results will indicate if the article is available in full text or if it is only an abstract.
This database is available from the libraries' database list and is also included as a link on my Earth and Environmental Sciences Research guide's Core Database page along with a number of other geological database resources that you may also find useful. To provide feedback or suggest a title to add to the collection, please complete the Resource Feedback Form.