A Survey of Spooky in SCRC
Ariana Cook G'24 highlights spooky finds from the Special Collections Research Center in honor of Halloween!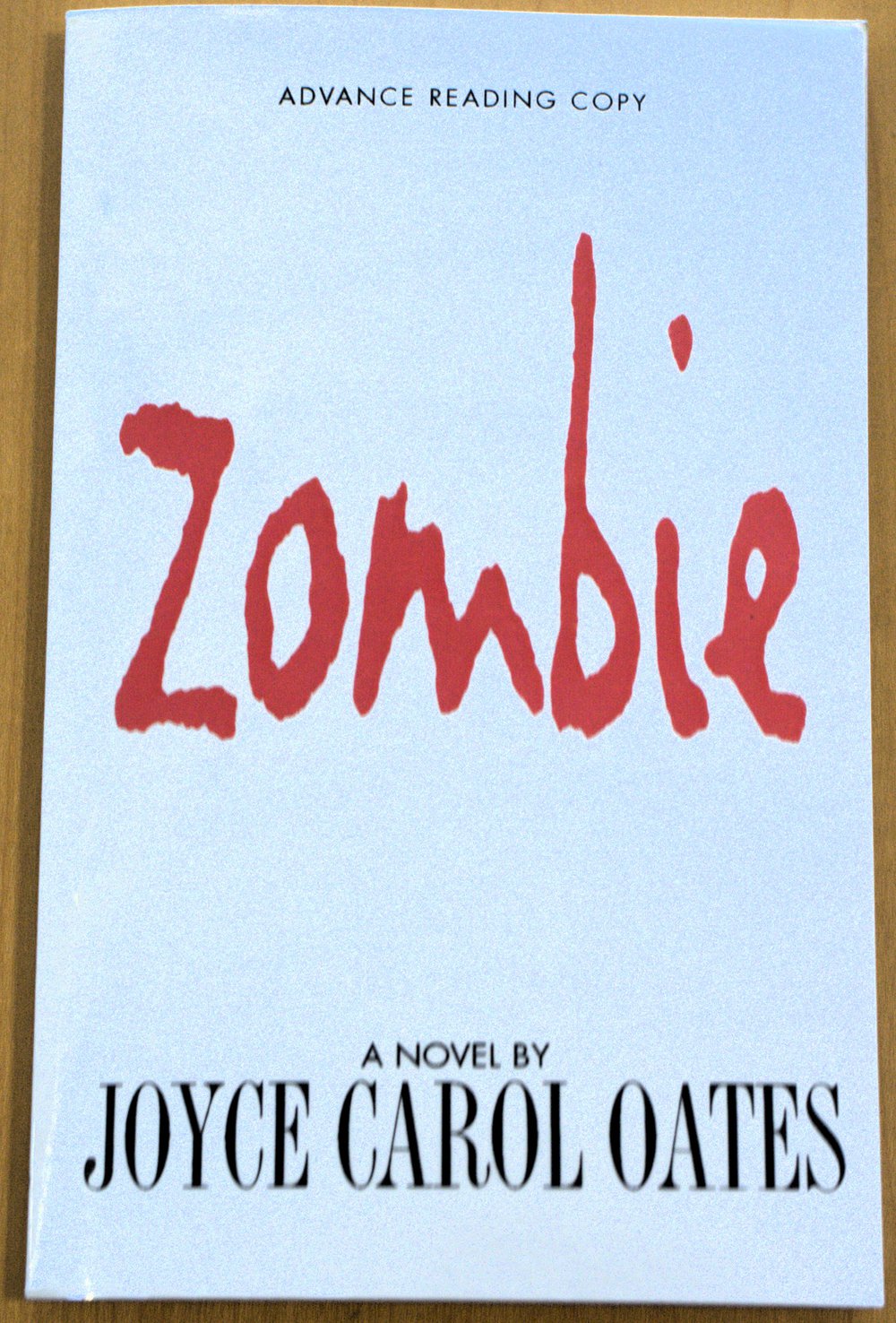 by Ariana Cook G'24 (School of Information Studies), Special Collections Research Center Instructional Assistant
"Zombie" by Joyce Carol Oates
PS3565 .A8 Z43 1995
Originally published in 1995, Zombie, by American writer Joyce Carol Oates, takes inspiration from the life of serial killer Jefferey Dahmer. Oates takes readers inside the mind of the novel's killer protagonist; Zombie tells an unnerving story from the murderer's point of view.
The advanced reader's edition of the novel contains notations from the author, enabling the reader to peer into the mind of a killer as well as the author.
Oates is from New York and received her bachelor's degree at Syracuse University. She began writing at the age of 14 when her grandmother gifted her a typewriter.
Oates published her first book in 1963 and has since published 58 novels, a number of plays and novellas, and many volumes of short stories, poetry and non-fiction. Many of her writings can be found in Special Collections.
"A garden of earthly delights, Because it is bitter, and because it is my heart, We were the Mulvaneys, and The gravedigger's daughter."
"The Good House" by Tananarive Due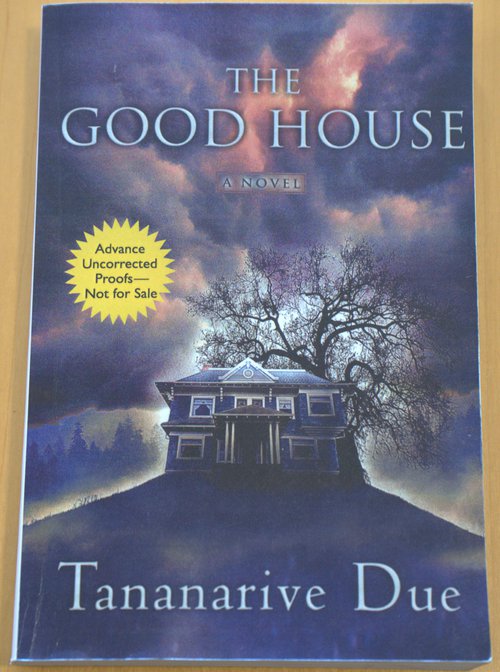 PS3554 .U3413 G66 2003b
The Good House is a horror novel by American writer Tananarive Due, first published in 2003. The story follows Angela Toussaint as she returns to her late grandmother's home in Sacajawea, Washington, where her son passed away two years prior. Will she be able to unearth the mystery of her son's death while grappling with the history her grandmother left behind?
Tananarive Due (tah-nah-nah-REEVE) is an American writer and educator from Florida. She is also known as a film historian with expertise in Black horror.
Many of Due's other works can be found at Bird Library and Martin Luther King Jr. Library, including: Blood Colony, The Black Rose, Devil's Wake: a novel, Joplin's Ghost, My Soul to Keep, and The Living Blood.
"The Haunting of Hill House" by Shirley Jackson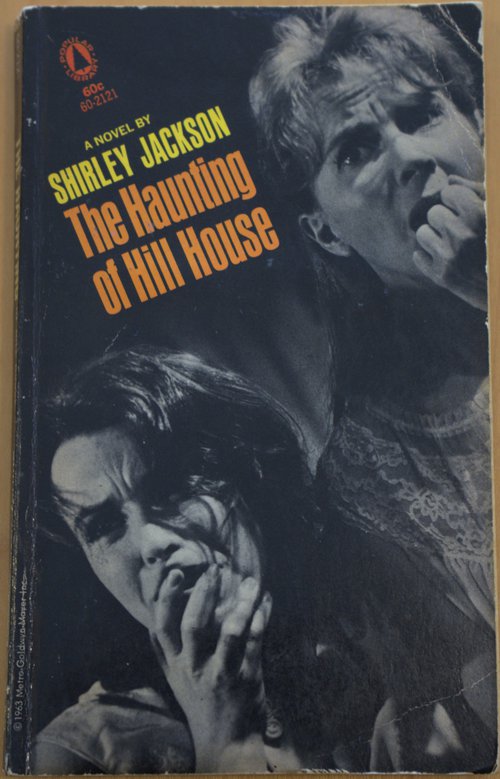 PS3519 .A392 H3 1959b
The Haunting of Hill House is a 1959 gothic horror novel, recently made into a Netflix series and attraction at Orlando Studio's Halloween Horror Nights. Additionally, it was made into two feature films and a play. The Netflix show draws inspiration from the setting, plots and characters of Jackson's novel. However, readers should check out the novel to learn the haunting origins of their favorite onscreen characters.
The story centers around anthropologist and parapsychologist Doctor John Montague, who hopes to legitimize the field of parapsychology through groundbreaking new research. He invites a carefully-selected group of psychically sensitive individuals from around the country to spend part of the summer at Hill House—a manor in the northeastern United States with a reputation for being deeply haunted.
Shirley Jackson was born in San Francisco in 1916 and spent her childhood in California, where she began writing poetry and short stories as a young girl. Her family moved East when she was a teenager, and she attended the University of Rochester. Jackson then attended Syracuse University in 1937 where she earned her bachelor's degree in journalism. The Haunting of Hill House is dedicated to Leonard Brown, Jackson's English teacher at Syracuse University. Jackson, a prolific horror and mystery author, has written six novels, two memoirs and more than 200 short stories.
Many of Jackson's other works are available in Syracuse University's Bird Library and Special Collections: Bird's Nest, Dark Tales, Hangsaman, Lottery and Raising Demons.
"Frankenstein" by Mary Wollstonecraft Shelley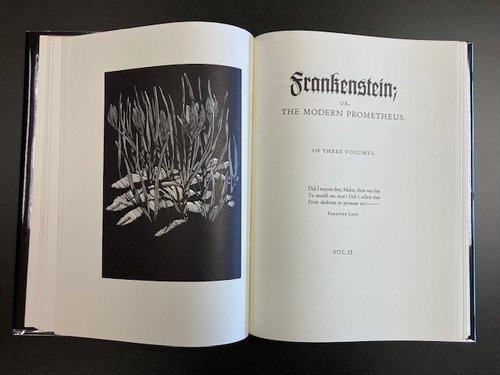 PS3565 .A81 F72 1984 f
Mary Shelley's first novel, Frankenstein; or, The Modern Prometheus, debuted in 1818 and would go on to be known as one of the original mad scientist stories. Shelley was 18 years old when she wrote it, and the novel is now one of the earliest examples of science fiction.
Frankenstein tells the story of Victor Frankenstein, a young scientist who creates an unearthly sentient creature in a supernatural scientific experiment. Victor must then face his creation and the consequences of his experiment.
This variation of the work contains illustrations by Barry Moser and an essay by Joyce Carol Oates. This edition of Frankenstein contains engravings on wood by Lynd Ward that provide the reader with imaginative and creepy interpretations of Shelley's creature.
Mary Shelley was born in London in 1797. She was the second child of the feminist philosopher, educator and writer Mary Wollstonecraft and the first child of the philosopher, novelist and journalist William Godwin. She was married to the infamous poet Percy Shelley. In May 1816, Mary, Percy and Mary's sister travelled to Geneva to stay with poet Lord Byron where Mary would conceive and write her famous novel.
Although Shelley did not write many other novels, a few of her other works are housed in Syracuse University Libraries: Falkner: a novel, The Fortunes of Perkin Warbeck: a romance, The Last Man, and the Letters of Mary W. Shelley
"Rebecca" by Daphne Du Maurier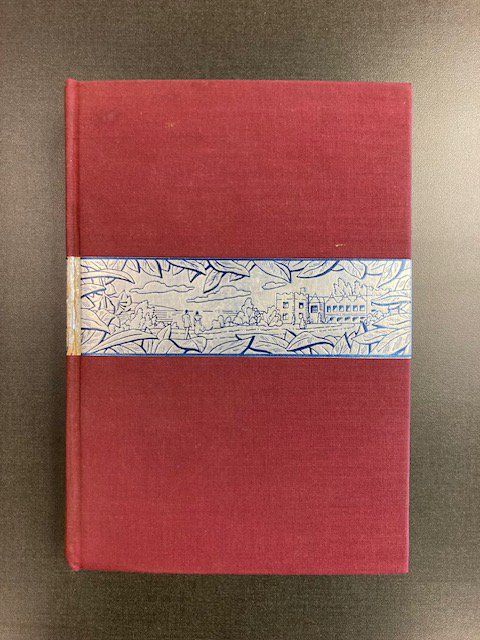 PR6007 .U47 R5 1938
Rebecca is a 1938 Gothic novel written by English author Daphne du Maurier.
The novel depicts an unnamed young woman who marries a wealthy widower before discovering that both he and his household are haunted by the memory of his late first wife, Rebecca.
Daphne du Maurier was born on the 13th of May 1907 in London, England. She was a successful English novelist, biographer and playwright. She is best known for her novel Rebecca and her short story "The Birds", both of which have been adapted into films by Alfred Hitchcock. Her parents were actors, and her grandfather was a cartoonist and writer. She spent most of her life in Cornwall where many of her novels are set.
Other titles held by Syracuse University Libraries include: The Loving Spirit, Jamaica Inn and The Flight of the Falcon.
Aleister Crowley Papers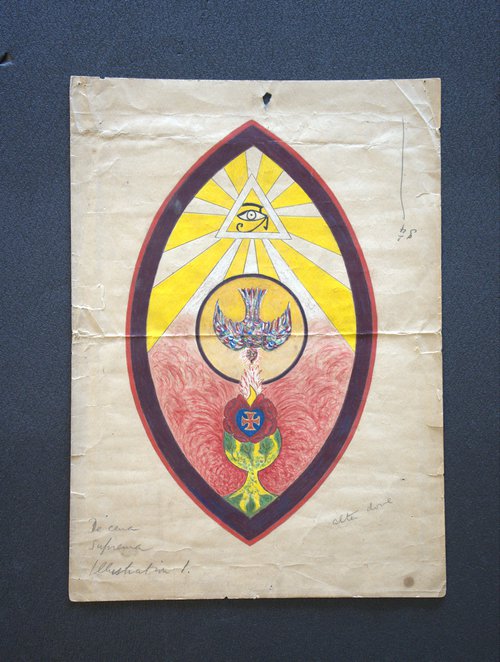 Aleister Crowley (1875-1947) was an English occultist, writer and mystic. Crowley is best known today for his occult writings, especially The Book of the Law, which laid out the central tenets of Thelema, a religious philosophy he developed.
Crowley was involved in several occult organizations, including the Hermetic Order of the Golden Dawn and Ordo Templi Orientis (O.T.O.).
"History of the strange sounds or rappings : heard in Rochester and western New-York, and usually called the mysterious noises! Which are supposed by many to be communications from the spirit world: together with all the explanation that can as yet be given of the matter." By Dewey, D. M. (Dellon Marcus)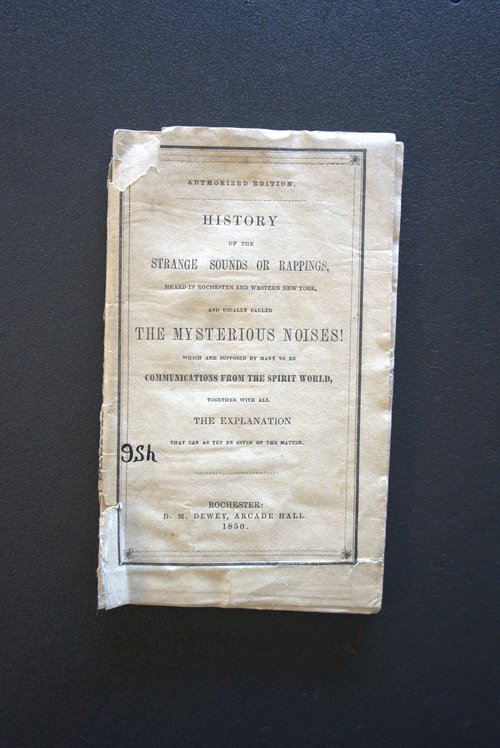 Dellon was a commercial botany artist in the 19th century. Rochester, New York had received the name 'Flower City' in the mid nineteenth century because of its number of garden companies that sold seeds and plants. D. M. Dewey was one of the botanical artists that played a key role in helping garden companies sell seeds and plants.
They also wrote and published The nurseryman's pocket specimen book: colored from nature : fruits, flowers, ornamental trees, shrubs, roses
"Something Wicked This Way Comes" by Ray Bradbury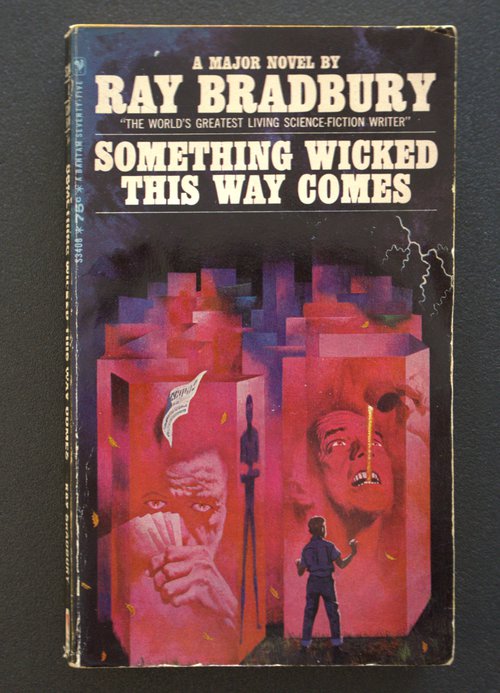 Something Wicked This Way Comes is a dark fantasy novel by Ray Bradbury written in 1962. It is about two 13-year-old best friends and their nightmarish experience with a traveling carnival that comes to their hometown. Thrown into a battle of good versus evil, together the two boys learn to face their fears in this haunting coming of age story.
Ray Douglas Bradbury (1920 – 2012) was an American author and screenwriter. Known for his work in the genres of fantasy, science fiction, horror, mystery and realistic fiction, he was one of the 20th century's most well know authors, with his most popular work being Fahrenheit 451.
"Space Witch" by Dom Freeman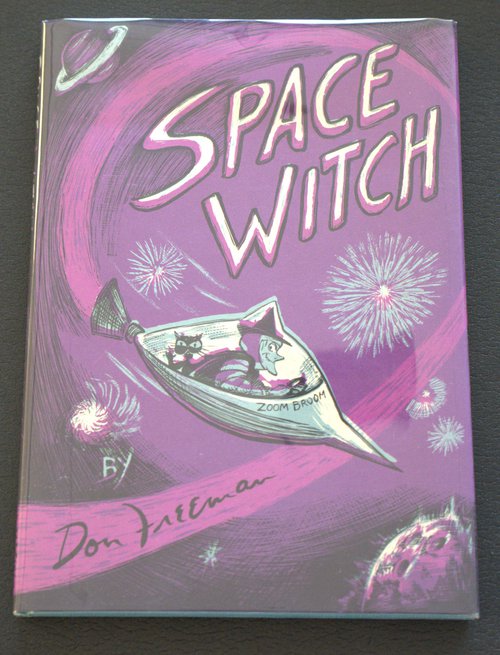 Space Witch is Book #1 in the Tilly the Witch series created by Don Freeman.
In Space Witch, Tilly Ipswitch, Queen of Halloween, constructs a spaceship called Zoom Broom and sets out to scare creatures on other planets
Don Freeman (1908 –1978) was a painter, printmaker, cartoonist, children's book author and illustrator. He studied at the San Diego School of Fine Arts and the Art Students League of New York, where he studied graphic design and lithography. Freeman was also a jazz musician and worked as a dance band musician in the late 1920's. He lived in New York City from the 1930's to 50's where he illustrated city life, taking inspiration from everyday life and people, drawing in the style of social realism. His cartoons and other illustrations appeared regularly in the New York Herald Tribune, The New York Times, The Christian Science Monitor and Theater Magazine.
Throughout Freeman's career, he was the writer and illustrator of more than 20 children's books. He is best known for his publication of Corduroy, a story about a teddy bear named Corduroy, displayed on a toy shelf in a department store, that comes to life after the store closes to search for his missing button.
His wife Lydia Freeman contributed greatly to his success through inspiration, feedback and collaboration. The couple co-wrote two books together: Chuggy and the Blue Caboose and Pet of the Met.
SCRC holds many more of Freeman's stories, including his autobiography Come one, come all! and other illustrated children's books; Dandelion, Chuggy and the Blue Caboose, Corduroy, Fly High, Fly Low, and many more.
"The Wonderful Wizard of Oz" by L. Frank Baum and illustrated by W.W. Denslow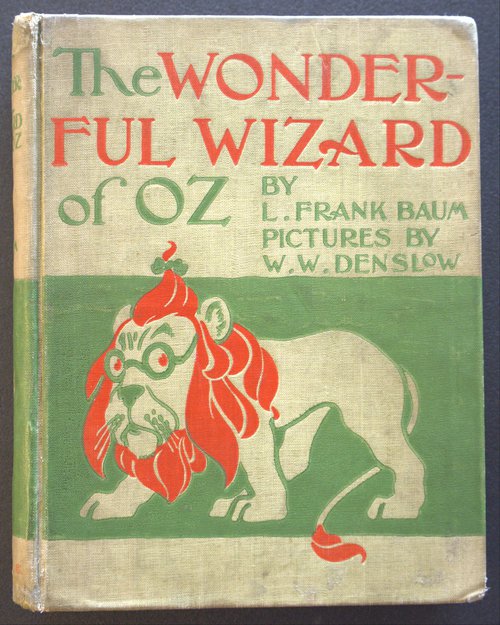 The Wonderful Wizard of Oz is a 1900 children's novel written by author L. Frank Baum and illustrated by W. W. Denslow. It is the first novel in the Oz series of books. This edition of the book is unique in that it includes a note to the readers explaining that the original illustrations were too frightening for children. The novel was adapted into a Broadway musical in 1902 and a live-action movie in 1939. The success of these adaptations prompted Baum to write an additional thirteen novels to the Oz series.
SCRC holds over two hundred titles from Baum and stores the L. Frank Baum Papers collection.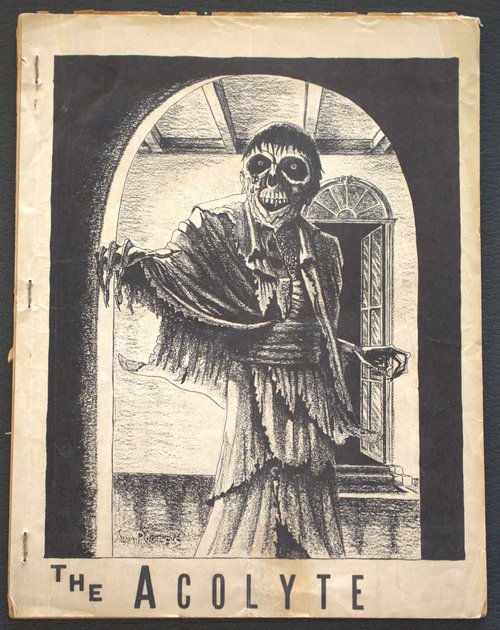 Fanzines contain more than a thousand unique titles, many with multiple issues. Included in the collection are the issuances of several amateur press organizations including APA-L and N'APA. Most date from the 1970s and 1980s but there are some from much earlier.
Forrest J Ackerman (1916-2008) was an American magazine editor, science fiction author, anthologist, editor and agent; an avid collector of science fiction and "monster movie" memorabilia; and a widely recognized expert on science fiction, horror and fantasy films. His efforts across the arts not only encouraged the organization and spread of science fiction and its fans, but also did much to foster the acceptance of science fiction as a respectable literary, art and film genre. Ackerman is credited with having coined the term "sci-fi" in 1955.
In 1939 Ackerman attended the First World Science Fiction Convention. He and his then-girlfriend Myrtle R. (Rebecca) Douglas, known as Morojo, attended as "visitors from the future," wearing "futuristicostumes" which Morojo had designed and made, inaugurating a tradition of fan costuming that continues to this day at science fiction conventions around the world.
In 1928 he created The Boys' Scientifiction Club and published his first fan letter in a professional magazine, and in 1934 he became a charter member of Hugo Gernsback's Science Fiction League. In 1941 Ackerman helped found the National Fantasy Fan Federation.
Ackerman inspired or assisted many other future luminaries of the genre, including Ray Bradbury (whose first story was published by Ackerman), Ray Harryhausen, Charles Beaumont, Marion Zimmer Bradley, Stephen King (whose first story submission was to Ackerman's Spacemen magazine) and L. Ron Hubbard.
In 1939 he started his own fanzine, Voice of the Imagination, which ran for fifty issues, and later edited Famous Monsters of Filmland (1958-1983), Monster World (1961-1964), and Spacemen (1961-1964).