Collection Spotlight: Digital Sanborn Maps
A collection of detailed fire insurance maps for more than 12,000 cities, towns and communities throughout the US.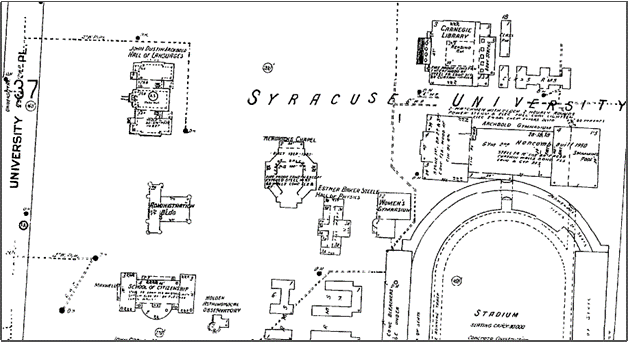 Sanborn Fire Insurance Co. Syracuse 1953, vol. 1, sheet 40. Scale varies. "ProQuest Digital Sanborn Maps 1867-1970". https://digitalsanbornmaps.proquest.com/browse_maps/35/6486/31474/32988/443265?accountid=14214 (Accessed July 8, 2022).
by John Olson, Government and Geo-Information Librarian
The Digital Sanborn Maps database is a collection of detailed fire insurance maps for more than 12,000 cities, towns and communities throughout the United States from 1867 to 1970. The extremely detailed maps provide a great deal of information about the construction of the buildings, houses and other structures in those communities. There is also important street and parcel information for each property, and most locations listed will have multiple years of atlases which allows the user to see how specific buildings or city blocks have changed over time. This database is for the historians, geographers, architects, researchers, and genealogists who want to see what structures were in existence at a particular place at a particular time.
This database can be found in the Libraries Database list under "D" or from the "All Database Types" dropdown menu at the top, under "Maps." Images can be enlarged or rotated on screen, printed or downloaded for use in presentations or inserted into class assignments, etc. The Digital Sanborn database also has a very easy to use interface, plus there is a nice "Help" section. Just look for the "?" in the upper right corner. The only detraction of this database is that the images were scanned in black and white, whereas the original Sanborn's are in color. The loss of color information only impacts the type of building materials that were used in a building's construction.
There are a number of institutions that have scanned their Sanborn collections in color and have placed them on the web. There is a link to some of these sites as well as more information about the Sanborn Map Co. on the "Maps and Cartographic resources" research guide under the Sanborn/Fire Insurance Maps tab.
The Libraries Map Collection on the third floor of Bird Library has a number of Sanborn atlases for New York City as well as fire insurance atlases for Syracuse from 1892 to 1938 published by some of Sanborn's competitors.