Collection Spotlight: ProQuest Congressional
Gain access to current and historical Congressional information, bills, reports and regulations.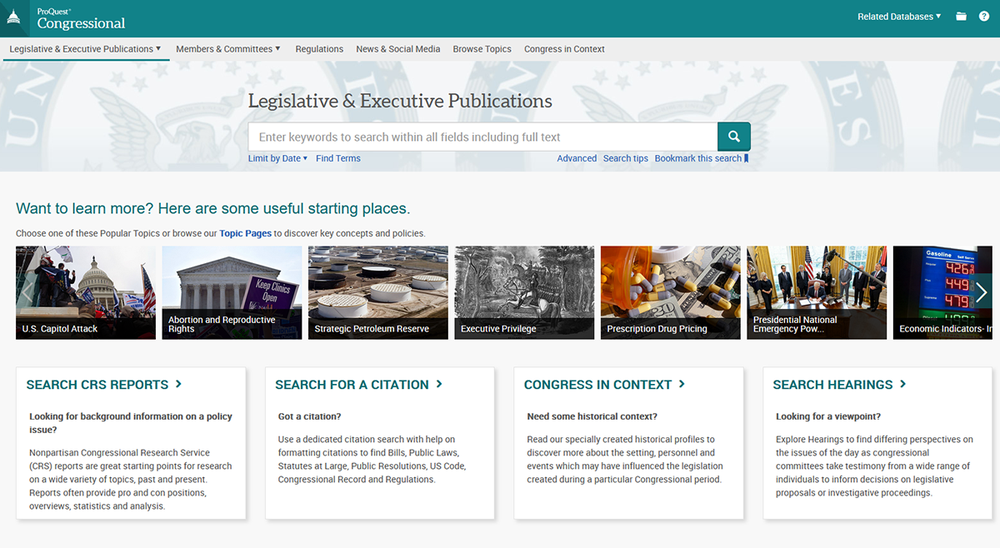 by John Olson, Librarian for Government and Geo-Information
Whether we realize it or not, we've all needed to use government information at one time or another. If you're looking for a specific piece of government legislation, then you know the struggle involved with discovering where those documents live within the larger bureaucracy that is our government.
So where do you begin your search? One source that we highly recommend when searching for legislation is ProQuest Congressional, one of the databases listed on the Libraries' database menu.
This database has several "go-to" links for resources when searching for bills, laws and reports issued by Congress. Searching by the official or common name of the bill is the best way to start, but you can also search by the specific term of Congress and/or bill number or a specific Congressional committee. Another avenue for information on your topic is to search the Federal Register and the Code of Federal Regulations for specific actions or rules that regulate how laws are implemented. There are also other avenues to search by using the "News & Social Media" and the "Browse Topic" tabs.
To really dig deep into this database, I'd recommend using the Advanced search link under the main search box. This provides an opportunity to select what type of documents you want to find. Facets on the left allow you to search specific types of documents like Congressional Research Service (CRS) Reports, which I highly recommend. Also scrolling down the page allows you to pick specific ways to search for those elusive documents. To see exactly what content is available in this database look at the Content Coverage matrix.
For even more resources on discovering and locating documents from international, federal, state or local sources, try looking through the various tabs on the Government Documents Research Guide. This guide also provides sources on how to cite those publications in your papers and research. And there are links on how to use the Freedom of Information Act (FOIA) and FOIL to procure documents from the government.
To provide feedback or suggest a title to add to the Libraries' collection, please complete the Resource Feedback Form.