Collection Spotlight: Using Google Sheets in Qualtrics Surveys
You can use Google Sheets in your Qualtrics surveys for added functionality.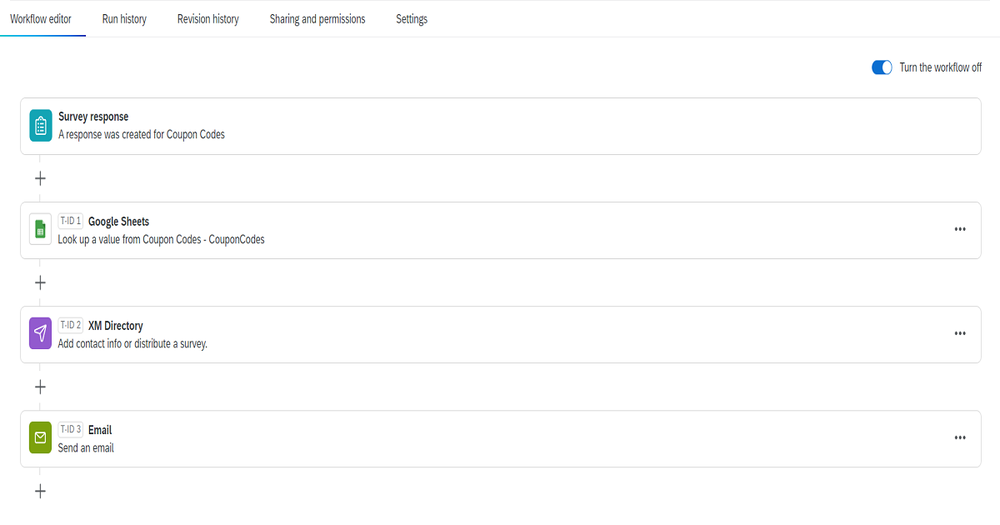 By Paul H. Bern, Ph.D., Research Data Services Librarian
Qualtrics has many functionalities that greatly extend its usefulness beyond simple surveys. The caveat, though, is that these functionalities are not always easy to find. One of these is the ability to read from and write to Google Sheets.
A common incentive to getting people to respond to your survey is to offer some kind of online coupon or gift card. Usually, you must purchase these coupons from the website then send or assign them to eligible respondents. Since there is no specific mechanism in Qualtrics to do this, you may be tempted to email the coupon codes to your respondents one-by-one. This would be very time consuming and error prone if you have many respondents.
You can, however, automate the process by using the Google Sheets task within Workflows. You will, of course, need a Google account (this can be a generic account you set up for this purpose if you don't want to use your personal account) and a sheet with which to work. You can read from and write to the same sheet. In a nutshell, the process is to set up a quota in Qualtrics for the number of coupon codes you have, then have one column in the Google sheet numbered sequentially up to your quota and another for the actual codes. As your respondents complete the survey, you use the quota as a lookup value to retrieve the corresponding code and email it to the respondent.
This basic process can be used for other purposes as well and can even extend to more than just two columns in the Google Sheet. For more details on using Google Sheets in Qualtrics, take a look at our Qualtrics Research Guide and the Qualtrics Help Page. To provide feedback or suggest a title to add to the collection, please complete the Resource Feedback Form.