Collection Spotlight: Value Line Research Center
Value Line Research Center offers investment and stock info for everyone from advanced researchers to new investors.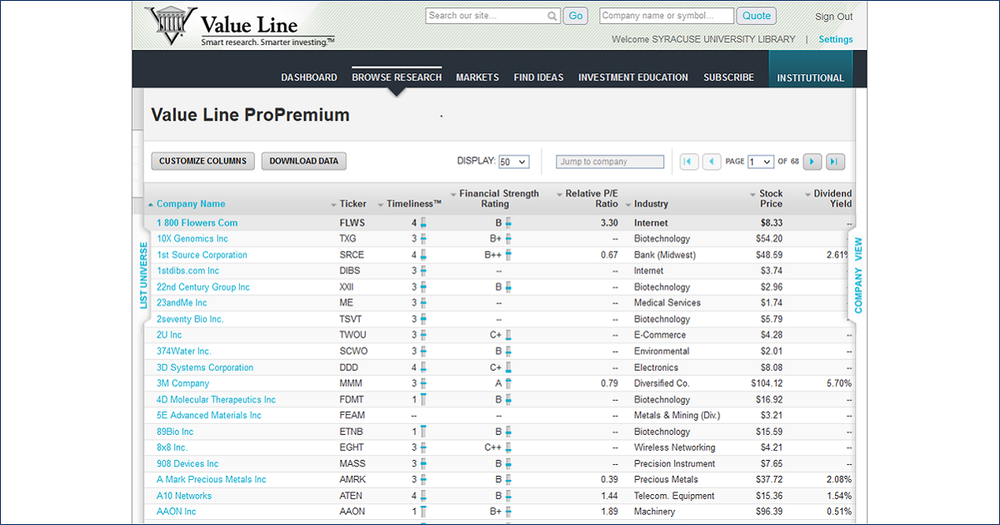 by Stephanie JH McReynolds, Librarian for Business, Management, and Entrepreneurship
Whether you're just beginning to learn about the stock market or are an advanced researcher seeking investment data, Value Line Research Center is an excellent place to start. Syracuse University Libraries' subscription to Value Line includes:
Analyst Covered Stocks: Rankings and analysis of approximately 1,700 stocks, representing over 90% of daily trading volume on United States stock exchanges
Small and Mid-cap Featured Stocks: Focuses on approximately 1,800 companies with market capitalizations of less than $10 billion
Dow 30: Coverage of the 30 companies comprising the Dow Jones Industrial Average
Direct links to these lists, as well as the master list Value Line Pro Premium (which includes the over 3,000 stocks on the other lists), may be found under "Coverage Universe" on the Browse Research tab in Value Line. You can also quickly look up an individual stock by entering a company name or ticker symbol in the Quote search box on any page in Value Line.
The Value Line Find Ideas tab includes:
Portfolio Tracker: Four model stock portfolios geared towards different types of investors, such as conservative or aggressive
Stock Screener: Preset Screens, such as "Small Cap Stocks with Above Average Yields," and the capacity to select your own screening criteria
Options Survey (under Special Issues): Evaluations and recommendations on over 600,000 options
On the Value Line Markets tab, you will find daily analyst commentaries and an Economic Calendar, which lists events and statements (such as the Consumer Price Index) likely to affect the stock market.
If you're new to investment research or want to learn more about Value Line, go to the Investment Education tab for Tool Guides, FAQs and Instructional Videos. The Glossary of terms and Value Line University offer investment fundamentals and may be of particular interest to students and new investors. In addition to Value Line's own videos, this video from a public library does a really good job of explaining many basic Value Line features and content. To provide feedback or suggest a title to add to the collection, please complete the Resource Feedback Form.