COVID-19 Research Informs Libraries Practices
Due to the REALM project's Test 4 Results, the Libraries has increased its materials quarantine period to six days.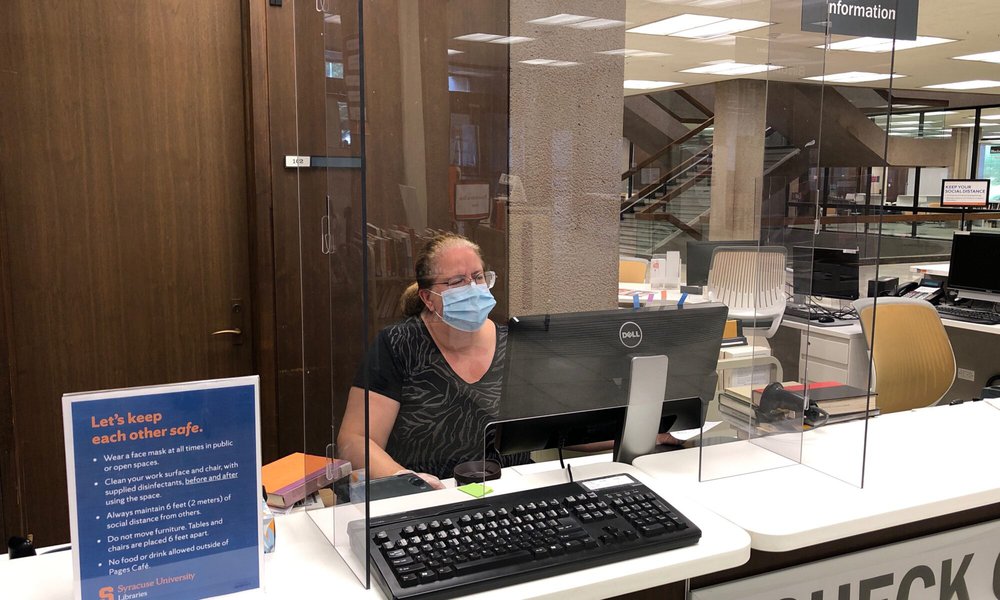 In light of the COVID-19 pandemic, Syracuse University Libraries has modified several policies and services for the upcoming semester, to ensure the safety of our employees, students, and faculty. Plans and adjustments have been made in accordance with the recommendations and research being provided through OCLC, the Institute of Museum and Library Services, and Battelle on how long the COVID-19 virus survives on materials that are prevalent in libraries, archives, and museums. The Reopening Archives, Libraries, and Museums (REALM) research project  draws on authoritative, science-based information and research to inform how materials should be handled to mitigate exposure to COVID-19.
The REALM project involves multiple research tests conducted by Battelle, the world's largest independent nonprofit research and development organization. Test 1 research results, made available on June 22, 2020, focused on how long some commonly circulated library materials would need to be quarantined prior to being returned to public circulation. Testing was conducted by applying the virus that causes COVID-19 on five materials held at standard room temperature and humidity conditions. The materials tested included hardback book cover, softback book cover, plain paper pages inside a closed book, plastic book covering, and DVD case. The items were not stacked. Results showed that the virus was not detectable on the materials after three days (72-hours) of quarantine.
Test 2 research results, released on July 20, 2020, included testing the COVID-19 virus on braille paper pages, glossy paper pages, magazine pages, children's board book, and archival folders. Samples from each item were inoculated and placed inside the closed book or magazine. The items were then configured to mimic common storage conditions such as stacked or shelved books, or a pile of folders or magazines. Results show that after two days of quarantine in a stacked configuration, the virus was not detectable on the archival folders. After four days of quarantine in their stacked configuration, the virus was not detectable on the braille pages, glossy book pages, and board book. The magazine pages showed a trace amount of virus at four days. Day four was the final timepoint tested. Compared to the results of Test 1, the results of Test 2 indicate that a slightly longer quarantine time for some types of cellulose-based paper materials sitting in a stacked configuration may be required to render COVID-19 undetectable.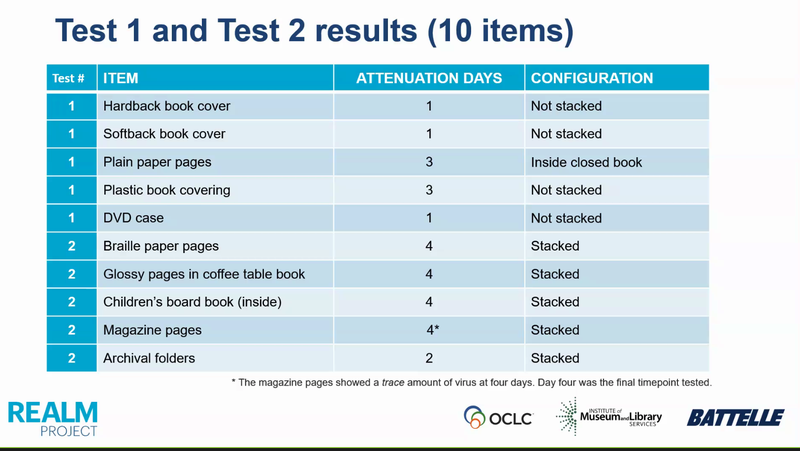 Test 1 and Test 2 results chart from REALM Project.
Battelle began testing a third round of materials on July 10, 2020. Items being tested include DVD/CD, talking book USB cassettes, acrylic display cases, storage bags, and storage containers. The results of examining plastic-based materials in Test 3 are scheduled to be released mid-August. The fourth round of materials testing began on July 31, 2020, and four of the five items in Test 4 are similar book materials as were studied in Test 1. However, in Test 1 the items were laid flat and exposed to air, whereas for Test 4 they will be stacked to simulate their common storage configuration in bins, book drops, and on shelves. A fifth item, expanded polyethylene foam, was not tested previously and will be added to Test 4 research. Results from this round of testing are expected to be released in mid-September.
As an R1 research institution, Syracuse University Libraries is using the results of the REALM research to guide our practices for the year. Examples of services and practices that have changed beginning the Fall 2020 semester include the shift from print reserves to electronic reserves.  This is in response to the typically fast turnaround between borrower interaction with physical reserve items. Another modification is that Syracuse University Libraries has implemented a quarantine period of 72 to 96-hours for all materials after they have been touched.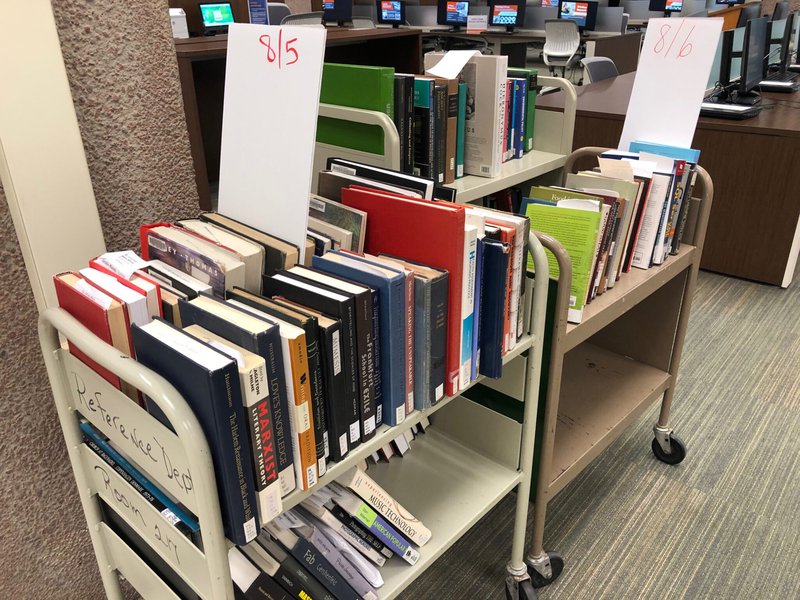 Cart holding materials for quarantine for 72 to 96-hours.
In March, the Libraries began quarantining items per national CDC guidelines and began using UV light sanitizers for items whose entire surface could be sanitized, such as keys and equipment. The Libraries have incorporated quarantining into all workflows that involved touching books or other library items.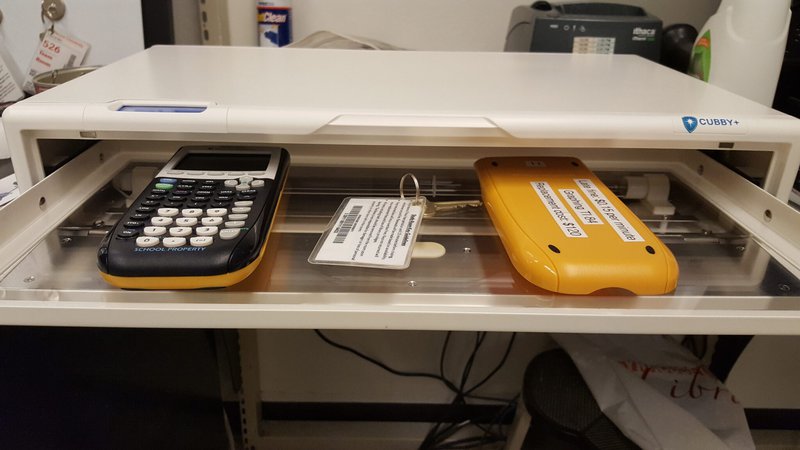 Libraries items being sanitized using UV light.
The Libraries is also requiring that any items touched on the shelves in the Libraries be returned to designated shelving carts to ensure the items are adequately quarantined before being reshelved.
These measures and future policies implemented by the Libraries are in place to ensure the safety of employees and users and the protection of valuable collection items, while continuing to provide access to the resources and services that the campus community relies on.