Delight in the Mundane: Rehousing the Plastics Artifacts Collection
A Library and Information Science student doing an internship in SCRC's Plastics Artifacts Collection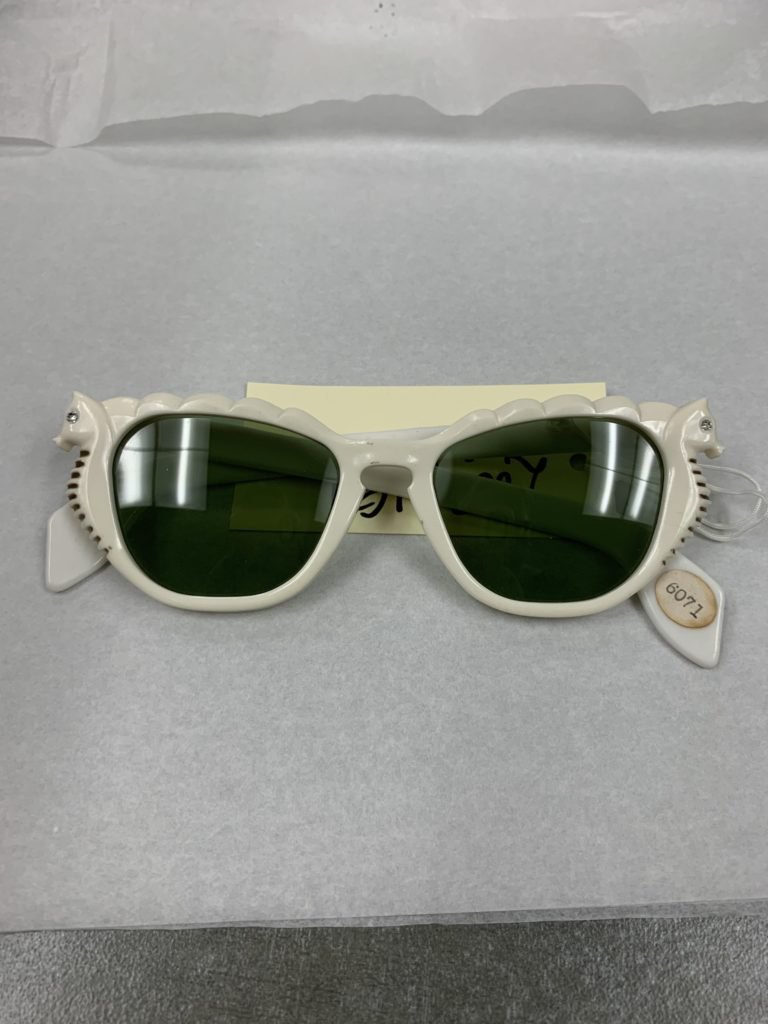 By Sabrina Unrein, Plastics Processing Intern
I like to describe my internship as a quotidian treasure hunt. Not all of the items I find are very exciting in isolation, but part of the thrill comes from not knowing what I am going to find next. When going through a box, there is an exciting feeling of discovery, even though logically I know I am not the first person finding these objects. Even knowing that, there is still an air of mystery surrounding what I might uncover next.
I am a second year Library and Information Science student doing an internship in SCRC's Plastics Artifacts Collection. The Plastics Artifacts Collection is a unique body of objects that capture the history and versatility of plastic. It launched in 2007, and expanded greatly in 2008 when the National Plastics Center and Museum in Leominster, Massachusetts closed and Syracuse University received its collection. The collection includes many everyday items, including many pieces of Tupperware, but it also features a number of unexpected items, such as Chinese IUDs.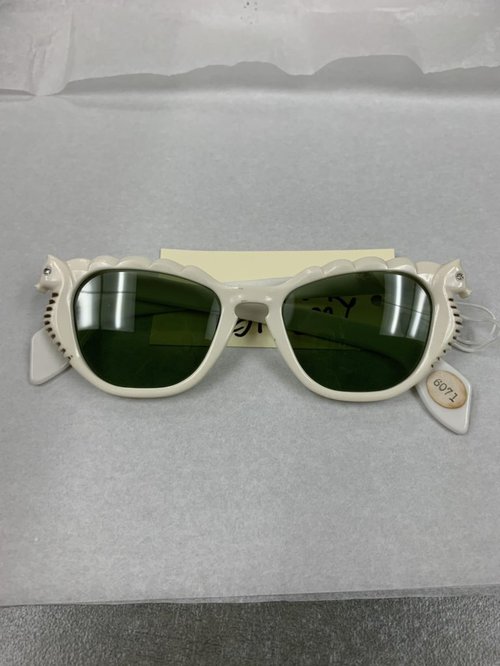 Of the many pairs of glasses I have found, this one is probably my favorite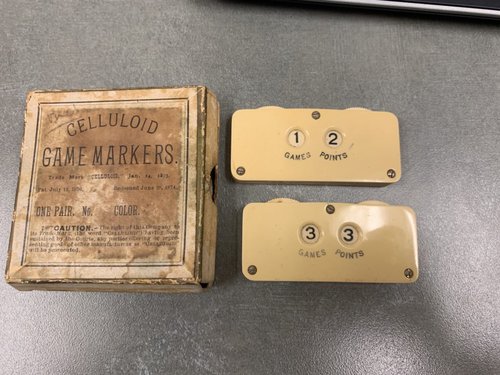 Card game markers from 1874, including the original box they came in
My main responsibility as a processing intern is rehousing objects in the collection. This process involves retrieving a Bankers Box of items, seeing what is inside, making sure all of the items that are supposed to be there are present, and rehousing the items if necessary. In rehousing the items, I am ensuring that SCRC has documented where all of the items are, as well as making sure the items are properly preserved and protected. Some items were previously stored in bubble wrap or Ziploc bags, which are not preservation-friendly materials. I remove items from these types of original storage and re-wrap artifacts in acid-free tissue paper to provide cushioning in the new boxes.
As I'm working in the stacks, I can picture the people that likely owned these objects, and what their lives might have been like. This makes the collection actually quite grounding and informative in terms of history, because it provides a glimpse into more of the commonplace elements of past lives. I think this is one of the most valuable parts of archives and special collections, and a large reason why I am so interested in these spaces. For example, one of my favorite items I have found so far are card game markers from 1874. When I first encountered these game markers, I did not know that plastic was produced so long ago, let alone that it was available in such an accessible way. Without the box, I would not have been able to tell how old they are.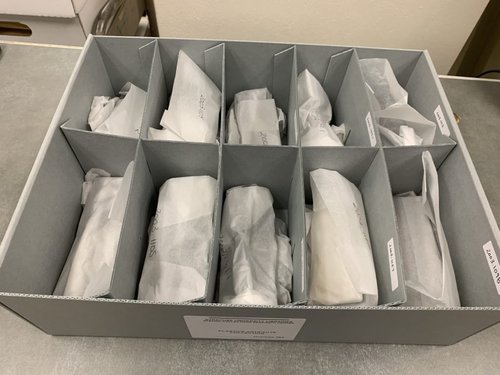 A box with individual sections for objects in SCRC's Plastics Artifacts Collection.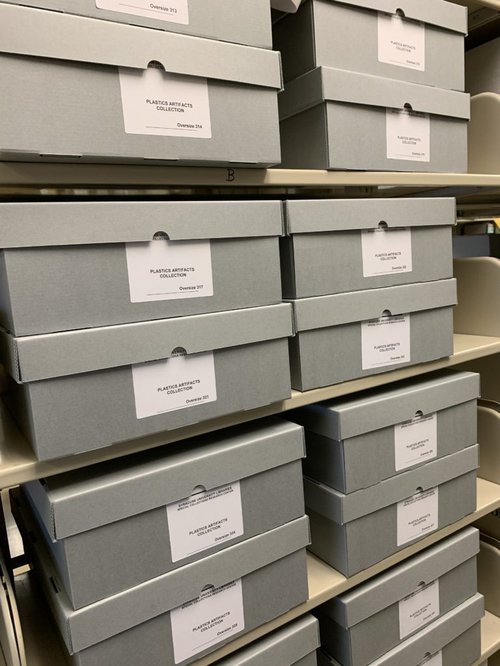 Some of the many new boxes I have assembled in the rehousing process
I have always loved going through boxes and reorganizing clutter, so this is an ideal internship for me. I was really excited about this position because it is incredibly hands-on. Although I have already completed my required internship for my graduate program, I opted to do a second one in place of an elective course because I wanted the opportunity to work with objects and build my archival processing skills.
My internship is already over halfway done, and I will miss working at SCRC when it ends. I am proud of the work I have done so far. There is a unique satisfaction that comes with looking at a box that took a long time to fill completely, or looking at the number of new boxes I have constructed and completed sitting on a shelf together.
The Plastics Artifacts Collection (Plastics Artifacts Collection, Special Collections Research Center, Syracuse University Libraries) is part of the Special Collections Research Center's manuscript collections.