Justin Diaz '23, Environmentally-Conscious Latino Entrepreneur
Latinx Hispanic Heritage Month celebrates Latinx Americans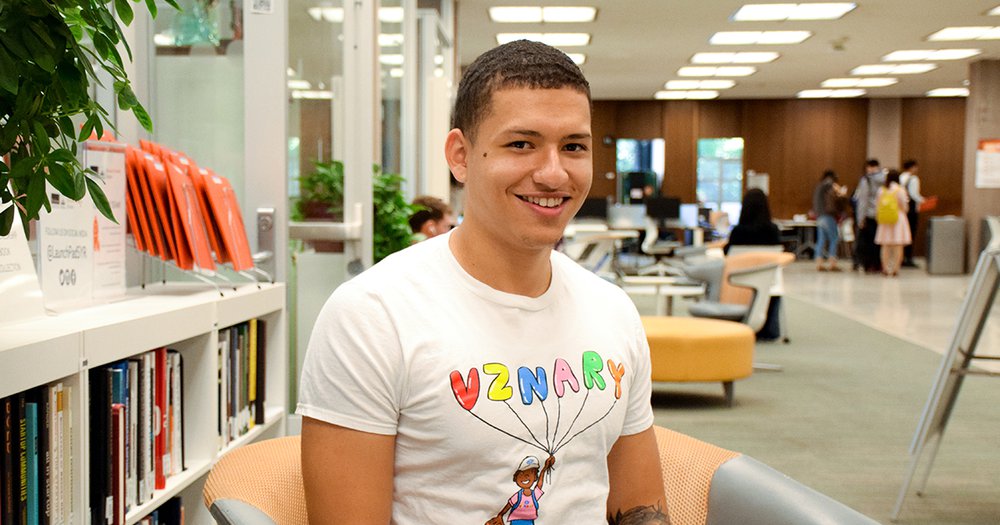 When Justin arrived at Syracuse University this past summer as an Arthur O. Eve Higher Education Opportunity Program (HEOP) student, his first stop was the Syracuse University Libraries. He knew that was the place he'd be able to find information that would help him pursue his dream of making an impact on the world. What he didn't expect is that it would also be the place where he'd find the Blackstone LaunchPad powered by Techstars (LaunchPad), the entrepreneurial and innovation hub of the University. Just a few short months later, the LaunchPad has quickly become Justin's second home.
As a first-year civil engineering student from lower Manhattan, Justin had many interests and concerns. He was worried about the environment and wanted to do something proactive that would positively impact climate change. He was fascinated by construction and how things are made, having grown up watching Home and Garden Television. He was concerned about poverty and homelessness, not only in New York, but in other places, like the Dominican Republic and Puerto Rico, where his family was from. He was interested in sustainability and protecting animals.  As his mentor, Linda Dickerson Hartsock, Executive Director of the LaunchPad said, "Justin had all the ingredients of a successful innovator and change agent. We saw the opportunity to help him refine a possible solution and shape a path forward."
So Justin narrowed his focus to an area that could have maximum impact –affordable housing built from innovative, environmentally-conscious and sustainable substances.  Hence grew the idea for EcoBamboo Living.  After participating in the Techstars LaunchPad Start-Up Weekend at the end of September, Justin found a team of like-minded, purpose-driven, hard-working students like himself, many of whom are also minorities. Together they pitched the idea of creating an innovative construction company that helps solve sustainability challenges by designing and building affordable, beautiful, and strong bamboo homes that will withstand natural disasters. Their pitch was so effective that EcoBamboo Living won second place in the Start-up Weekend competition.
Justin is passionate about bringing this idea to life, and found a team equally committed to building a mission-based business. The team includes Cedric Georges '23, an environmental engineering student originally from Africa; Haben Legesse '23, a civil engineering student originally from Ethiopia; Robert Lee III '23, a fellow HEOP student studying structural engineering; Serena Winter '23, an architecture student who is also interested in being a voice for the Latinx and African American population; and the only upper-classman in the group, Sam Shorts '20, an economics student.  Together they are hoping to create a business model with four revenue drivers: growing and harvesting bamboo, providing architectural design services, construction, and serving as a consultant in the sustainable building material industry.
"As a Latino, sometimes I feel I have to prove myself to doubters. But I'm confident in my drive and desire to make a difference. That's what touches my heart," said Justin. Justin's passion is driven by his strong family bonds. "Being raised by a single mom with a disability and feeling responsible to set a good example for my younger brother has pushed me to excel. When I left for college this summer, my younger brother said he's going to try and do better in school, so that he can follow me to Syracuse University."
So what's next for Justin and his team? They are one of the finalists competing on the main stage in the 'Cuse Tank Competition being held during Family Weekend on October 18.  Justin is also applying for a research grant from the Office of Undergraduate Research and Creative Engagement (SOURCE) to attend "Bamboo University" in Bali and learn more about growing and using bamboo for construction. He has worked with the LaunchPad on his business model, and found help building an advisory team that includes a local real estate advisor who has expressed interest in exploring a bamboo model home.  Through the LaunchPad, he also made connections to Dr. Laura Steinberg, professor of civil and environmental engineering, to work with the Syracuse Center of Excellence and the new Syracuse University Infrastructure Institute.
Justin says, "When we're successful, we can be an inspiration to other minority-run entrepreneurs and students. Our team plans to learn and grow, and ultimately give back. That's our motivation."