October 2020 Wrap Up
Collections materials featuring Halloween and election season.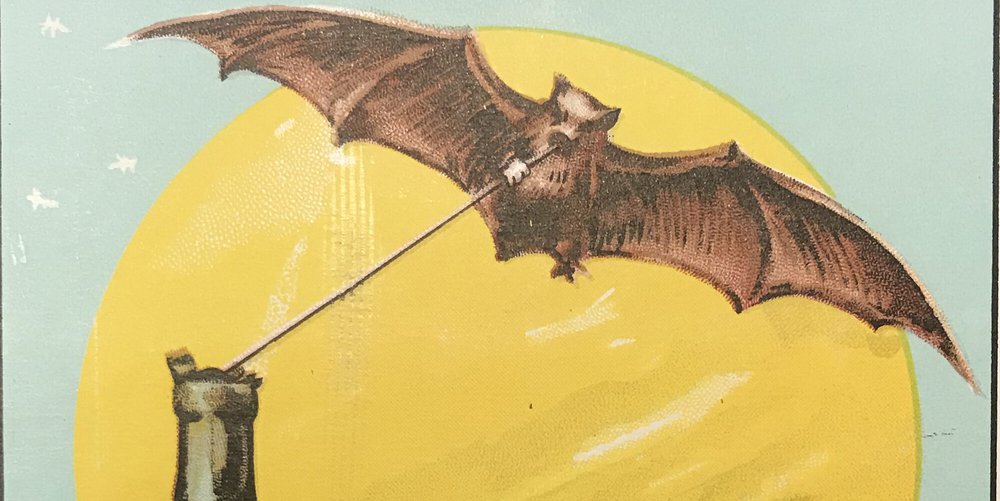 by Grace Wagner, Reading Room Access Services Supervisor
We're posting our wrap up a little early this month, because next week, we will be celebrating American Archives Month with a five-day series on preservation in SCRC's collections. The series, a collaboration between The Living Record, SCRC's blog, and Sound Beat, will cover preservation of different audio and visual mediums from some of our most valuable and vulnerable collections. In the meantime, here's a wrap-up of all the latest from SCRC in the month of October, including some Halloween and election selections from our collections!
Happy Halloween and Election Season
By Nicole Westerdahl, Reference and Access Services Librarian
Bacardi postcard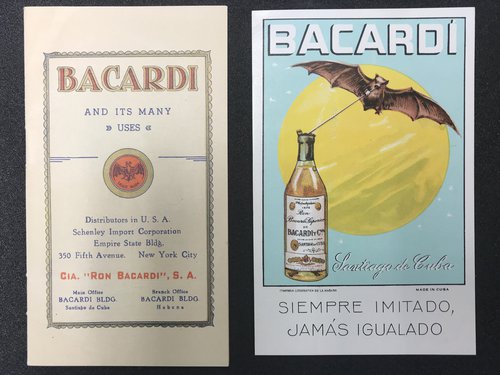 The adorable bat sipping Bacardi in front of a full moon postcard and the accompanying recipe booklet. Erskine Caldwell Papers.
This adorable bat sipping Bacardi in front of a full moon is found on a postcard in our Erskine Caldwell Papers, accompanying a recipe booklet for "Bacardi and its many uses" (spoiler alert: they're all rum-based cocktails). The fruit bat has been part of Bacardi's logo since the company's founding in 1862 and is still used today. Happy Halloween!
Martin Van Buren caricature metamorphosis card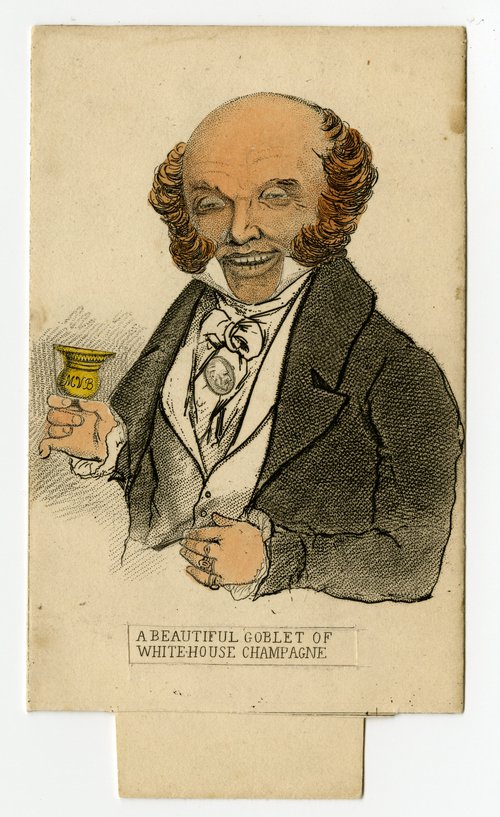 The metamorphosis card depicting a smiling Van Buren with "a beautiful goblet of White House champagne." Rare books.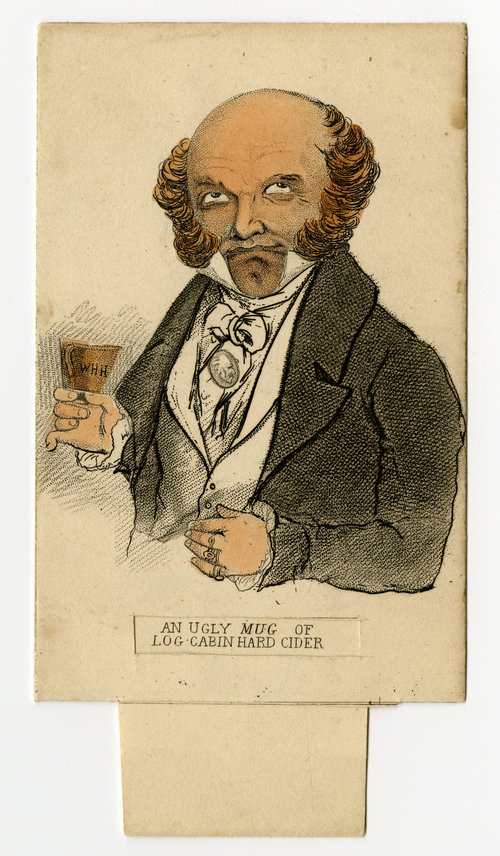 William Henry Harrison holding "an ugly mug of log cabin hard cider." Rare books.
"Attack ads" have a long history in US politics, and this caricature metamorphosis card of 8th US president Martin Van Buren by artist David Claypoole Johnston is a fine example. This card was produced in 1840 during Van Buren's re-election campaign against William Henry Harrison, whom Van Buren defeated in the previous presidential election. The card depicts a smiling Van Buren with "a beautiful goblet of White House champagne." Pull the tab, and Van Buren's eyes roll back, his mouth grimaces, and his MVB goblet transforms into "an ugly mug of log cabin hard cider" labeled WHH—a reference to Harrison's opponents' depiction of him as a provincial candidate more interested in drinking hard cider than running the country. Harrison embraced this depiction and transformed it into his own log cabin campaign, ultimately defeating Van Buren and becoming the 9th US president.
SCRC in the News
10.7.20: University Archives footage and photographs used in the Office of Multicultural Advancement's program "The Syracuse 8: Then, Now and Forever Orange."
10.15.2020: Courtney Asztalos presented to the Plastics Pioneers Association during their virtual annual Fall meeting with an annual update about the Plastics Collection.
10.15.2020: Meg Mason, Courtney Asztalos, and SCRC Curatorial intern, Krystal Cannon, collaborated on creating, filming and editing a video tour of the Traditions exhibition for Orange Central. Jim Meade contributed to audio mastering.
10.20.2020: Pan Am 103 Archivist Vanessa St.Oegger-Menn presented at SAA's Archival History Section meeting this year and a recap of the presentation is discussed in Archival History News this month.
Exhibitions Online
Learn more about the SU's history, leaders and libraries – all at your fingertips! SCRC's latest three exhibitions are now available online:
Special acknowledgements go out to Meg Mason, Sebastian Modrow, and Vanessa St. Oegger-Menn for reworking their extensive curatorial input for an online audience. The online versions of the exhibitions would not be possible without the expert help found within our IT department, especially Sarah Pohley, Suzanne Preate, and Daniel Rice – many thanks!
Call for Submissions
A reminder that the Syracuse University Archives is seeking to record and preserve the personal responses of Syracuse University students, faculty, and staff during the COVID-19 pandemic.
October Blog Roundup
Printing the Middle Ages: A Renaissance Edition of Bernard of Clairvaux by Sebastian Modrow, Curator of Rare Books and Manuscripts
George Fisk Comfort and the Museums Are Not Neutral Movement: Museum History at SCRC by Tiffany Miller, Reference Assistant
---
The image featured in the header of this post is from our Erskine Caldwell Papers (Erskine Caldwell Papers, Special Collections Research Center, Syracuse University Libraries), part of the Special Collections Research Center's manuscript collections.