Survival Kit: Provisions for your Research Journey Exhibit Interview
The Edwin F. Bushman Papers are part of the Special Collections Research Center's manuscript collections.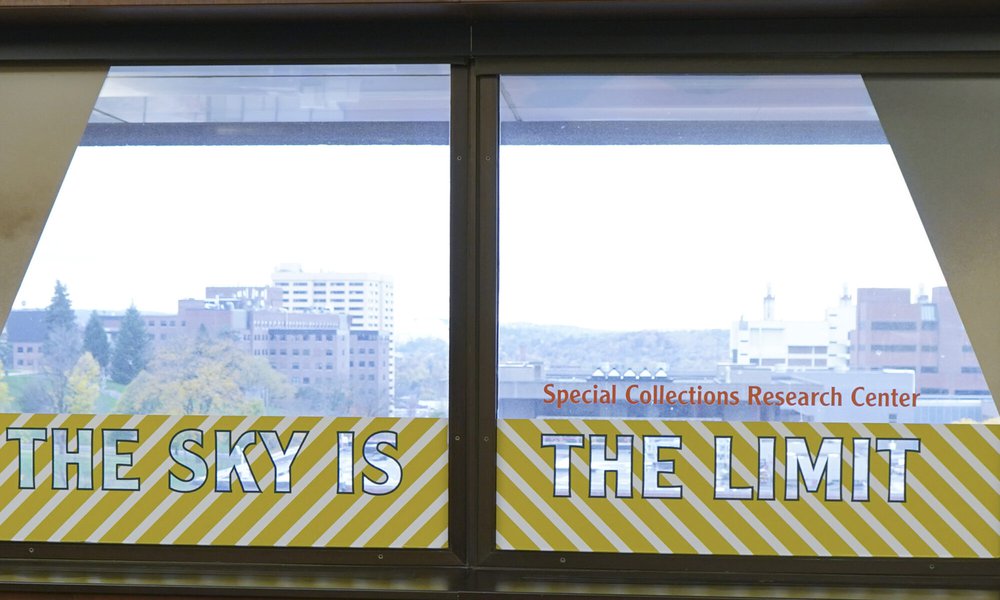 Three of the collaborators for the new exhibit in the Plastics Pioneers Reading Room on the 6th floor of Bird Library — Courtney Asztalos, Plastics and Historical Artifacts Curator; Jana Rosinski, Plastics Collection Curatorial Assistant; and Lynn Wilcox, Design Specialist for Syracuse University Press — discuss the process of putting together "Survival Kit: Provisions for your Research Journey," and how the exhibit came together, even while working remotely for much of the planning period, below.
---
Grace Wagner: What sparked the idea for this exhibit and did you know which collections you were interested in working with from the outset?
Courtney Asztalos: I knew I wanted to do an exhibit on Edwin Bushman, because there is such a rich wide range of materials within his papers and also within the Plastics Artifacts Collection, materials that ranged from not only documents but photographs and technical reports as well. Jana and I were originally thinking the exhibit would focus on the ways in which Edwin Bushman's artifacts reflected the shifts in materiality within plastics engineering.
GW: For the Edwin Bushman Papers, do you want to talk a little about what makes up that collection and who Edwin Bushman was?
CA: Yes, the papers that we have are inclusive between 1946 to 1992 and the collection contains photographs, drawings, blueprints, technical reports, product literature, and scrapbooks from the Society of Plastic Engineers (SPE). [Bushman] was an avid photographer so there's a lot of documentation of not only his contributions to the field, but also of social events through the SPE he was a part of and he was invested into this idea of preserving plastic's history. What's really interesting about this collection is that [Bushman] saved a lot of his material and you can see documentation for specific artifacts that we have reflected in the plastic artifacts collection, including plastic bottle holders that used to hold glassware in transit on trains, and then helmets that he designed for the military and the early space mission like Skylab and early shuttle missions for NASA.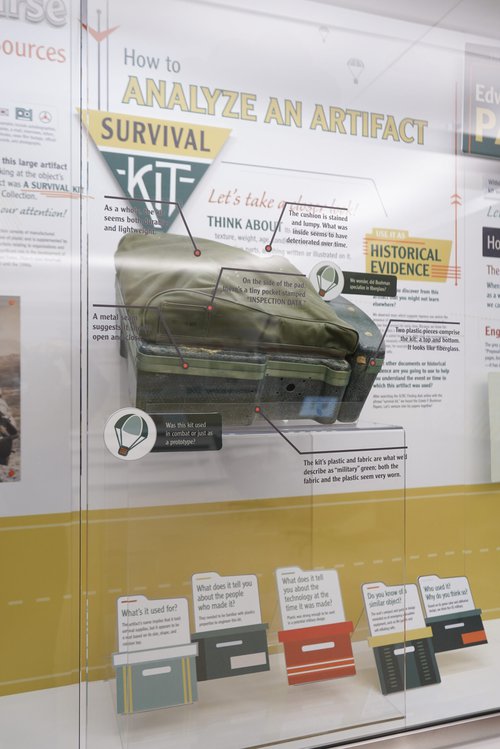 A close up on the Survival Kit, the artifact from the Edwin Bushman Papers included in the exhibit's title.
GW: The exhibit is titled, "Survival Kit: Provisions for your Research Journey," and it takes a more meta approach to the topic of research and researching in the archives. How did the Bushman Papers and the Plastics Artifacts Collection inform and aid your approach to the exhibit and why did you decide to center it on the survival seat as this primary artifact?
Jana Rosinski: There's an anthropologist I love named Kathleen Stewart and she writes with this term, "worldings," like tiny worlds, that's like the lived entanglements we're in everyday and kind of pulling on traces and just really writing from intensities of things, so whatever sort of strikes you. I think for me it was hard to pick one artifact, but I thought that the survival kit was interesting as an object because it's unfamiliar, but you could look at it and have some kind of cultural associations with it to understand that it's military or that it looks like a seat or something with transportation.
The left side of the "Survival Kit: Provisions for Your Research Journey" exhibit.
GW: The design of this exhibit space is so essential to how the concept functions. Lynn, were you involved in the process early on, or did it become apparent that you would be taking a very active role in designing this exhibit later on?
Lynn Wilcox: It was really early on, maybe in February, when they brought me on board. I knew that it was going to be a lot of design work and pretty much everything was created for this exhibit as far as the visual elements go. I had the idea from our first meeting that it would be very graphic and had that sort of 1950s aesthetic. It developed over time with the diner signs and other elements like the camera and so on but I did have that in mind right from the get-go. I wanted it to be really colorful and engaging, because the actual artifacts and the documents aren't necessarily that exciting by themselves, so that's what we were trying to accomplish to make sure you'd stand in the space for a long time.
GW: Absolutely, I love the colors too they're these bright oranges and these cool greens and everything.
LW: The colors come from the seat that's sort of green, not quite army green or teal, but the yellow is from some of the documents — the tape on the documents.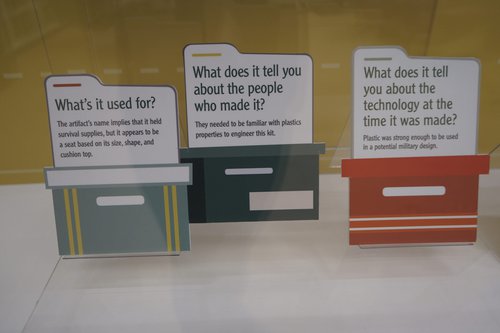 Some design details that showcase the document boxes used to house research materials in SCRC and other special collections repositories.
GW: In this exhibit, the process of research is centered and there are far fewer artifacts in the display cases. How did you come to making that decision? What's the benefit of centering the exhibit in such a way?
CA: Previous plastics exhibits at SCRC focused primarily on highlighting our plastics artifact holdings. So it was important to focus on highlighting a manuscript collection to exhibit the wide range of materials we have within the plastics collection area at SCRC, to emphasize the potential in researching plastics outside of our artifact holdings alone. The narrative or the basic structure of the exhibit is how one artifact alone can be of enough interest to take you on a journey of research down this path of discovery.
LW: And then also, "How do you make it look interesting for someone to come in and stand in the room for a long period of time?" That's what I was also considering when I was creating the graphics. 
JR: I think we had an idea of how we wanted to move through this space, but it was really working with Lynn to visualize and spatialize our textual ideas. Lynn figured out ways to make visual cues for moving through the room for contextualizing and understanding [the exhibit].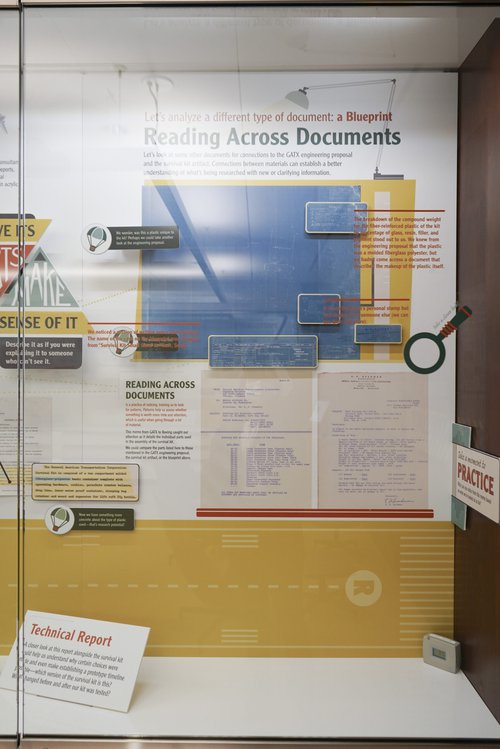 This "Reading Across Documents" section of the exhibit shows researchers how they can use different documents in SCRC to aid their understanding and interpretation of materials.
GW: It does sound like a lot of the planning and design of this was happening almost entirely while you guys were away from campus.
LW: Yeah, I think we only had one actual design meeting just the three of us in the space before everything was shut down.
CA: I think it's really important to note and hold space for how appreciative I am for Lynn and Jana's collaboration and tireless work on this exhibit throughout the pandemic. We were collaborating back and forth constantly for months on end and throughout this process, their sense of humor was really appreciated. This collaboration and exhibit process was a joy to be able to focus on and have hope at the end of the tunnel during the time we were remote.
GW: Are there any favorite design features or hidden surprises that you might have to go back and look at it a couple of times to see?
LW: I had imagined that there would be some sort of connection between the left side of the room at the beginning. I came up with the runway, so the runway goes around the room and if you look at both sides it gives you directional points — turn right, turn left, and then you "take off" out the window, so I think that's kind of a cool feature.
CA: I love that Lynn used the General American Transportation logo as a feature and departure point for inspiration. There's [also] text observations on the glass and pop-outs inside the cases. It's really inspired by interactive exhibits that think about all the multiple layers of researching and that's reflected in the design of the exhibit.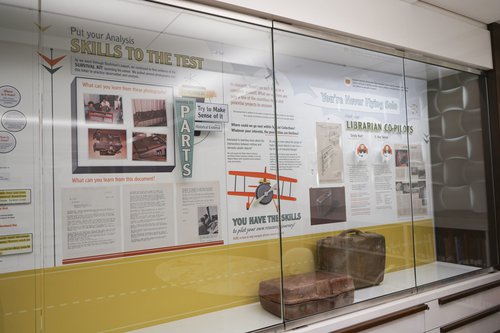 The right side of the "Survival Kit: Provisions for Your Research Journey" exhibit.
GW: Are there any plans for a digital exhibit or a digital version of this exhibit and did you think about the potential function of the online version of the exhibit differently considering the impact of COVID-19 on the SU campus this year?
CA: Yes! We are working with the Digital Library Program to create a digital version of the exhibit. We're also planning to create a video tour of the exhibit as well as livestream from the physical exhibit to provide interactive instruction sessions and immerse students in the environment.
GW: Awesome. Well, last thing, what are you most excited for people to see and discover within the exhibit?
LW: I think it's just the new life in there. The other exhibit had just been up for a long time, so I'm excited for people just to experience the space. 
CA: I'm really excited for people to walk away empowered with the knowledge that our plastics collections at SCRC are available for them and their interpretations of these collections. There's no right way to research and there's so much opportunity to uncover within the plastics collections. These plastic collections are really unique to Syracuse University and there's just immense potential to discover untold histories. My hope for this exhibit is that it will inspire students to follow their curiosities into and within this unique resource. I'm also appreciative of the collaboration of Ann Skiold, Librarian for Visual Arts, and Emily Hart, Science Librarian, Research Impact Lead, who are featured in this exhibit and share their guidance on SUL resources for potential research avenues. 
JR: What's important to me is research is really hard to distill, it's really hard to teach, so I'm excited for people to be able to reimagine what they think research is and to approach it differently. This idea of curiosity and that you're not necessarily looking for an answer, but you're storytelling through what you're pulling out and tracing and I think just to demystify research and to think of it as more just following curiosity.
LW: I would also add that it's kind of fascinating too about how many subjects are just in this little exhibit. There's so many different areas of study even within plastics [that] there really is something for everybody.
CA: The plastics collection is still, I think, not known to a lot of people on campus and I invite students and faculty and people from the Syracuse community to come and feel free to reach out if they have any questions about these collections. I really hope that this exhibit brings awareness to these collections and engagement with them and that's something that was really important.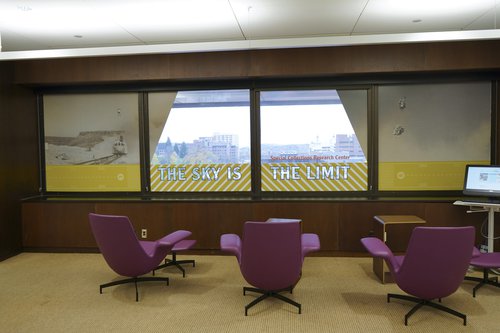 The windows in the Plastics Pioneers Reading Room read "The Sky Is The Limit" and mimic the viewpoint of a pilot in a plane.