Unfaithful: Marriage Reform and Utopian Dreams
Radical reform movements, including the Oneida Community in upstate New York and the Free Love Club and the Unitary Home in New York City.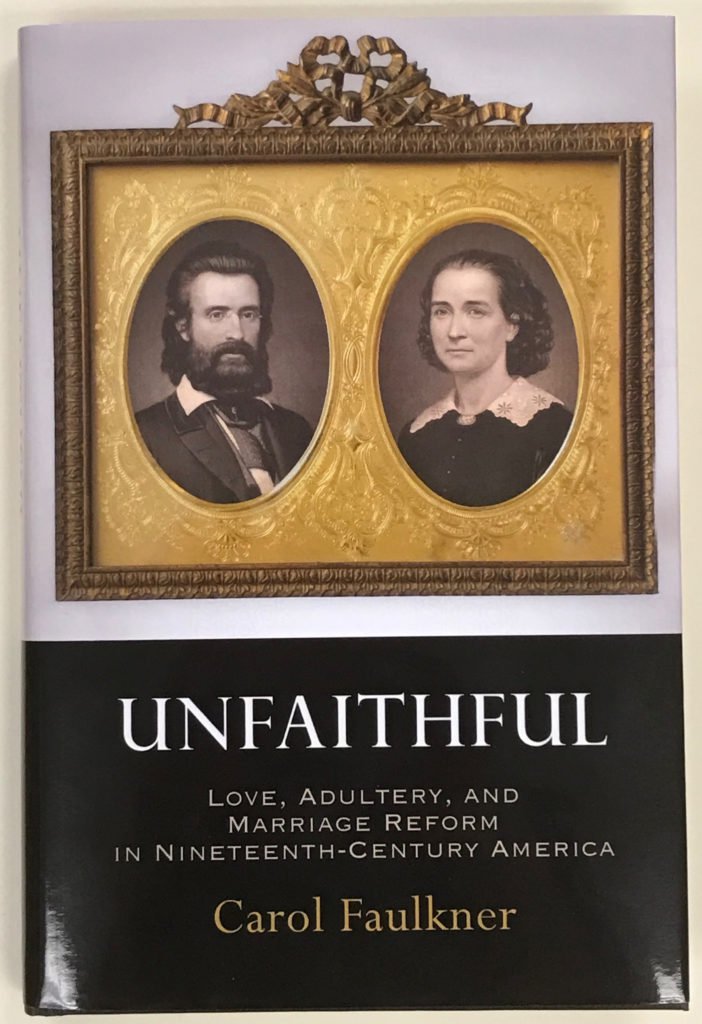 By Grace Wagner, Reading Room Access Services Supervisor
In the nineteenth century, contradictions ran rampant in the state of New York in regards to the question of marriage. At this time and after, New York's marriage laws were among the strictest in the country, but the state also became the site of radical reform movements, including the Oneida Community in upstate New York and the Free Love Club and the Unitary Home in New York City.
Carol Faulkner's book, Unfaithful: Love, Adultery, and Marriage Reform in Nineteenth-Century America, explores this contradiction by taking a wide lens to the 'marriage question,' which was central to multiple reform movements in the nineteenth century. The notion of what a marriage meant, in terms of love, partnership, freedom, and womanhood, was vital to the construction and consideration of reform groups and the women's movement at this time in history.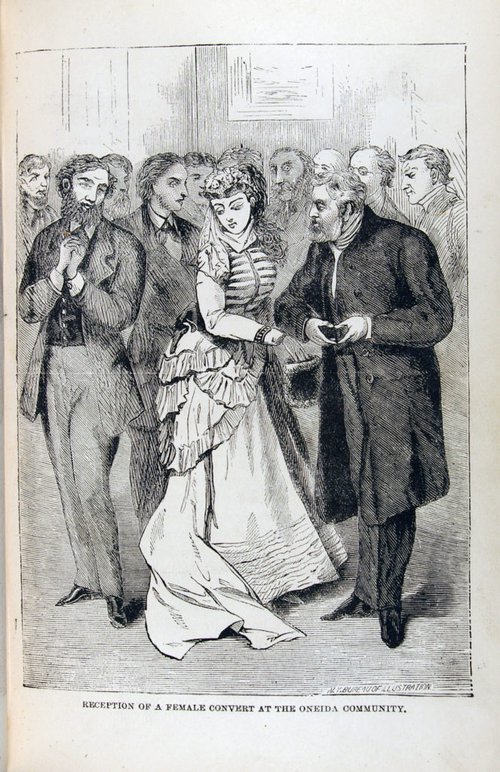 Cartoon depiction of "Reception of a Female Convert at the Oneida Community"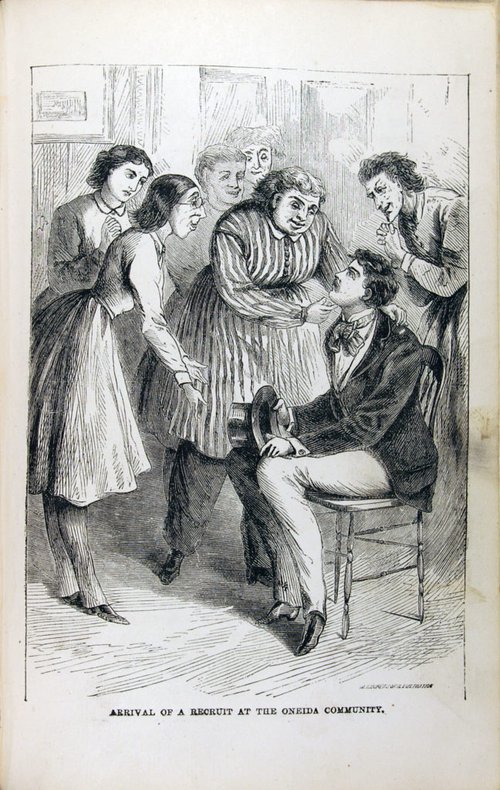 Cartoon depiction of "Arrival of a Recruit at the Oneida Community"
The Oneida Community was one of the earliest proponents of the free love movement. Many of the papers and documents from the Oneida Community are held in SCRC's Oneida Community Collection, including documents detailing the founding of the community by John Humphrey Noyes in 1848 and the early adultery scandal that rocked the collective, involving the fallout from Abram Smith's relationship with Mary Cragin and her husband, George Cragin's, subsequent disapproval. Even in a free love community, sexual partnership was still controlled under patriarchal rules.
The actions of the Oneida Community, which questioned the mores and prescribed social conditions of legitimate society, underpinned many of the actions and decisions of later reform movements and individuals trying to understand the morally correct tenets of marriage. Sometimes, like Oneida, individuals absented themselves entirely from the systems they chose not to follow.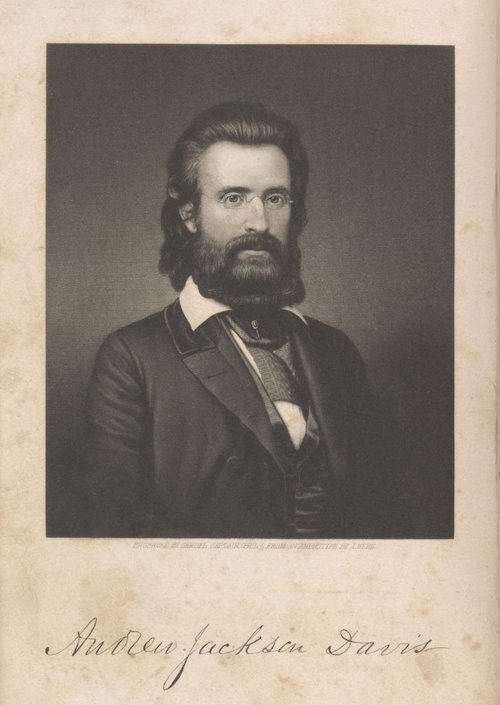 Portrait of Andrew Jackson Davis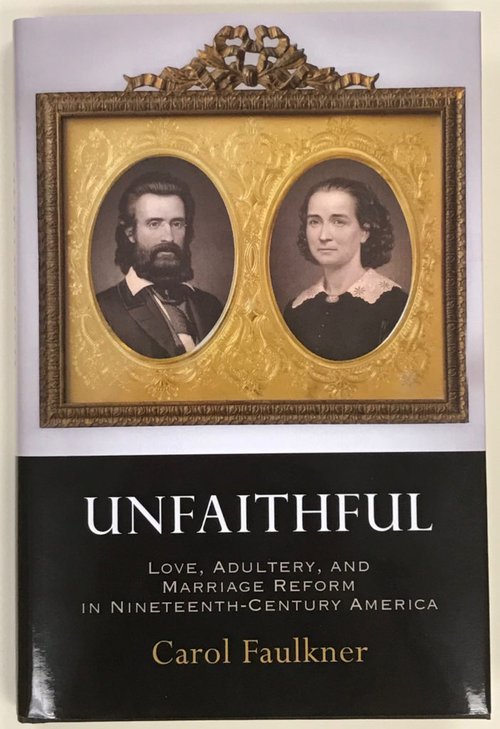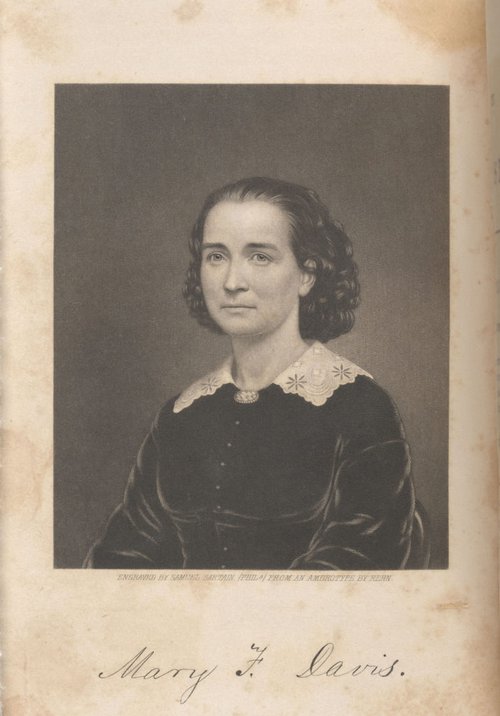 Portrait of Mary F. Davis
Other reformers, like Mary F. Davis and Andrew Jackson Davis, did not agree with the legal constrictions surrounding marriage, but still held that marriage was a sacred, spiritual institution and lectured on the benefits of a true marriage. Similarly, many women's rights activists were invested in shaping the future definition of marriage to be more equitable. In fact, Faulkner references a phrase from Elizabeth Cady Stanton's 1848 Declaration of Sentiments, spoken at Seneca Falls, multiple times in her text:
"All experience hath shown that mankind are more disposed to suffer while evils are sufferable, than to right themselves by abolishing the forms to which they are accustomed. . . He has made her, if married, in the eye of the law, civilly dead."
Elizabeth Cady Stanton, Declaration of Sentiments, 1848
Stanton declares that a woman is "civilly dead" in the eyes of the law once she is married, a position held by a number of reform groups at this time. The similar descriptive language used by women's rights activists, free love reformers, and spiritualists, often linked them together in the common discourse. Frequently, these links were created between reform groups that did not seek to be bound together. Ultimately, the women's movement largely abandoned marriage issues in favor of pushing for suffrage and radical free love experiments like the Oneida Community failed to succeed long-term.
Faulkner's study of marriage reform illustrates that movements do not occur in isolation of one another. One cannot consider questions of marriage reform without understanding the changing connotations surrounding these terms. How do we define consent, adultery, equability, and love, in nineteenth century America? This terminology and the discourse that surrounded the efforts of marriage-based reform movements shaped how these individuals were seen by society as well as the ultimate direction and success of their efforts.
TheOneida Community Collection (Oneida Community Collection, Special Collections Research Center, Syracuse University Libraries) is part of the Special Collections Research Center's manuscript collections.
Please join us as we welcome Carol Faulkner, Professor of History and Associate Dean for Academic Affairs at the Maxwell School of Citizenship and Public Affairs at Syracuse University, as she leads a mini seminar in the Special Collections Research Center (SCRC), 6th Floor, Bird Library, on Friday, March 6, 2020, from from 10:00 am to 12:00 pm.