Victims of Pan Am Flight 103, Inc. Collection
A reflection on the Victims of Pan Am Flight 103, Inc. Collection from a graduate student intern.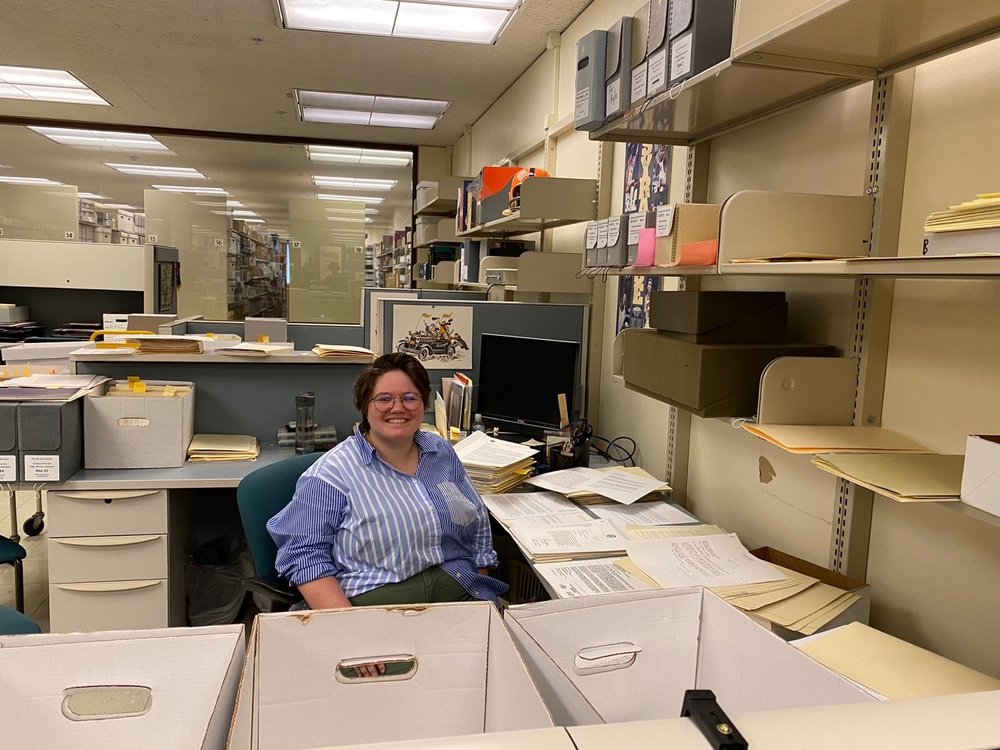 by Halsey Van Allen, graduate student in School of Information Studies
This past summer I had the opportunity to process the Victims of Pan Am Flight 103, Inc. (VPAF 103, Inc.) Collection as an intern with the Pan Am Flight 103/Lockerbie Air Disaster Archives at Syracuse University Libraries' Special Collection Research Center. Pan Am Flight 103 was destroyed by a terrorist bomb over Lockerbie, Scotland on December 21, 1988. All 259 individuals on board the plane and 11 residents of Lockerbie were killed, among them 35 Syracuse University students who were returning home from studying abroad in London, England and Florence, Italy. VPAF 103, Inc. was founded in the aftermath of the disaster by victims' families and friends to discover the truth behind the bombing, provide a source of mutual support and take action to prevent terrorist attacks like it from happening again. A fuller history of Pan Am Flight 103 and its relationship to Syracuse University can be found in the collection's finding aid and on the Pan Am Flight 103 Archives' landing page. The VPAF 103, Inc. Collection showcases the organization's political activities in the realms of airline safety and antiterrorism and its internal organizational structures and memorialization efforts.
I am part of a segment of the United States population that doesn't remember a time before 9/11, and this group is only growing. We've lived entirely in the shadow of the seemingly never-ending War on Terror but, for the most part, lack in-depth knowledge of the historical precedent for it. While processing the VPAF 103, Inc. Collection, it felt like I was viewing 9/11 for the first time looking forward at it as a preventable tragedy rather than retrospectively as a fixed point in history. With the bulk of the collection materials being from the 1990s, handling papers like political correspondence or congressional testimonies felt like grasping the process of history being made. The history of global state-sponsored terrorism is still being created, even as around the world we primarily operate from undeviating cultural narratives around it.
Often cited as one of the legacies of 9/11 is the marked rise of Islamophobic sentiment in the United States that followed as a backlash to the attack. Processing the VPAF 103, Inc. Collection showed me once again that this did not begin in 2001. While processing the collection, I came across a letter from Nazir Jaafar to the then-editor of VPAF 103, Inc.'s newsletter, TruthQuest. Mr. Jaafar's son, Khaled Jaafar, was one of the passengers killed in the bombing of Pan Am Flight 103. Khaled was a twenty-year-old college student flying home from seeing family friends in Germany. He was also the subject of several conspiracy theories that pointed to him as a knowing or unknowing co-conspirator in the bombing. In his letter, Mr. Jaafar was writing to TruthQuest asking members of the organization not to believe the allegations against his son. He had attached legal documents and newspaper clippings wherein officials conclusively denied his son's involvement, cited the three governments involved in the investigation, and apparently still worried he might face resistance from the fellow family members of the victims. Mr. Jaafar's letter was partially reprinted in the next edition of TruthQuest as he requested, and there is no indication in the collection that VPAF 103, Inc. or its members ever believed or supported the conspiracy theories about Khaled.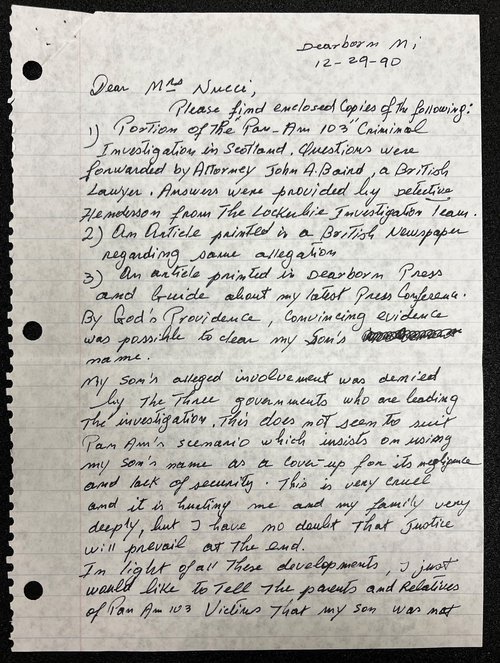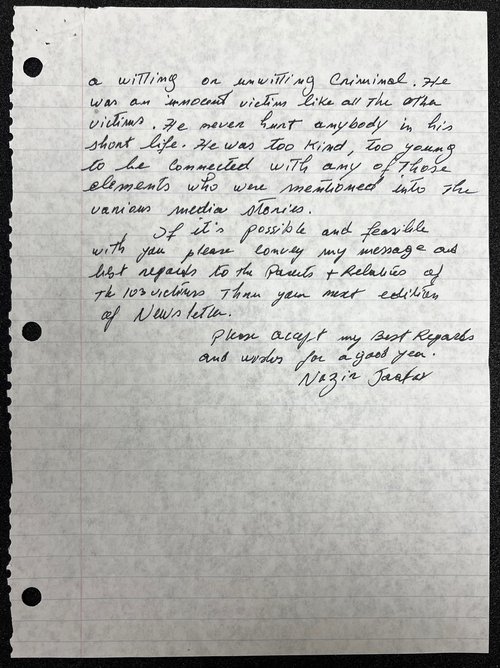 December 29, 1990, letter from Nazir Jaafar, father of Pan Am 103 victim Khaled Jaafar, to Georgia Nucci, editor of TruthQuest and mother of Pan Am 103 victims Christopher Jones. Victim of Pan Am Flight 103, Inc. Collection.
Nevertheless, this document highlights one of the main tensions of the collection. VPAF 103, Inc. is an organization and community founded upon a shared grief. It is made up of people who were able to find solace in each other and channel some of their sadness and anger toward making a change they believed in. For the Jaafar family, the bombing of Pan Am Flight 103 represented not only their son's death, but also a marked rise in Islamophobia in their personal life, community and country. The VPAF 103, Inc. Collection contains documents that can help us explore and better understand early intersections of antiterrorism with Islamophobia and the foundations of narratives surrounding terrorism that have persisted to this day.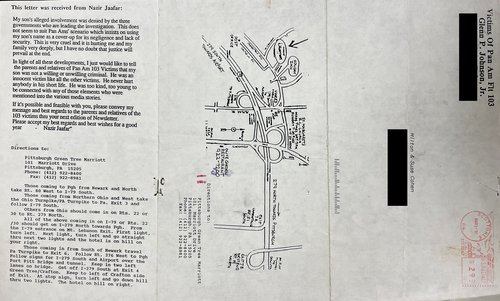 March 1991 TruthQuest including excerpt of Nazir Jaafar's letter to the editor. Victims of Pan Am Flight 103, Inc. Collection.
If the War on Terror was one major aspect of the collection I grappled with, then the other was certainly grief. It struck me at some point while processing the collection, probably upon handling a January 7, 1989 issue of Flight International—an unsentimental trade magazine that had nevertheless ended up in my hands over thirty years later—that I was holding a tangible relic of someone's profound grief. Intellectually, I knew that the organization was formed because people's loved ones were murdered in a sudden, tragic and violent way. My own distance from the bombing kept me from internalizing that for a period. But that magazine was in my hands because someone thought it was important, whether when they first received it, when they stored it away with other VPAF 103, Inc. materials, or when they donated it. In obvious places and not, grief was everywhere in the collection. It occurred to me that if saving a trade magazine is a relic of grief, then saving anything is too. The whole collection was not only a record of the political work of the organization, but a monument to love and to loss. VPAF 103, Inc. was formed and exists at the intersection of the personal and the political, and almost all the papers in the collection show how unclear that division can be.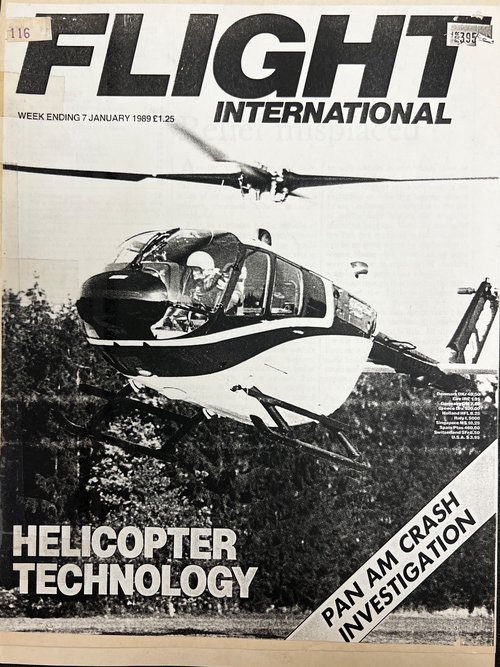 Reproduction of cover of January 7, 1989, issue of Flight International. Victims of Pan Am Flight 103, Inc. Collection.]
The Victims of Pan Am Flight 103, Inc. Collection contains multiple avenues for researchers to pursue, most notably in the study of terrorism and collective loss. The collection contains records documenting the organization's long and successful history as an activist lobbying group for stronger airline safety and antiterrorism measures, with the bulk of the materials dating from the fifteen-year period between 1988 and 2003. Processing the collection gave me the opportunity to sit with this period of history and understand how the narratives that were formed around it differ from the actual history. The collection stands on its own as a significant historical record, but it also highlights the broader global dynamics of state-sponsored terrorism in the years leading up to 9/11 and the beginning of the United States' War on Terror, as well as the complexities of the domestic response to these events.