Beyond paywalls: Syracuse University Libraries as portal to high quality digital journalism
News and newspaper access to New York Times, Washington Post and Wall Street Journal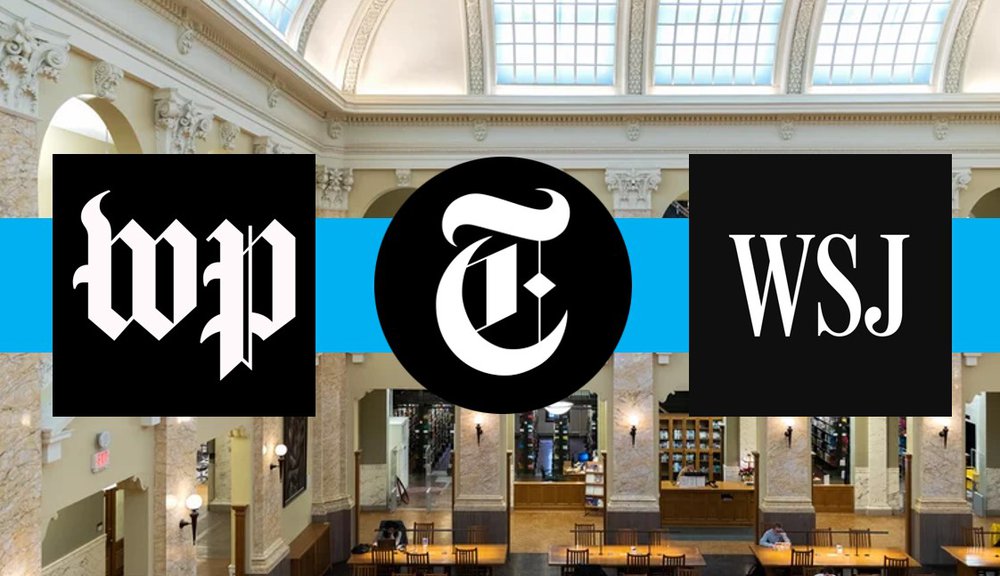 by Michael Pasqualoni, Librarian for the Newhouse School of Public Communications
News and Newspaper Access Via Syracuse University Libraries
All disciplines at one time or another will have reason to explore news reporting as well as other forms of photojournalism, press images, opinion columns, letters to editors, display or classified advertising and streaming audiovisual media available at newspaper websites. Syracuse faculty, as well as students, at times may be contributing stories to some of these same publications as well. Access to the work of professional journalists also enhances any number of research objectives, as well as contributing to sense making and the assessment of information across interpretations of numerous contested societal, economic, legal, educational, political and cultural issues.
Complementing extensive third party aggregated current and historical newspaper collections at the university, SU Libraries funds access to the born digital content at the news websites and mobile apps for:
For most in our SU community, there is no need for maintaining a personal subscription to these digital news titles.
In the realm of some other local and national publication websites, Syracuse University students, faculty and staff have access beyond the digital paywall at Syracuse.com. Similar access extends into library mediated support for periodical websites such as access to the digital editions of the Chronicle of Higher Education [after entering the link labeled "click here for full text," then click into "browse journal – from Chronicle of Higher Education"], Advertising Age [access instructions follow entry of one's SU NETID/NETID password] and The Economist [after entering the link labeled "click for full text," click on "more full text options," and select the link indicating "publisher site"].
News Source Frequency of Use
Popularity of these access options for general and specialized journalism is readily apparent. Within an environment of over three-hundred online research and course guides that librarians publish to support researchers at Syracuse University, visits to these digital news platform access guides (e.g., for NYT, WSJ and WAPO) rank consistently amongst the top most often visited guides. In fact, roughly one in every twenty visitors to an SU Libraries research or course guide is visiting one of these three online news platform starting points.
All current residential as well as online graduate students, undergraduates, faculty and staff at Syracuse University can use their @syr.edu email address to register for accounts at these publisher's sites. Access for students continues until graduation. See each library guide's instructions above for complete registration steps.
Struggles for a Free Press
Words from the First Amendment to the United States Constitution wrap the exterior of the Newhouse School building number three on our campus here in Syracuse. The struggles to maintain a healthy free press have never been without significant hurdles and threats from those whose interests are not served by that reporting, especially when that journalism strives to represent those lacking power or privilege. As esteemed as are any of these news publications, it should be said that no library hosting of publications of specific resources, direct or indirect, are unquestioning endorsements of all pieces of the content within any journalistic, or scholarly, publication. Spanning some unfortunate attempts to ban access to specific books in libraries are at times crucial misunderstandings that unpopular, challenging or even outright repugnant content is archived, and certainly the subject of critical review. Lateral reading across multiple sources addressing similar topics is encouraged, even when assessing these venerable titles.

Librarians at Syracuse University encourage robust ongoing conversations about titles our community feels are important potential additions to such born digital collections in journalism. Cost hurdles are not small regarding how many otherwise paywalled news or trade journal online platforms a library can fund for a full campus population. Important continuing collections prioritization discussions are crucial, as any academic institution assesses which sources can be supported campus-wide by libraries, versus a focus on personal subscription, at full rates or with student discounts.

Traditions of Third Party News Aggregation

Even at the wealthiest of the wealthy universities, the traditions for archiving and making available current and more deeply historical news publications have depended for well over a century largely on shared access in specific physical library facilities – to single copy pages or modest duplicate copies of literal newsprint, and also newspapers on microfilm [on microfilm's centrality across many decades, see: Saper, C. (2018, July 22). Microfilm Lasts Half a Millennium. Atlantic: Web Edition Articles (USA). Available with SU login from NewsBank: Access World News. For the past four decades, reliance in news searching so often has been on third party aggregator databases (e.g., the Nexis, Access World News/Newsbank and ProQuest News database access models, which pull in plain article text, and at times page scanned PDFs, across a range of current and historical news titles, including some bundled collections focusing on traditionally marginalized groups).

All Syracuse University researchers are also reminded that for purposes of text mining a range of newspapers – as well as text mining scholarly journal content, magazine articles, trade journals or doctoral dissertations, ProQuest provides to our campus access to the text and data mining tool called ProQuest TDM Studio. That includes options to text mine NYT, WAPO, WSJ and plenty of other major U.S., and some non-U.S. newspaper titles, covering roughly the 1990s to present. The option available to all to use a visualization dashboard within TDM Studio does not require advanced programming knowledge (of, say "R" or "Python'), although full workbench access in ProQuest TDM Studio supports use of those advanced text mining techniques as well, with coverage in those cases capable of stretching back well over one century's worth of publications.


Your Feedback and Suggestions

When thinking about access to news titles, Syracuse University students, faculty or staff are encouraged to provide feedback or suggest a title to add to the collection. Visit our Collection Development and Resource Feedback guide to learn more and tell us what you think.
Closing Food for Thought

On my personal journey into a professional librarian career with a focus on communications and journalism, I was fortunate in my undergraduate years to study briefly under the late U.C. Berkeley journalism school Dean, and former Washington Post journalist, Ben Bagdikian. His concerns and writings remain timely on issues of media ownership, access to news and the tensions between commerce and journalism, even though those predate our modern notions of mobile, and social media platformed digital news. Within this more than forty-year old commentary below, excerpted by the Chicago Tribune, echoes reach to and from our own time period as we think of where citizens and scholars do or do not prefer to access news reporting, the shifting business models for sustaining journalism, disinvestments in local news reporting, roles of student newspapers, political assaults against news outlets and their credibility, interrogation of infotainment or sales pitches masquerading as news, understanding misinformation and disinformation and connected ethical and technological dilemmas, and coping with and combatting outright threats to the integrity, livelihood, and at times the lives of journalists themselves, here in the U.S. and abroad.

Bagdikian, in his own words, from early 1981:
Newspapers are facing more than economic problems. These have been troubled times for the status of the country's newsrooms with increasing pressure in some cities against rigorous reporting techniques. For years news was defined pretty much as what various authorities announced. But after the 1950s, when the accusations of Senator Joseph McCarthy were printed by the press without serious inquiry into their validity, a new generation of reporters, stimulated by a more sophisticated population, began investigating high ranking politicians, generals, bankers, clergy, judges and corporations. Many of these new targets responded bitterly and with considerable influence and they continue to do so. Some corporations buy full page ads to attack the press. For the first time, judges have thrown press and public out of previously open trials. And for the first time, law-enforcement agencies have obtained court permission to enter private property, including newspaper and broadcast newsrooms, on fishing expeditions for unspecified material. They have seized reporters notes, photographers' films and television news footage. For the first time in history, American newspapers and magazines have been censored by the government and books have been suppressed. By continuing closure of trials and suppression of information, censorship could, for the first time, become a standard practice in the United States. Large corporations, sensitive to market pressure and insistent on avoiding unnecessary costs, could decide to reduce or eliminate troublesome news of society's malfunctions, an essential therapy in any democratic system.
Source: Bagdikian, B.H. (1981, January 18). Technology won't put an end to newspapers. Chicago Tribune, [perspective], pps. 1-2. Available to SU students, faculty and staff via ProQuest at https://libezproxy.syr.edu/login?url=https://www.proquest.com/historical-newspapers/technology-wont-put-end-newspapers/docview/172249316/se-2