Aidan Mickleburgh Wins 2nd Place 2023 ACC InVenture Prize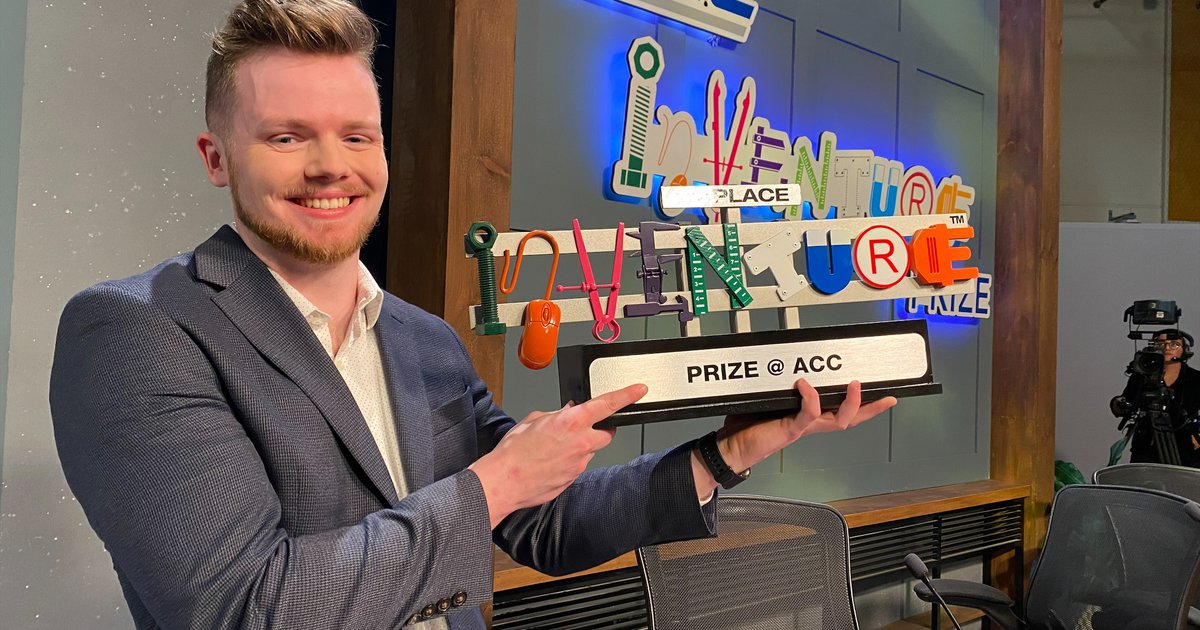 Syracuse University student Aidan Mickleburgh '23 G'23 (College of Engineering and Computer Science and Martin J. Whitman School of Management) won the $10,000 second place prize in the prestigious 2023 Atlantic Coast Conference (ACC) InVenture Prize competition, which was held at Florida State University on March 30 and televised live on PBS. The event featured twelve finalist teams from the ACC academic consortium competing head-to-head in a "shark-tank" style battle for "top innovator" acclaim.
Mickleburgh is founder of Intervea, an AI-powered patient medication compliance platform that can help avoid recurrent and preventable emergency room visits. "Over 700,000 patients are readmitted to the hospital each year due to prescription compliance problems like access, affordability and the ability to get answers to questions about usage," says Mickleburgh. "These readmissions cost hospitals over $58B a year and are largely preventable but happen because of a lack of continuity and follow-ups after discharge. Intervea creates a unified platform between previously siloed components of the American healthcare system, lowering healthcare compliance barriers for patients of all demographics. These innovations are all possible because of the recent advancements in natural language processing models and economical last-mile delivery services which can allow for a more cohesive patient experience."
Intervea provides three core services: facilitating prescription delivery so that patients can get their medication delivered the same day they are discharged; using artificial intelligence to create a 24/7 SMS service that can answer patient questions about medication use with regular follow up to ensure that the patient is following treatment protocol; and accessing available patient records and prescription data to help prevent conflicting medication interactions.
Mickleburgh is commercializing his idea with assistance from Syracuse University Libraries' Blackstone LaunchPad (LaunchPad). He is supported by an advisory team of alumni and community mentors who include Health Protection and Promotion Act (HPPA) and data security experts, hospital and pharmacy professionals, and product and business development executives. Mickleburgh is also pursuing a Certificate in Technology Licensing and Entrepreneurship through the College of Law. He is a Rubin Family Innovation Mentor at the LaunchPad, where he helps other student startups with the venture development. He is also a graduate of the Invent@SU summer accelerator program offered by the College of Engineering and Computer Science.
"I'm absolutely thrilled to have been able to represent Syracuse University on a televised national stage. Receiving this award is a validation of the importance of this problem to millions of patients just like me and a catalyst to push Intervea to new heights as we work to deliver our new care model to hospitals nationwide. Thank you to all my incredible advisors and mentors and to the LaunchPad Community. This is our win!" said Mickleburgh.
The LaunchPad coordinates the campus qualifier and mentors teams that compete for the coveted title of top ACC innovator. LaunchPad teams have been to the finals each year of the program. Syracuse University's participation is supported by the Provost's Office.
About Syracuse University Libraries' Blackstone LaunchPad
The Blackstone LaunchPad is Syracuse University's innovation hub, connecting the campus resource-rich ecosystem with a global network that provides support for aspiring entrepreneurs, inventors and creators. The program serves faculty, staff, students and recent alumni across all disciplines who are interested in entrepreneurship, venture creation and innovation careers. The program supports a key pillar of Syracuse University's academic strategic plan to give students experiential opportunities that help prepare them to be trailblazers in an entrepreneurial world.