Ben Ford '23 Accepted into Techstars Silicon Valley Program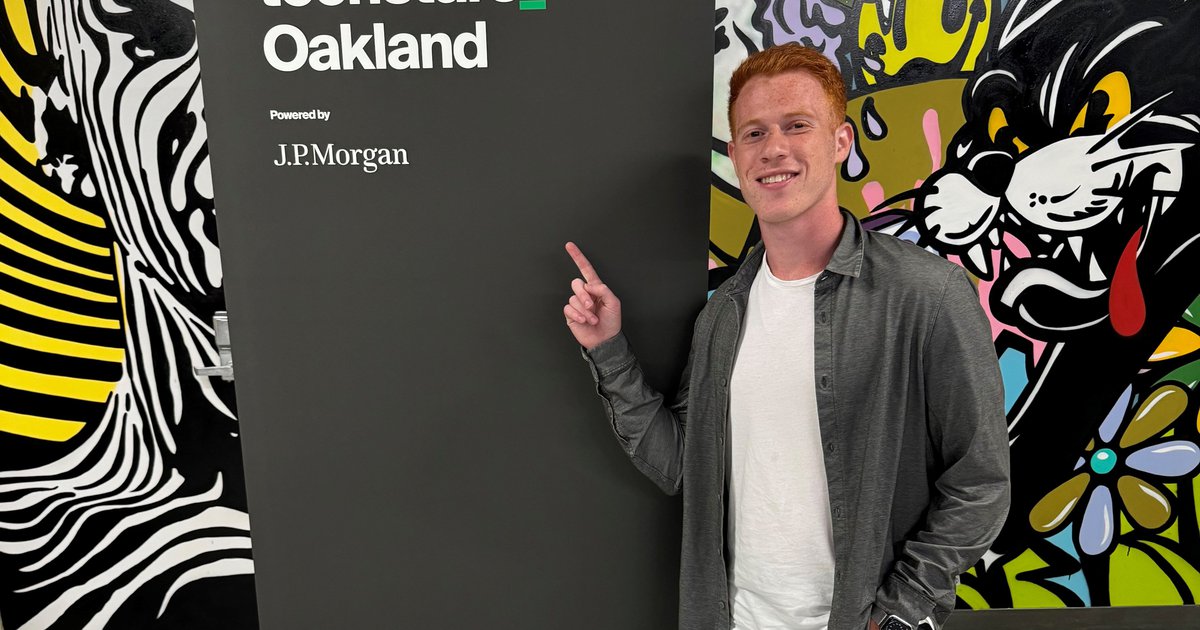 Ben Ford '23 (Martin J. Whitman School of Management and School of Information Studies), founder of Fundwurx, was accepted into the elite and highly competitive Techstars Oakland Powered by J.P. Morgan program, starting in October 2023. He was part of an inaugural cohort of twelve innovative startups selected from a pool of more than 1,000 global applicants.
Ford began the program at Techstars Foundercon in San Francisco in early October and then transitioned into the hybrid accelerator program based in Oakland. During the three-month accelerator program, founders are supported through a global network to prepare for a Demo Day with top Silicon Valley investors on January 11, 2024. The prestigious program connects founders to successful entrepreneurs, other founders, mentors, universities and potential investors to foster connections. It focuses on transformative technologies at the intersection of artificial intelligence, financial technology, health technology, education technology, climate technology and social impact.
Ford is the sixth Syracuse University Blackstone LaunchPad alumni founder to bridge into Techstars, considered the most prestigious accelerator program in the world. He joins Josh Aviv '15 G'17, founder of SparkCharge (Techstars Boston); AJ Damiano '18, co-founder of Dropyacht and Michael Paris '20, product leader at Everyrealm, both former co-founders of PowerSpike before it was acquired by Live Current Media Inc. (Techstars Atlanta); Kelsey Davis '19 G'20, founder of CLLCTVE (Techstars LA); and Shawn Gaetano '20, founder of Solace Vision (Techstars LA). Both Aviv and Davis were recently named inaugural 'CUSE50 award winners, recognizing the top 50 fastest growing Syracuse University alumni companies.
"Selection into the Techstars program is a very high bar," said Mike Haynie, Vice Chancellor for Strategic Initiatives and Executive Dean of the Whitman School. "That said, I know firsthand that Ben Ford is someone who understands that successful entrepreneurs seek out and embrace opportunities to have their ideas challenged and tested by others who have navigated the entrepreneurial journey, and this is exactly what the Techstars initiative is all about. I couldn't be prouder of Ben for his selection into this prestigious program and more excited for what's ahead for Fundwurx."
Ford's company Fundwurx is a B2B software platform that empowers human resources and social impact teams within companies to create and manage their Corporate Social Responsibility (CSR) initiatives more efficiently, as well as engage employees with nonprofits to donate and volunteer. Fundwurx enables businesses to streamline and automate outdated, decentralized and time-consuming CSR processes, such as conducting nonprofit due diligence, approving corporate gift match requests, and tracking and reporting on key social impact data. The platform provides a robust product suite that includes a real-time analytics dashboard as well as a tool to make it easier for company administrators to approve gift match requests in one click through their innovative backend payment infrastructure.
Ford says, "At Fundwurx, we believe that every company can and should be a positive force for good in the world. That is why we are on a mission to empower companies with the tools and technology to drive positive impact easier than ever before. We fundamentally believe that CSR can be accessible for every business to implement and are excited to begin integrating the solution with real businesses."
Ford launched Fundwurx as a Syracuse student studying marketing and data analytics, while working closely with the Blackstone LaunchPad at Syracuse University Libraries and LaunchPad founder Linda Dickerson-Hartsock.
He also worked in the LaunchPad as Rubin Family Innovation Mentor, providing insight and support for other Syracuse University startups throughout his college career. He is a member of the LaunchPad's Founders Circle, an alumni group of Syracuse students who started ventures as students and give back as alumni mentors.
Ford's entrepreneurial journey started when he was eighteen with his first company, Jersey Boy Apparel. Jersey Boy Apparel was a clothing brand that sold sports jerseys to male and female college students across the country. The products infused the traditional sports jersey aesthetic with a new modern approach. As a solopreneur, Ford designed a product with foreign and domestic manufacturing and supply chains, managed a brand ambassador program of over 150 college students throughout the country, and collaborated with small celebrity influencers.
After embracing his enthusiasm for startups, Ford transitioned to working for an advertising technology startup based in San Fransisco called Omneky. While still in college, he worked with the sales and marketing team and helped source and close customers, as well as led various corporate strategy projects with other team members.
After these two enriching experiences, Ford then worked as a summer analyst for the Blackstone Charitable Foundation. This provided him with a firsthand view of the significant impact that a for-profit company can have in effecting positive change at a large scale.
While at Syracuse University, Ford won over $35,000 in non-dilutive funding for Fundwurx from business pitch competitions, including first place in the 2023 Whitman Panasci Business Plan Competition and top wins in 'Cuse Tank, Impact Prize, Raymond vonDran iPrize, Intelligence ++ and the statewide finals of the Global Student Entrepreneurship Awards. He also secured two LaunchPad Innovation Fund awards to help incorporate his venture and build his platform to test.
"Ben Ford is an outstanding example of what the Blackstone LaunchPad at Syracuse University Libraries was designed to do, namely provide an opportunity for students to launch into the world as engaged citizens and leaders," said David Seaman, Dean of the Libraries and University Librarian. "Ben is the sixth student and LaunchPad alumni accepted into the competitive Techstars program. We're thrilled to see his success and delighted we had a part in his and his company's development."
As he developed his venture, Ford grew by raising angel investment to develop his prototype, which officially launched in September 2023, and onboarded several pilot companies including Pursuit, one of the nation's leading providers of mission-driven capital. He currently has a waitlist of more than 550 nonprofit organizations and has officially signed up over 100 nonprofits on the platform.
"I am grateful for the support we received through Syracuse University. We are appreciative of our advisors, mentors and close supporters who have been with us on this journey from the beginning and who have played a role in helping us reach this milestone. We're so excited to become part of the Techstars family," Ford said. "Being accepted into Techstars has been a goal of ours for quite some time. We are most excited to learn new frameworks and ways to think about the business when it comes to customers, product and financials, as well as to collaborate with a cohort of other great founders from around the world."
One of Ford's external advisors, Philadelphia-based attorney, investor and entrepreneur Marc Synderman said, "I had the privilege to meet Ben about two years ago and become his advisor. His passion, creativity, work ethic and intelligence has created the foundation for an amazing company. I'm so proud to support and be an investor in this company. I can't wait for the next chapter."
Techstars Silicon Valley programs are led by Neal Sáles-Griffin, an entrepreneur, investor and educator who is Managing Director of Techstars San Francisco (powered by eBay), Oakland (powered by J.P. Morgan), as well as Techstars Chicago. Over the past four years, he has made 100+ investments in early-stage technology startups. Sáles-Griffin made his name in the startup world in 2011 when he founded Code Academy, the nation's first coding bootcamp. Since his exit, Neal has continued to promote change — from running for Mayor of Chicago to serving on the board of several non-profit foundations. Neal also teaches entrepreneurship at Northwestern University's Kellogg School of Management and McCormick School of Engineering. Ford will be working closely with him on the next stages of Fundwurx.
About Syracuse University Libraries' Blackstone LaunchPad
The Blackstone LaunchPad is Syracuse University's innovation hub, connecting the campus resource-rich ecosystem with a global network that provides support for aspiring entrepreneurs, inventors and creators. The program serves faculty, staff, students and recent alumni across all disciplines who are interested in entrepreneurship, venture creation and innovation careers. The program supports a key pillar of Syracuse University's academic strategic plan to give students experiential opportunities that help prepare them to be trailblazers in an entrepreneurial world.
About the Whitman School
The Martin J. Whitman School of Management at Syracuse University inspires students for a world of accelerating change. Offering B.S., MBA, M.S., and Ph.D. programs, all accredited by the Association to Advance Collegiate Schools of Business (AACSB), the Whitman School's faculty includes internationally known scholars and researchers, as well as successful entrepreneurs and business leaders. Whitman continues to be ranked among the nation's top business schools by U.S. News & World Report and Bloomberg Businessweek. To learn more about the Whitman School of Management, visit whitman.syracuse.edu.