Book talk and signing with Dave Knox, author of 'Predicting the Turn' on September 18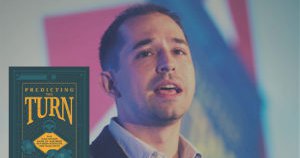 Dave Knox, Grand Prix Winner of the WPP Atticus Award for his book, Predicting The Turn: The High Stakes Game of Business Between Startups and Blue Chips will share his insights at a book talk and signing on Tuesday, September 18 from 10-11 a.m. in the Peter Graham Scholarly Commons (room 114) at Bird Library.
Knox will discuss the new high-stakes game between disruptive startups and Blue Chip companies, teaching readers how to foresee the future, especially in an era of accelerated change.
While visiting the University, Knox will also speak with entrepreneurship and emerging enterprises classes and visit the campus entrepreneurship club.
Knox is considered an expert at disruption and innovation, and his book has been hailed as the rulebook on how to compete with a new breed of competitors playing the game by an entirely different set of rules.
"The Fortune 500 was first published in 1955, and since that time, 89 percent of the list has completely turned over," Knox says. "When the S&P 500 was launched in 1958, the average company remained in the index for roughly 61 years. Today, an S&P 500 company is being replaced about once every two weeks."
He makes the point that the game is not just for the tech giants and unicorns of the Silicon Valley. "Start in your own backyards. Innovation is happening in every pocket of the world, in cities and states and in countries across the globe, and you can't just think that innovation is just a Silicon Valley thing. It's happening everywhere."
As a brand marketer, venture investor and startup advisor, Knox provides insight into the changing relationship between startups and Fortune 500 companies. He is considered a global thought leader in digital transformation, marketing innovation and how to meet inevitable disruption head-on–particularly if big companies develop startup-thinking skills.
"Incumbents have an opportunity to disrupt the disruptors. By taking inspiration from a startup or innovative competitor, big companies can use their scale, brand, and financial resources to launch a new effort," he writes, but only if "the leaders of yesterday learn the rules of an entirely new game of business."
A veteran of Procter & Gamble, managing director of WPP Ventures, CMO of Rockfish, cofounder of The Brandery venture accelerator, startup advisor, blogger and author, he frequently publishes in AdWeek, Forbes, iMedia, AdAge and Entrepreneur.
"Today, the largest companies in the world are finding themselves in the middle of a high stakes game of business between startup companies and the Fortune 500 where the bet is the very future of these big companies," Knox says. "I wrote the book to drive a conversation around the changing relationship between startups and Fortune 500 companies, and to unlock an entirely new way for smaller companies to compete on a level playing field."
The event, co-sponsored by the Blackstone LaunchPad and the Martin J. Whitman School of Management, is free of charge and open to the public. Light refreshments will be served.
For more information, or if you need an accommodation in order to fully participate in this event, please contact launchpad@syr.edu at least one week prior to the event date.