Boost the 'Cuse (#BoostCuse): SU's first-ever Giving Day happens on October 17, 2017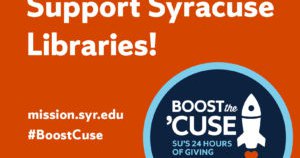 Boost the 'Cuse (#BoostCuse) is Syracuse University's first-ever giving day—a 24-hour giving campaign focused on participation that begins  at 12:01 a.m. on Tuesday, October 17, 2017. 
The campaign goal is to to inspire at least 1,870 alumni, parents, students, faculty, staff, and friends to make a gift to Syracuse University.  We want our community to come together to support their passions and make a difference on this special day. Gifts of all sizes are welcome and appreciated.
The day will feature a number of special challenges that will release more than $500,000 in additional funds. Challenges will highlight units, regions, social sharing, and more—all to channel additional dollars to our most vital areas, including scholarships, the Annual Fund, and deans' funds. Here's an example:
Gifts with "44" Challenge: When the challenge window closes, the school, college, or unit with the most gifts containing the number "44" ($44, $1,000.44, etc.), will receive an additional $1,044 challenge dollars allocated to its specific fund.
Boost the 'Cuse updates can be found at Mission Control, where you can track progress, see who's donated, learn about the different challenges, and more.  The full list of challenges will be available starting on October 10.
Anyone can participate. We need our entire community to participate to have a successful day.
Go Orange!