BREATHE at the Libraries Held April 24-25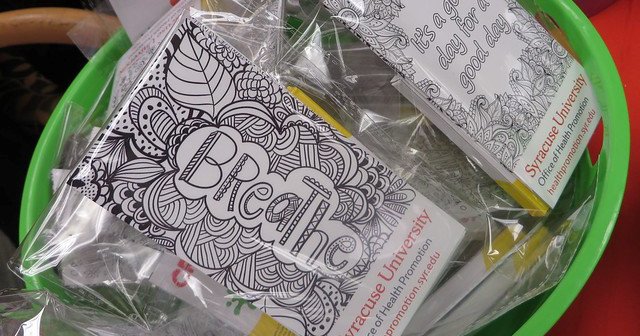 Take a moment to breathe before finals! On Wednesday, April 24 and Thursday, April 25, the Syracuse University Libraries, the Office of Health Promotion, Health Services, and the Society of Public Health Educators (SOPHE) hosted "BREATHE at the Libraries," a series of end-of-semester events to help students relax and unwind as they prepare for Finals Week. Stop by and engage in a range of stress relievers, all to help you BREATHE:
Build your own Lego creations and puzzles,
Recharge with free snacks and refreshments,
Exercise your mind and body with Recreation Services' new library-inspired training circuit,
Art it up with coloring books, crafting, and poetry,
Pet a Therapy dog
Make Healthy connections and grab free giveaways from the Office of Health Promotion, Health Services, and SOPHE, and…
Exhale and get yourself ready for Finals Week!
Check out photos from the event at: https://www.flickr.com/photos/syracuselearningcommons/sets/72157680086464088/with/32761612097
All activities were held in the Peter Graham Scholarly Commons, room 114 of Bird Library on April 24 and 25 from 3:00-5:00 p.m. For questions, please contact Tarida Anantachai at tanantac@syr.edu or Anita Kuiken at akuiken@syr.edu.