'Cuse Market in Bird Library on April 20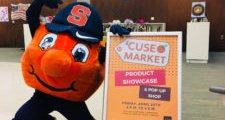 Come to 'Cuse Market, Friday, April 20 from 2 – 4 p.m. on the first floor of Bird Library, where faculty, staff, students, and alumni will display their new products and creative work, whether it is a product, service, or tech. Part demo alley and part market bazaar, 'Cuse Market is an opportunity to browse health and wellness products, artisan goods, packaged foods, fashion and apparel, jewelry, furniture, 3D printed items, industrial designs and gadgets, and the latest technology apps, and to meet makers, artists, engineers and inventors, technologists, and creatives.
This year's event features several new twists:
A "Wellness Pad", from 2 to 3 p.m. in the LaunchPad, will feature yoga and relaxation;
The first ever 'Cuse Film Showcase, from 3 to 4 p.m. in the LaunchPad, featuring the best short films and animations by SU students, organized by Justina Hnatowicz '19, a Blackstone LaunchPad Global Media Fellow;
A 2:30 p.m festive launch party for Necessity Apparel, a startup by another Blackstone LaunchPad Global Media Fellow.
The Blackstone LaunchPad is still looking for creative entrepreneurs and innovators to table at the event.  If you are a member of the Syracuse University or SUNY ESF community and are working on something cool, reserve a spot to bring your laptop, product demos, and some marketing materials, and get noticed.  This is also an opportunity to test a product and get customer feedback. If interested, please e-mail: LaunchPad@syr.edu
The event will also feature campus and community resource providers and Maker Spaces to help connect with the local maker movement.
The event is presented by the Blackstone LaunchPad, which is part of Syracuse University Libraries.