Spring 2018 Experts at Syracuse Training Sessions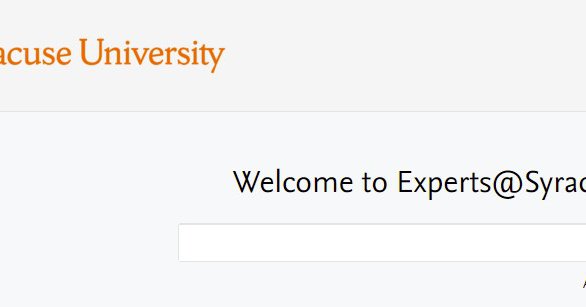 The Office of Research and the Libraries invite faculty to two additional training sessions about Experts@Syracuse.
Experts@Syracuse creates, manages, and makes public Syracuse University researcher profiles. It enables search networking and expertise discovery, and reduces administrative burden for researchers, faculty, and staff. Read more at the Experts@Syracuse FAQ page.
Training Sessions:
Wednesday, May 9
9:30-11 a.m.
Peter Graham Scholarly Commons, 114 Bird Library

Monday, May 14
3-4:30 p.m.
Peter Graham Scholarly Commons, 114 Bird Library
Please register for a training session.
Creates easy to update researcher profiles.
Identifies funding opportunities matched to relevant research interests.
Provides expertise identification.
Fosters wide-spread discovery of each researcher's distinctive expertise.
Quickly identifies sponsored projects.
Creates customized CVs and NIH Biosketches at the click of a button.
For more information, or if you need an accommodation, such as closed captioning, in order to fully participate in any of these workshops, please contact experts@syr.edu.