Elias Savada Provides Gift for Sound Digitization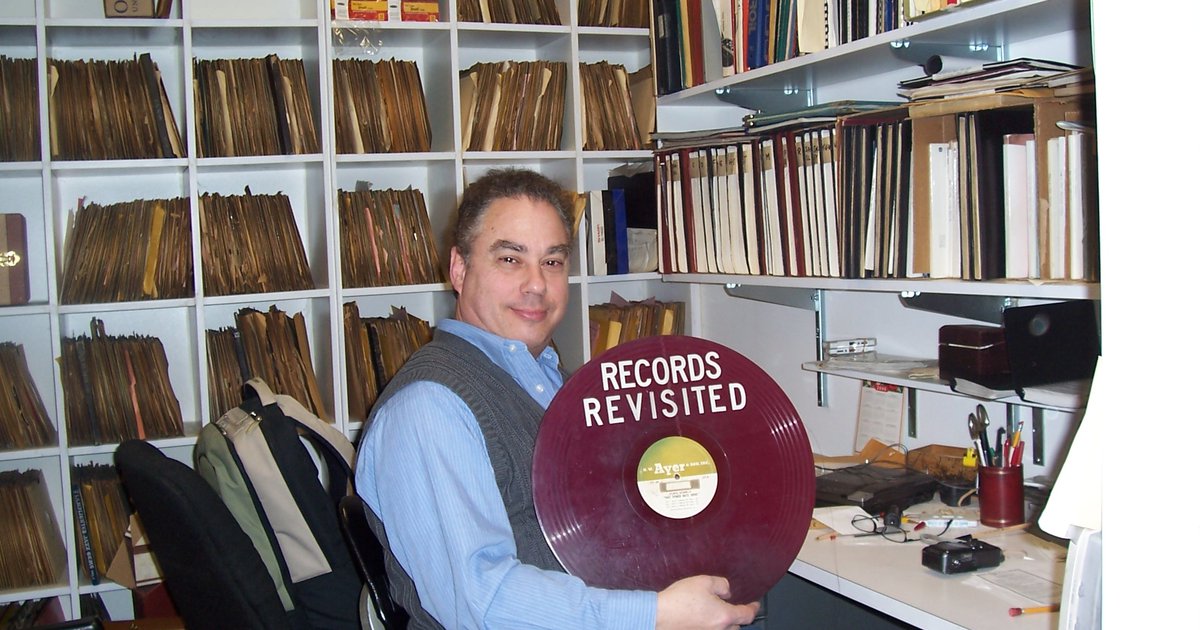 Elias Savada, Director of the Motion Picture Information Service, is gifting Syracuse University Libraries' Special Collections Research Center (SCRC) with a three-year cash donation for sound digitization and preservation. Savada is the son of the late Morton Savada, who was proprietor of the Manhattan record store Records Revisited.
The Savada family donated the complete inventory of the store, more than 200,000 78-rpm records, to SCRC's Belfer Audio Laboratory and Archive after the store closed in 2008. In addition, the family gifted papers from Records Revisited; correspondence from customers, other dealers, and friends; inventories and receipts; and obituaries, clippings, and other information about artists of the era to complete The Morton J. Savada Papers collection. In 2015 the Savada Family renewed their philanthropic commitment to the collection through creation of the Savada Family Sound Beat Endowed Fund, which provided seed funding for the ongoing creation of daily episodes of Sound Beat, an interstitial broadcast program that uses recordings from Belfer Audio Laboratory and Archive. The Belfer Audio Laboratory and Archive houses over 500,000 items, from the earliest experimental recordings on tinfoil to modern digital media. Through digital transfers made at the Belfer Audio Laboratory and Archive, the collections provide source material for Sound Beat episodes.
"One of our greatest priorities as stewards of the rare and unique materials that comprise Special Collections Research Center is preservation. We are so grateful to Elias Savada and the Savada family for their ongoing commitment to the preservation of recorded sound at Syracuse University," said Petrina Jackson, Director of Special Collections Research Center. "Being able to maintain this commitment takes a lot of invisible labor on the part of our staff. As we continue to collect and care for materials, we are guided by the fact that many, like the Savada family, have entrusted us with their collections and that documenting these histories are not only the root of new and original scholarship, but a source of accountability and remembrance. Preservation is a protection of our investment in these archival and cultural heritage materials and a commitment that allows us to continue to provide access to materials to researchers and our SU community."
"I am unaware of any other donation of recordings as large as the Savada gift to Syracuse University Library," said Sam Brylawski, past president of the board of Association for Recorded Sound Collection. "It is an outstanding gesture by the family. It is gratifying, too, to know of Syracuse University's commitment to preserving the work of Morty Savada and making it available to the public and the research community."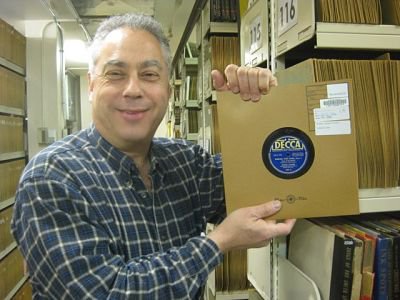 Elias Savada holding record from Records Revisited in the Belfer Audio Laboratory and Archive, 2010.