Graduate Student Research Workshop Oct. 4, 2018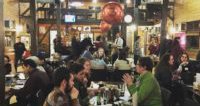 Need help navigating the research process? On Thursday, October 4 from 5:30-7:30 p.m., graduate students are invited to join the Syracuse University Libraries for a relaxed evening at the Inn Complete, and get to know the librarians who can help guide you through the research process and connect you to the resources you'll need to successfully navigate your graduate program. There will be mini presentations starting at 6:00 p.m. and a chance to win prizes.
The event is open for the first 60 graduate students who register for the event. Register and reserve your spot today by filling out the form.
Free food will be available to registered graduate students, and free drink tickets will be provided to the first 25 registered graduate students to arrive at the event.
This event is co-sponsored by the Syracuse University Libraries and the SU Graduate Student Organization (GSO). For any questions, please contact Emily Hart at ekhart@syr.edu.