Finalists announced for inaugural Impact Prize competition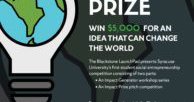 A panel of Syracuse University judges has announced the twelve finalists for the inaugural Impact Prize competition. The student ventures were selected from 36 applicant teams by a panel of Syracuse University faculty and staff who are engaged in entrepreneurship and civic engagement.  The finalist teams proposed the most innovative and implementable ideas to help solve economic or civic challenges.  They will compete in the Impact Prize finals as part of Global Entrepreneurship Week at Syracuse University.
The Syracuse community is invited to the final pitch competition, which will be judged by area business and civic leaders, on November 14 from 3 to 4:30 p.m. in the Peter Graham Scholarly Commons, 114 Bird Library.  The prize announcement by Dr. von Dran, along with a networking reception, will be held at 4:30 p.m.
Coordinated by the Blackstone LaunchPad at Bird Library, the $5,000 Impact Prize competition is supported through a personal gift to SU Libraries from Dr. Gisela M. von Dran.  Director emerita of the iSchool's MSLIS program, and former assistant professor of management at the Whitman School of Management, Dr. von Dran has a special interest in social entrepreneurship.  She previously established the Raymond F. von Dran Fund in memory of her late husband, who was Dean of the iSchool.
The Impact Prize competition is open to Syracuse University students, as well as SUNY ESF students who are studying entrepreneurship at SU.
Judges selected the following teams to advance to the Impact Prize finals:
Biomass Combustion Process: William Lee Mendes McKnight, Ali Goshayeshi for a high efficiency biomass combustion process to power village-scale generators;
Comfeet: Francis Marinez, Geri Madangit for eco-friendly, size-adjustable shoes for toddlers;
Doorway Energy: Teodoro DeLelllis, Joe Potenza for a solution to capture energy coming from commercial doorways through wind turbine and dam technology, in order to generate electricity and sustainability;
Fibrefree: Serena Omo-Lamai, Charles Keppler for a laundry ball that traps microfibers, preventing them from entering aquifers;
Food Sustainability: Samantha Guillaume and Patrick Carleton for a not for profit that transports unused food from local schools and takes it to local pantries;
GreenStrip: Jose Javier Garcia Rovira for a product that enhances the planting process in more infertile soil around the world;
Greenwood Investment Network: Asile Patin for a nonprofit that presents local minority business owners with a pipeline to develop their community economies in a collective, sustainable way;
In-Spire: Kayla Simon, Elizabeth Tarangelo for a wearable Albuterol inhaler from asthma patients who may suffer from asthma attacks while on-the-go;
Modoscript: David Zuleta, Yunpeng Li for a Pill-Safe Digital Health System to address overdosing and underdosing;
Native Women's E-Mag: Michelle Schenandoah for an interactive E-magazine and brand to serve as a national platform for Native women;
Apolitic: Abigail Hamilton, Aaron Sortal, Isabella Lovain, Sally Rubin for an app that connects politically passionate people to engagement opportunities to effectively organize our generation's movements;
Starfruit: Nathan Elequin, Annie Mathis, Mitchell Thomas for an educational technology consulting company dedicated to matching schools with the instructional software best-suited to improve teachers' experiences or their student's engagement;
Wind Turbine Project: Tyler Vartabedian, Ryan Twombly for a highway-barrier mounted vertical axis wind turbine to provide clean energy.
Judges for this round represented academic units across the Syracuse University campus, with expertise in social entrepreneurship, law, art and design, business, communications, information technologies, education, civic engagement, sustainability, the Honors Program, and more. They included Alejandro Amezcua (Whitman), Chris Cofer (University College), Heather Waters (Education), Jolynn Parker, (Renee Crown University Honors Program), Kate Canada (Maxwell), Marcie Sonnebom (iSchool), Michael Giannattasio (Architecture), Molly Zimmerman (Law School), Rebecca Ortiz (Newhouse), Sam Krall (Arts & Sciences/Career Services), Syeisha Byrd (Hendricks Chapel), and Tammy Rosario (Syracuse CoE).
To learn more about the Impact Prize at Syracuse University, visit: launchpad.syr.edu/impact/.
The event is a highlight of #GEW2017 at SU.  For more information about other events that week, visit launchpad.syr.edu/, or sign up for the weekly Blackstone LaunchPad e-newsletter at LaunchPad@syr.edu.