Resource Spotlight: Early European Books (EEB)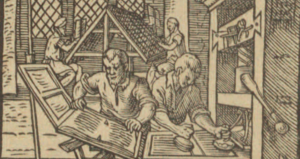 As Libraries collections grow in both electronic and print formats, much of what we collect represents the most current materials being released. You may not be aware, however, that we also build collections of historical material that have many applications for research and teaching.
In 2016, the Libraries purchased access to Early European Books from ProQuest, a collection of digitized works printed in Europe between 1450-1700. Materials emanate from the collections of the Danish Royal Library, the National Central Library in Florence, the National Library of France, the National Library of the Netherlands, and the Wellcome Library in London, the largest available collection of this nature.
The collection provides electronic, full-text access to thousands of books, including full page images, illustrations, and bindings.  The collection is also growing, as digitization efforts at other European institutions enable them to participate.
"Each item is captured in its entirety, complete with binding, edges, endpapers, blank pages and any loose inserts. The result is a wealth of information about the physical characteristics and histories of the original."
EEB offers users a variety of advantages, among them:
the ability to locate early printed editions of works in their original languages;
opportunities to survey illustration, typography, and design practices in early European publishing, and;
access to the larger material aspects of the books included.
The collections can be searched broadly using keywords and bibliographic information, as well as by document features (illustrations, maps, printed marginalia, etc.) and by the library collections within which they appear. Individual books can be downloaded as pdfs or linked to in syllabi or course management systems.
Early European Books offers a continental complement to the hundreds of thousands of books available in Early English Books Online, which covers the same time period for books printed in England.
Reviews:
Magedanz, S. (2013). Early European Books. Choice, 51(1), 52. Retrieved from https://libezproxy.syr.edu/login?url=https://search.proquest.com/docview/1442728483?accountid=14214
LaGuardia, C. (2010, April 1). Early European Books: printed sources to 1700, collection 1. Library Journal, 135(6), 96. Retrieved from https://libezproxy.syr.edu/login?url=http://bi.galegroup.com/essentials/article/GALE|A223749280?u=nysl_ce_syr&sid=summon
Contributed by: Patrick Williams, Librarian for Literature, Rhetoric, and Digital Humanities