Global Entrepreneurship Week at SU Libraries, November 12-18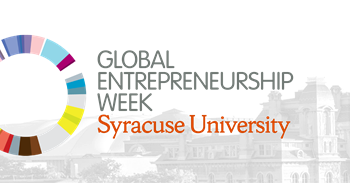 This year's Global Entrepreneurship Week celebrates four themes— women, youth and inclusion in entrepreneurship, and connecting innovators and ecosystems from around the world.
One week each November, thousands of events in 170 countries inspire millions to engage in entrepreneurial activity while connecting them to potential collaborators, mentors and investors.
Syracuse University is joining the celebration, powered by the Kauffman Foundation, with a lineup of campus and community events coordinated by the Blackstone LaunchPad at SU Libraries.
GEW Syracuse will showcase the rich innovation ecosystem on campus, and help connect campus entrepreneurs with local and global resource partners.  The LaunchPad will use the four themes to highlight powerful voices and innovators who promote, encourage and support the development of entrepreneurs within each of these four spaces.
GEW Women celebrates female entrepreneurs, ecosystem builders, investors and other startup champions, while offering opportunities to expand their networks, identify resources and share knowledge with other women around the world.
GEW Youth inspires and shapes the next generation of innovators, stresses the importance of entrepreneurship education, helps blaze pathways of opportunity for business and civic leaders in an entrepreneurial world.
GEW Inclusion highlights the work startup champions are doing around the world to minimize barriers and obstacles for entrepreneurs by maximizing inclusion, valuing diversity and promoting access for all students to enhance equity and provide a platform for innovation and inclusion.
GEW Ecosystem Connect supports organizations around the world like the Blackstone LaunchPad powered by Techstars that facilitate collaboration and partnership between startup ecosystems.   Sharing knowledge and connecting local ecosystems with global resources, and bringing different cultural perspective together, is at the heart of building healthy and thriving entrepreneurial communities.
Here is a lineup of Syracuse events.  All are open to the community and free unless otherwise indicated.
November 10 and 11, Kickoff Hackathon, Blackstone LaunchPad and Peter Graham Scholarly Commons in Bird Library, hosted by SA
November 12, Keynote Address, noon to 1 p.m., Peter Graham Scholarly Commons in Bird Library, author, influencer and marketing expert Hayley Foster, "Foster Your Passion," co-hosted by Whitman School of Management, E-Club, Women's Network:
November 12 – 18, Pop-up interactive installation by VISION, student entrepreneurship club, "10,000 Ideas That Can Change the World," all week at the Blackstone LaunchPad
November 13, Impact Prize $10,000 student social entrepreneurship competition, 3 p.m. to 6 p.m., Bird Library
November 13 and 14, MedTech Conference featuring SU student innovators, educators, industry leaders, investors, On-Center Syracuse (admission), sponsored by MedTech
November 14, Global Insight Business Research Workshop, 1 p.m. to 2:30 p.m., Blackstone LaunchPad
November 14, Pan Global Challenge, 4 p.m. to 5:30 p.m., Blackstone LaunchPad
November 14, Hult Prize Power Hour, 6 p.m. to 7 p.m., Blackstone LaunchPad
November 15, Fireside Chat with Julia Haber '18, founder, WAYV, noon to 1 p.m., Blackstone LaunchPad
November 15, Inclusive Entrepreneurship Workshop, 1 p.m. to 2 p.m., Blackstone LaunchPad
November 15, NEXT Conference, Holiday Inn Convention Center, Liverpool (admission), sponsored by CNY Biotech Accelerator, CASE at Syracuse University, TDO, NYS  Science and Technology Law Center Syracuse University
November 18, Wege Prize, applications due
Follow activities on social media:  Facebook:  LaunchPadSYR and Twitter:  @LaunchPadSYR, and read more about the events on the Blackstone LaunchPad news page.
Tag posts with the official Global Entrepreneurship Week hashtag — #GEW2018.
Help celebrate the spirit of innovation at SU next week!