LaunchPad expansion ribbon cutting on September 6 to feature Techstars entrepreneurs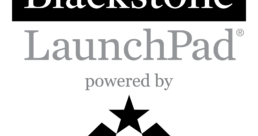 The Blackstone LaunchPad at Syracuse University will host a ribbon cutting event at noon on September 6 on the first floor of Bird Library to celebrate its expansion, as well as an expanded partnership between the Blackstone LaunchPad and Techstars.
The LaunchPad doubled in size over summer 2018 to accommodate the growth of the popular program that provides faculty, staff, students, and alumni with a welcoming innovation hub to connect participants with Syracuse's rich innovation and entrepreneurship ecosystem.
The expanded LaunchPad occupies a visible space on the first floor of the Learning Commons and connects to the original glass cube that opened in April 2016 that features communal space and cozy "nooks" with couches, meeting tables, and smaller, private workspaces.
Now offering new co-working space for up to 35 more entrepreneurs, the LaunchPad has the capacity to host technical workshops, guest speakers, and networking events. This summer it hosted 47 high school students from nine countries for a summer boot camp in entrepreneurship. It also hosted visiting students from five universities in the United Arab Emirates, and visiting Fulbright Scholars from around the world. This fall it will host a "Call for Code" hackathon on September 14-15, and a NSF iCorps regional course on September 28, 29, and October 12.
A new feature of the expanded space is the "Bird Nest," a meeting room with video and audio conferencing capacity. The space will enable student ventures to have a more private setting to work with subject matter experts and investors who are in remote locations and help LaunchPad staff to stay connected and serve Syracuse University alumni who have "launched" from the program.
In addition, a new workstation will allow the program to bring in resource providers on a regular basis for "Launch Hours" to work with students on topics related to patent landscaping, industry and market research, business incorporation, accounting and finance, getting investment ready, and creating social impact.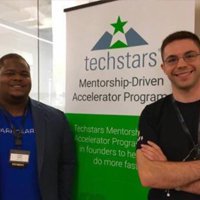 Joining Dean of the Libraries, David Seaman in cutting the ribbon will be the first three Syracuse University student entrepreneurs accepted into the prestigious Techstars program—Josh Aviv '14, G'17, founder of SparkCharge, and Angelo (AJ) Damiano '18 and Michael Paris '20, co-founders of PowerSpike.
Following the ribbon cutting, Aviv, Damiano, and Paris will host a "Meet the Techstars" event to inspire new students who are interested in exploring innovation and entrepreneurship.  They will share their perspectives from the "dorm room to the boardroom," collectively raising more than $1.5 million in equity investment, and their experiences into Techstars, a prestigious, highly-competitive program that reviews 1,000 applications for each 10 accepted into the accelerator cohort. Aviv and Damiano will be flying in from Boston and Atlanta for the event, where they have been part of Techstars accelerators in those cities. Paris is a student in the VPA program.
Executive Director of the Blackstone LaunchPad, Linda Dickerson Hartsock will also announce a new Blackstone LaunchPad-Techstars opportunity that will be open to Syracuse University students this fall.
The event is free of charge and open to all. To help plan for pizza party refreshments, please email launchpad@syr.edu if you plan to attend.