Libraries Awarded Collaborative Institute of Museum and Library Services Grant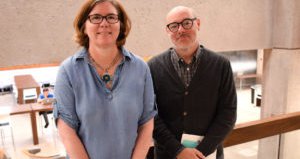 The Institute of Museum and Library Services has awarded an $82,688 grant to the University of Rochester, Colgate University, Cornell University, and Syracuse University to plan and pilot a skill-sharing program. The grant is part of the Laura Bush 21st Century Librarian program, which supports developing a diverse workforce of library and archives professionals to better serve the changing learning and information needs of the American public by enhancing the training and professional development of librarians, developing faculty and library leaders, and recruiting and educating the next generation of librarians. The program will use the Library Carpentries train-the-trainer model to promote continuing education and cross-institutional collaboration throughout New York State.
Syracuse University librarians Patrick Williams, librarian for literature, rhetoric and digital humanities, and Deirdre Joyce, head of the Digital Library Program, collaborated with colleagues from other academic research libraries to submit a proposal for the planning grant. This grant will be used to analyze two intertwined needs within the library community. The first is how to train and support librarians in the digital fluencies that are increasingly relevant to research and teaching efforts. The second is how to meet those demands by working regionally across libraries and institutions and drawing on a range of expertise. This work will serve as a template for structuring a community of practice that supports public and academic partnerships that meet the evolving needs of libraries across the country.
"Academic research libraries have a long history of developing innovative services that promote scholarship and enable further collaboration," said Scott Warren, associate dean for research and scholarship, at Syracuse University Libraries. "Patrick and Deirdre's work with other librarians across the state will improve the student and faculty experience for all our institutions."