Stephanie McReynolds, Associate Librarian, Selected for ARL's Visiting Program Officer Project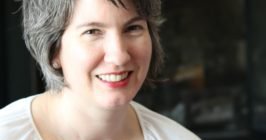 Stephanie McReynolds, associate librarian for business, management and entrepreneurship at Syracuse University Libraries, has been selected as one of five Association of Research Libraries' (ARL) Visiting Program Officers to advance the Research Library Impact Framework initiative, beginning July 1, 2019. The Research Library Impact Framework initiative explores library services, operations, impact, and alignment with institutional mission and goals across four areas: Research & Scholarly Life Cycle; Teaching, Learning & Student Success; Collections; and Physical Space. The framework provides the scaffolding for deeper exploration across multiple library service areas and serves as the foundation for the ARL's research agenda.
The ARL Visiting Program Officer program provides opportunities for staff in member libraries and archives to contribute to special projects and programs, either in whole or in part, in order to advance the ARL's agenda. It provides highly visible professional development opportunities for outstanding staff members and serves membership as a whole by extending the capacity of ARL to undertake additional activities. There are a range of issues where a visiting program officer could make a contribution. McReynolds was selected to participate in the Research Library Impact Framework.
The Visiting Program Officers will work with Sue Baughman, ARL interim program director for Research and Analytics. They were selected based on their expertise in assessment, project management, and subject matter. Stephanie McReynolds will provide overall project management facilitation and leadership for the project teams. She will work with Baughman to advance the project timeline and assist with the development of agendas for meetings of all project teams that will occur two times over the course of the next year. McReynolds will also work with Baughman to engage with the team exploring the question "(how) do library collections play a role in attracting and retaining top researchers and faculty to the institution?"
"This is an excellent professional opportunity for Stephanie to participate in scholarly research around the impact of research libraries, and it greatly benefits the Libraries collectively to contribute to the body of work," said David Seaman, dean of Libraries and University Librarian and interim dean of School of Information Studies.
Other Visiting Program Officers include:
Ava Brillat, librarian for English, theater, and classical studies at the University of Miami
Gordon Daines, department chair for the L. Tom Perry Special Collections at Brigham Young University
Greg Davis, assistant director for assessment and planning at Iowa State University
Glenn McGuigan, library director at Penn State Harrisburg