Libraries Commemorates Latinx Hispanic Heritage Month 2019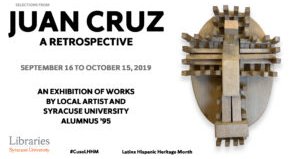 In commemoration of Latinx Hispanic Heritage Month (September 15-October 15), the Syracuse University Libraries, in collaboration with La Casita Cultural Center and the Office of Multicultural Affairs, is proud to share a display titled "Selections from Juan Cruz: A Retrospective." The exhibit features works on loan by Juan Cruz '95, Syracuse-based artist and Syracuse University alumnus, on display on the first floor of Bird Library through October 15. A similar exhibition, showcasing the expansive body of Cruz's works, was recently hosted at the Everson Museum during the summer of 2019.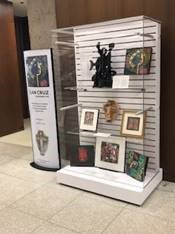 Selections from Juan Cruz: A Retrospective
For more information about the pieces in this exhibit, including inquiries to the artist, please contact La Casita Cultural Center at lacasita.syr.edu.
There is also a Latinx Hispanic Heritage Month book display in the New Books section on the 1st floor of Bird. It highlights approximately 70 books by Latinx and Hispanic authors published within the past decade and aims to showcase some newer works and newer voices from the Latinx and Hispanic community. The books are available for patrons to check out.
For more information on the Office of Multicultural Affairs' Latinx Hispanic Heritage Month celebration, follow #CuseLHHM.