Bird Library Hosting Homo-Symbiosis Architectural Installation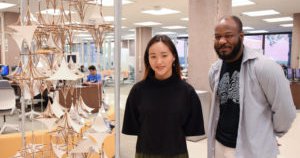 Two students from the School of Architecture, Benson Joseph '20 and Parinda Pin Sangkaeo (Pin) '22, have created and installed an original display titled "Homo-Symbiosis" on the first floor of Bird Library.  It will be on display in the Learning Commons near the computer cluster through November 2.
The students have independently collaborated on several works outside of any coursework or assignments. This piece is made from paperboard, lightweight wood, and plastic. They describe their piece as follows:
Too often we are easily influenced by the latest buzz feed, political pundit, and our president's most recent tweet. In the process, we tend to forget our common humanity. The virtual realm of free speech has been turned into isolated cocoons constructed from a series of algorithms designed to categorize the individual into a nest of their own mind. We are neither for the individual or the collective consciousness. We believe in the example provided by the natural world that everything exists within a symbiotic relationship. Therefore, both parties are of equal necessity. The installation aims to illustrate the idea into a tangible construction. Where the whole is the sum of its parts. Each individual hold within unique characteristics, perfectly suitable for the machine of our collective civilization. The irregular arrangement of the whole aims to render an idea of flexibility offered and limited by one's imagination, implying many possible configurations. Next, the slight variation of every single diamond within a module of nine cater to the unique characteristics of an individual. Finally, the mirror surfaces act as a reminder that you, as an individual within the collective, are the spectator. Your role as a crucial participant through the use of the reflected surfaces reiterate the equal necessity of both complementary bodies.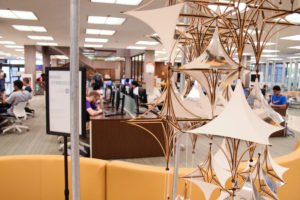 Homo-Symbiosis Display in Bird Library
"We wanted to include this piece in Bird Library because so many people pass through this space," said Benson. "It makes us happy to share our work with others. It's an opportunity to bring work from the School of Architecture to the broader University campus," added Pin.
"We're delighted to share the artistic work of these students at the Libraries," said David Seaman, dean of Syracuse University Libraries, University Librarian and interim dean of the School of Information Studies. "Our Learning Commons regularly supports the display of both student and faculty art and
design, and we encourage those interested to contact us. We also have an Arts Programming Team that is charged with developing visual and performing arts events and providing support for programs in our Learning Commons. Initiatives like these foster an inclusive library environment, provide partnership opportunities, and support learning by providing a forum."