Libraries Provide Access to E-book Package from JSTOR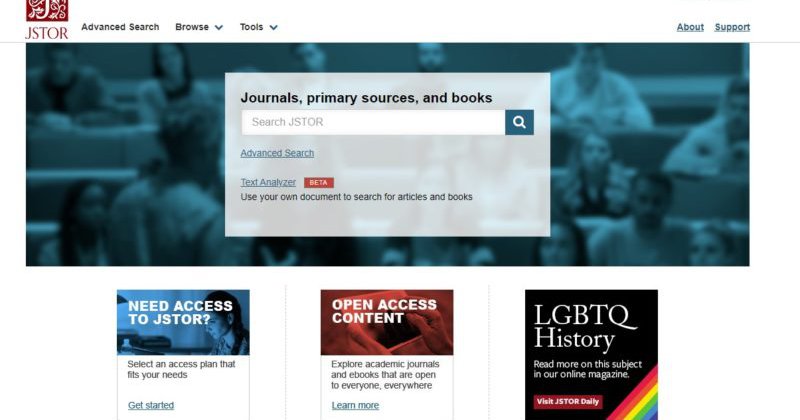 Syracuse University Libraries has acquired access to more than 45,000 e-book titles, copyright year 2017 and earlier, hosted on the JSTOR platform as part of an e-resource collections pilot.
The JSTOR e-book package contains titles from many major university presses, including Harvard, Yale, University of California, University of Michigan, and Princeton, as well as other academic publishers in the social sciences, arts, humanities, and sciences. All titles in the package are discoverable from the Libraries' home page via Summon and from searching within JSTOR. A full list of participating book publishers is available on JSTOR's website.
The initial access period on campus for the JSTOR e-book pilot runs from now until June 30, 2020. Usage data will be monitored and analyzed by the Libraries' collections team. They invite feedback from all users concerning the effectiveness of the JSTOR e-book package, which will inform how the Libraries balance collections priorities and consider continuing access beyond June.
The Libraries employ a diverse set of strategies for collection development, utilizing many approaches for investing collections funding. These strategies include a transformative and highly impactful approach of acquiring access to thousands of items in one license agreement, as demonstrated by the JSTOR e-book package, and through anticipatory and responsive title-by-title approaches, guided by our professional subject librarians and user requests from faculty and students. These strategies sit on top of a competitive commercial publishing environment that employs a myriad of purchasing, leasing, demand-driven, and evidence-based access and pricing models, resulting in a complex workflow for strategic and responsible collections decision-making.
For more information about how the Libraries develop the collections, or to contribute your input and expertise as a user, please contact Anne Rauh, Head of Collections and Research Services, at aerauh@syr.edu.