Special Collections Research Center Reflects on Sesquicentennial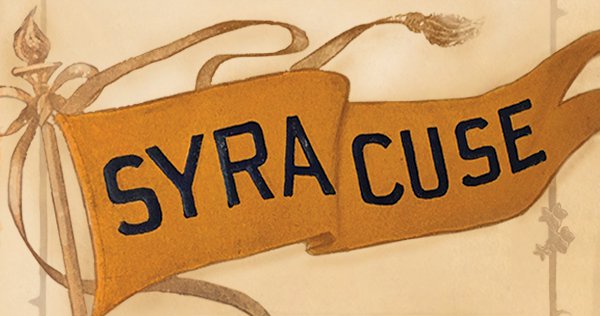 UPDATED 3/17/20: EVENT POSTPONED
Syracuse University Libraries' Special Collections Research Center (SCRC) will honor Syracuse University's founding 150 years ago on March 24, also known as National Orange Day, with special exhibition tours and a pop-up exhibit.  Visitors of Bird Library on March 24 can experience five different University history exhibitions:
150 Years of Syracuse University in Maps on the 3rd floor,
150 Years of Tradition at Syracuse University on the 6th floor,
A Legacy of Leadership: The Chancellors and Presidents of Syracuse University on the 1stfloor,
Milestone of the Syracuse University Libraries on the 1st floor, and
Student Life at Syracuse University pop-up exhibit on the 6th floor.
University Archivist and curator Meg Mason will offer tours of the exhibition 150 Years of Tradition at Syracuse University on the morning of March 24. Featuring a wide selection of photographs, printed materials, textiles, and other memorabilia, this exhibition presents the numerous traditions of Syracuse University and shows the University's roots in the past and how some of the heritage has been passed forward. Tours are scheduled for 10:00 am and 11:00 am in the SCRC gallery space on the 6th floor of Bird Library. Reserve your place in a tour by contacting Julia Chambers (jschambe@syr.edu) by March 18.
SCRC staff will also present a pop-up exhibition, Student Life at Syracuse University over 150 Years, in Room 606 (Hillyer Room) Bird Library from 1 to 4 pm on March 24. Visitors will have an opportunity to see additional historical materials from the University Archives, including photographs, maps, memorabilia, and the papers of past SU students. Those interested in old photos and maps of campus, curious about where students lived when the campus did not yet have dorms, or the classwork and student extracurricular activities from the past should attend this pop-up exhibition for glimpses into student life over Syracuse University's history.
In addition to the five exhibits at Bird Library, the Libraries will also provide:
A display of the Milestones of the Syracuse University Libraries in Carnegie Library's Diana entryway display case from March 16 through commencement weekend.
Five episodes highlighting Syracuse University's 150th anniversary in Sound Beat, the Libraries' 90-second daily radio program based on recordings from SCRC's Belfer Audio Archive.  The episodes, scheduled to air in March, will focus on the school colors, the block S logo, campus songs and singing, the number 44, and student traditions. Sound Beat is carried by commercial stations in major markets, community-supported stations in small communities, and reader services that provide news and entertainment to the elderly and visually impaired.