Libraries Recognize Outstanding 2023 Student Employees with Awards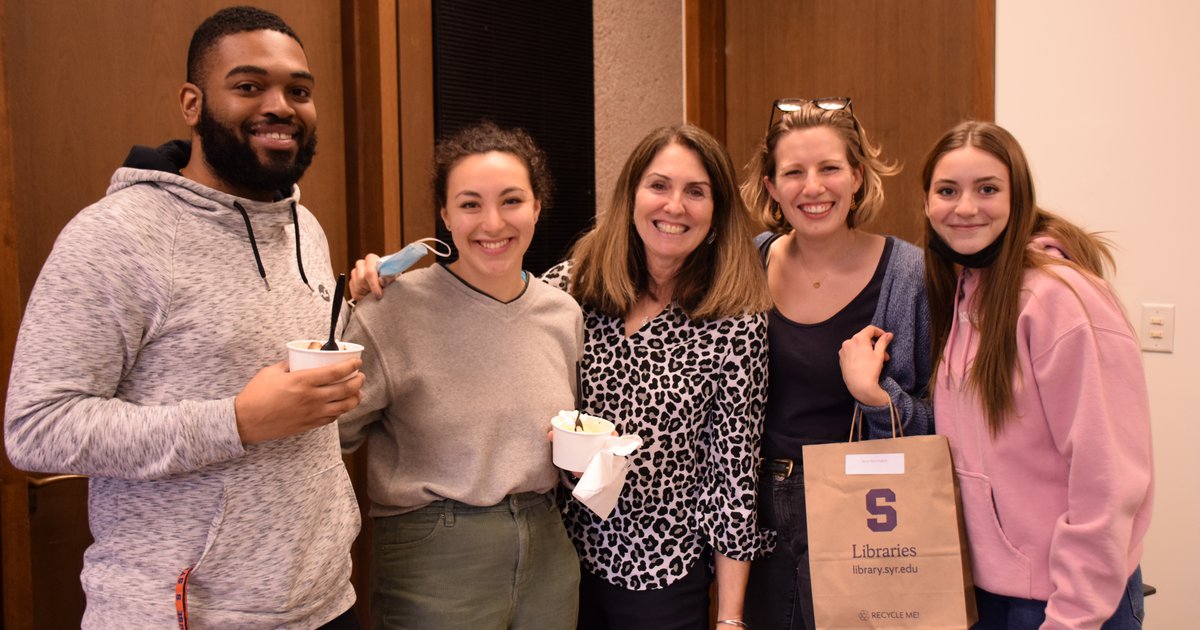 Syracuse University Libraries recognized its student employees with an awards celebration on April 20, 2023. The Libraries typically employ around 150 undergraduate and graduate students each year to contribute to the safety of our spaces, the quality and repair of our collections and to provide service support to patrons. Supervisors nominate student employees who have demonstrated dedicated service over time and significant contributions that have made a lasting impact on the Libraries.
The Libraries recognize these students through the generous support of Kathy and Stanley Walters, the family of Patricia Kutner Strait and the many donors to the Libraries Dean's Fund.
2023 student award recipients and their respective Libraries departments are:
Kathy and Stanley Walters Student Employee Scholarship Awards
Caroline Charles PhD'23 (College of Arts & Sciences), Special Collections & Research Center
Chloe Guedalia G'23 (School of Information Studies), Information Literacy
Jeremy Gurgis JD'23 (College of Law), Law Library
Rebecca McCall G'24 (School of Information Studies), Learning & Academic Engagement
Kylie McKenna G'23 (School of Information Studies), Access & Resource Sharing
McKenzie Rybka G'23 (College of Visual & Performing Arts), Research & Scholarship
Ethan Tyo G'23 (Falk College of Sport & Human Dynamics), Blackstone LaunchPad
Phoebe "Halsey" Van Allen G'23 (School of Information Studies), Special Collections Research Center
Patricia Kutner Strait Student Scholarship Awards
Paige Brnger G'23 (School of Information Studies), Access & Resource Sharing
Morgan Collier '23 (College of Arts & Sciences), Access & Resource Sharing
Jessica Elliott PhD'23 (Maxwell School of Citizenship & Public Affairs), Special Collections Research Center
Keighley Gentle '23 (College of Arts & Science), Special Collections Research Center
Rachel Hogan G'23 (School of Information Studies), Information Literacy
Oliver Mack, Jr., G'23 (Whitman School of Management), Access & Resource Sharing
Yike Tang '23 (Falk College of Sport & Human Dynamics), Learning & Academic Engagement
Dean's Commendations
Athyang Aman '23 (College of Arts & Sciences), Securities & Facilities
Sharanya Kanwar '23 (School of Education), Research & Scholarship
Abrahim Kenneh '23 (School of Information Studies), Securities & Facilities
Christian Ward '23 (College of Engineering & Computer Science), Securities & Facilities
Honorable Recognitions:
Nashon Ash '23 (Falk College of Sport & Human Dynamics), Security & Facilities
Caleb Brown '24 (School of Information Studies), Learning & Academic Engagement
Niah Edwards '26 (Newhouse School of Public Communications), Special Collections Research Center
William Gore G'24 (School of Information Studies), Learning & Academic Engagement
Mariela Mercado '24 (College of Arts & Sciences), Learning & Academic Engagement
Hien Nguyen '23 (Whitman School of Management), Learning & Academic Engagement
Lauren Quackenbush G'23 (School of Information Studies), Information Literacy
Jared Rodriguez '23 (College of Engineering & Computer Science), Security & Facilities
Ella Whicker '25 (College of Arts & Sciences), Special Collections Research Center
Ubah Yusuf '23 (College of Arts & Sciences), Security & Facilities