Libraries to Host The Humanities and Technology (THAT) Camp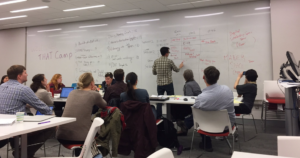 Syracuse University Libraries is hosting The Humanities and Technology (THAT) Camp Central New York (CNY) on October 25, 2019 in Bird Library. Camps are free to attend, user-generated, informal conference programs for anyone interested in the humanities or technology at any skill level. The program and agenda is not set in advance, but rather is created by all participants the morning of the conference based on the interest and feedback of attendees. The emphasis is on productive, collegial work and free-form discussion. THATCamp is a great opportunity for established digital humanists to share methodologies or for beginners to learn the ropes.
THATCamp CNY welcomes students, faculty, scholars, librarians, archivists, museum professionals, developers and programmers, teachers, community members, and others to participate. It is designed to be a spontaneous, timely, non-hierarchical, inter-disciplinary, intellectual event. There are no lengthy proposals, papers, presentations, or product demonstrations. Anyone interested can register to attend. All attendees are welcome to propose a session or topic on THATCamp CNY 2019 website on any subject relevant to the humanities and technology. THATCamp CNY is being facilitated by Patrick Williams, Ph.D., librarian for Literature, Rhetoric, and Digital Humanities at Syracuse University Libraries.
"As the academic hub of Syracuse University, the Libraries is delighted to host THATCamp again. The energy and intellectual conversations that flow from participants contributes to the University's inclusive environment and development of engaged citizens and scholars in a changing global society," said David Seaman, Dean of Syracuse University Libraries, University Librarian and interim Dean of School of Information Studies.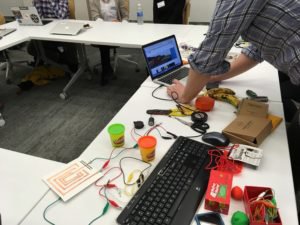 Working Table and Tools from THATCamp CNY 2017 in Bird Library