Libraries to offer series of events for 2017 Open Access Week, October 23-29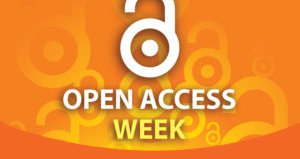 Today's scholarly publishing landscape is broad and inclusive of many publication choices, based upon format, copyright, and more. With evidence showing the citation advantage of Open Access (OA), the Syracuse University Libraries are celebrating Open Access Week International this year. Come join us for lectures throughout the week on a variety of topics related to Open Access. All events will be held at Syracuse University Bird Library. If you need an accommodation to be able to fully participate in these events, please contact Amanda Page at alpage@syr.edu by October 16, 2017.
Introduction to Open Access: Monday, October 23, 2017, 2-3 p.m. in 608 Bird Library
Amanda Page, Open Publishing Librarian, Syracuse University
Introduction to Open Access, author rights, and scholarly publishing today, including copyright, Creative Commons licensing, and re-use rights.
Reputation Management and Open Access: Tuesday, October 24, 2017, 10:30-11:30 a.m. in 606 Bird Library
Anne Rauh, Collection Development and Analysis Librarian, Syracuse University,
Discussion of the intersection of reputation management and Open Access, including an introduction to scholarly profiles, scholarly impact – both traditional and Altmetrics, and more.
Data Management and U.S. Federal Mandate Requirements: Wednesday, October 25, 2017, 3-4 p.m. in 606 Bird Library
Paul Bern, Research Data Services Librarian, Syracuse University
Introduction to Data Management, its relationship to U.S. federal grant funding, and data management planning.
Open Access Repositories: Thursday, October 26, 2017, 1:30-2:30 p.m. in 046 Bird Library
Patrick Williams, Librarian for Literature, Rhetoric, & Digital Humanities and Amanda Page, Open Publishing Librarian, Syracuse University
Overview of SURFACE, Syracuse University's open-access institutional repository and discussion of different types of repositories.
Author Carpentry: DOIs and ORCIDs—understanding the full power of digital identifiers: Monday, November 6, 12-1 p.m., 046 Bird Library
Sebastian Karcher, Associate Director, Qualitative Data Repository, Moynihan Institute, Syracuse University
Introduction to digital identifiers like DOIs and  ORCIDs, with hands-on exploration of the features of the identifiers. Learn how to get bibliographic data or a formatted citation from a DOI, to create an ORCID profile and have it update automatically with your new publications. (No previous knowledge required).