Library Addition to Storage Facility Safeguards Rare Items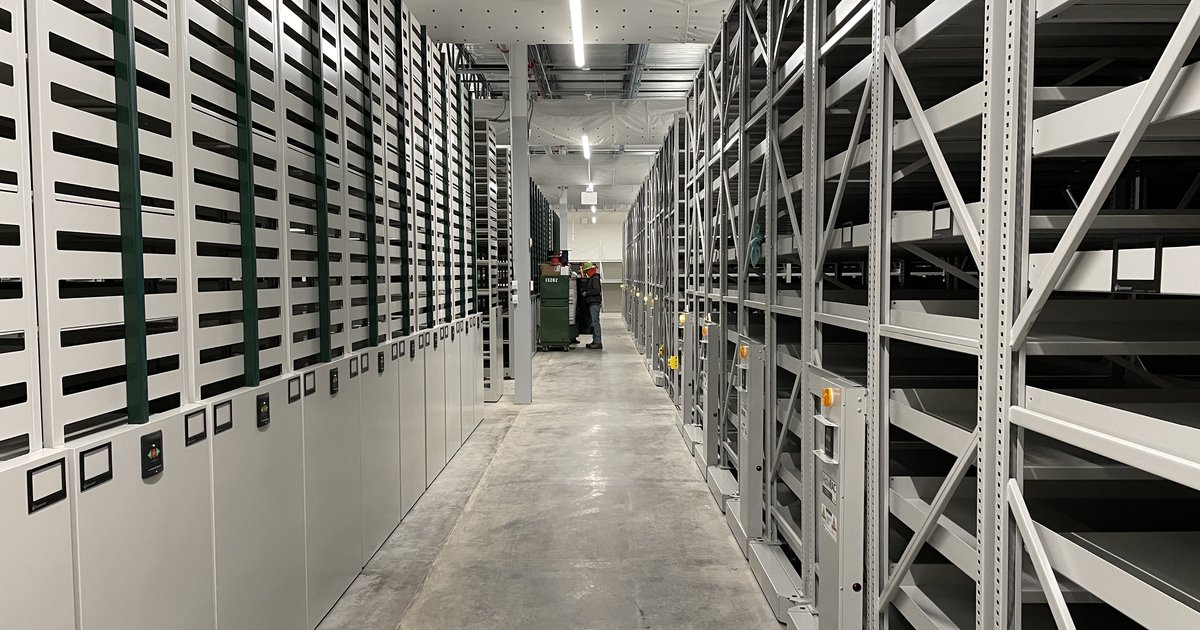 Syracuse University recently completed a 14,000 square foot addition to the Library Storage Facility to safeguard many thousands of rare photographs, negatives, tape-based media, documents, books, and sound recordings used by researchers and instructors.  Added on to the original Module 1 storage facility (built in 2012), Module 2 consists of temperature and humidity-controlled cool and cold vaults to provide preservation quality storage conditions to extend the life of these materials for generations of scholars and students and to allow for eventual digitization.
It was funded in part by the University as a commitment to our cultural heritage and in part from gifts received from various donors, including SU Trustees William J. ('65, G'68) and Joan ('67, G'68) Brodsky and Eric ('66, G'68) and Judith C. ('66, G'73, G'80, PhD'84) Mower.
Module 2 is designed to provide optimum environmental conditions for the preservation of items from the Libraries' Special Collections Research Center. Unique, rare and fragile materials  that require cold (25°F, 40% Relative Humidity) or cool (50°F, 30% Relative Humidity) environmental conditions can be stored in Module 2 for secure and long-term preservation. Module 2 also has customized security technology, fire protection and environmental controls that will halt degradation and extend the life of these valuable collections by several hundred years, ensuring crucial access to the teaching and scholarship happening on the University's campus.
"Module 2 allows us to preserve invaluable resources, especially the Libraries' Special Collections Research Center's film, audiotape, photographs and acidic paper-based materials," said David Seaman, Dean of the Libraries and University Librarian. "As stewards of these collections, it is our responsibility to ensure they are properly kept and preserved for future generations. Module 2 provides a stable, clean, secure and environmentally controlled environment that significantly extends the life of our special collections, allowing for overall collections growth and driving research and teaching excellence in the future."
The Libraries is planning an open house for faculty in the fall.