Biblio Gallery Exhibit: "Everyone Wears Clothes"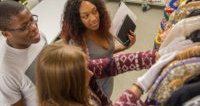 Syracuse University Libraries' new Biblio Gallery Exhibit on the 4th Floor of Bird Library is running from May 30, 2019 through the end of August 2019. The exhibit titled "Everyone wears clothes" was curated by Fashion faculty Professor Jeffrey Mayer and Professor Kirsten Schoonmaker from Syracuse University's College of Visual and Performing Arts School of Design.
About the Exhibit:
Everyone wears clothes. We choose them casually from our closet, browse the latest trends online, and gossip about what influencers post on Instagram. In a moment when images of the most recent runway shows are instantly available, why should we look at dresses from the 1930s or jackets from the 1970s? Drawn from the Sue Ann Genet Costume Collection, housed in the university's Fashion Design Program in the Nancy Cantor Warehouse, this selection of photographs highlights details from these historic clothes, inviting us to look closer.  In his 2015 publication Vintage Details; A Fashion Sourcebook, Professor Jeffrey Mayer worked with university photographer Stephen Sartori to document design details found within these historic garments.
The Sue Ann Genet Costume Collection is a significant resource for faculty, students, and community. Comprised of some 3,500 women's garments and accessories, from 1820 to the present, this collection can serve as a primary source for research into our material heritage, a treasure trove of inspiration for new design, and a library for students curious about how to create a certain type of pocket or for five different techniques for creating a pleated detail.
Hanging in the window are selections from a course project that asked students to replicate designs from the collection. Rather than working from flat two-dimensional images, students were able to measure yardage, observe placement of technical construction details, and investigate the proportion of design in a meaningful way.  Historic garments can offer information about their period of manufacture, but by continuing to look closely at this collection of women's high fashion, we realize that these clothes are still contributing to ongoing stories.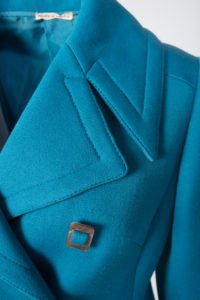 Details Book The Sue Ann Genet Costume Collection
For more information about the Biblio Gallery Exhibit, contact S. Ann Skiold, MFA, MLIS, Subject Librarian for Decorative & Applied Arts, Design, Art History, Film, Photography, and Spanish & Italian at Syracuse University Libraries or apply via Biblio Gallery exhibition submission.