Biblio Gallery Exhibit: Isle of Brendan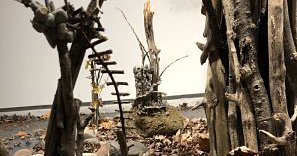 Syracuse University Libraries' new Biblio Gallery Exhibit on the 4th Floor of Bird Library is a cartography piece titled "Isle of Brendan" by Eric M. Warren, a fourth-year student in the College of Visual and Performing Arts. His exhibit runs from January 27, 2020 through mid-March.
"Taking inspiration from the microcosms that surround us in the natural world, I have found that often the maps we draw yield fantastical elements themselves. Through the gathering of hundreds of lines, symbols, and words, and the arrangement of them all into a specific order, we generate a greater meaning that returns to us worlds which we do and do not know. I implore you to view this piece not as a map, but rather as an orchestration of familiar parts, coalesced into an unfamiliar and nonexistent land," said E. M. Warren.
For more information about the Biblio Gallery, contact S. Ann Skiold, MFA, MLIS, librarian for Decorative & Applied Arts, Design, Art History, Film, Photography, and Spanish & Italian at Syracuse University Libraries or apply to submit an exhibit via Biblio Gallery exhibition submission.