Special Collections Research Center Exhibit: 'Provisions for Your Research Journey'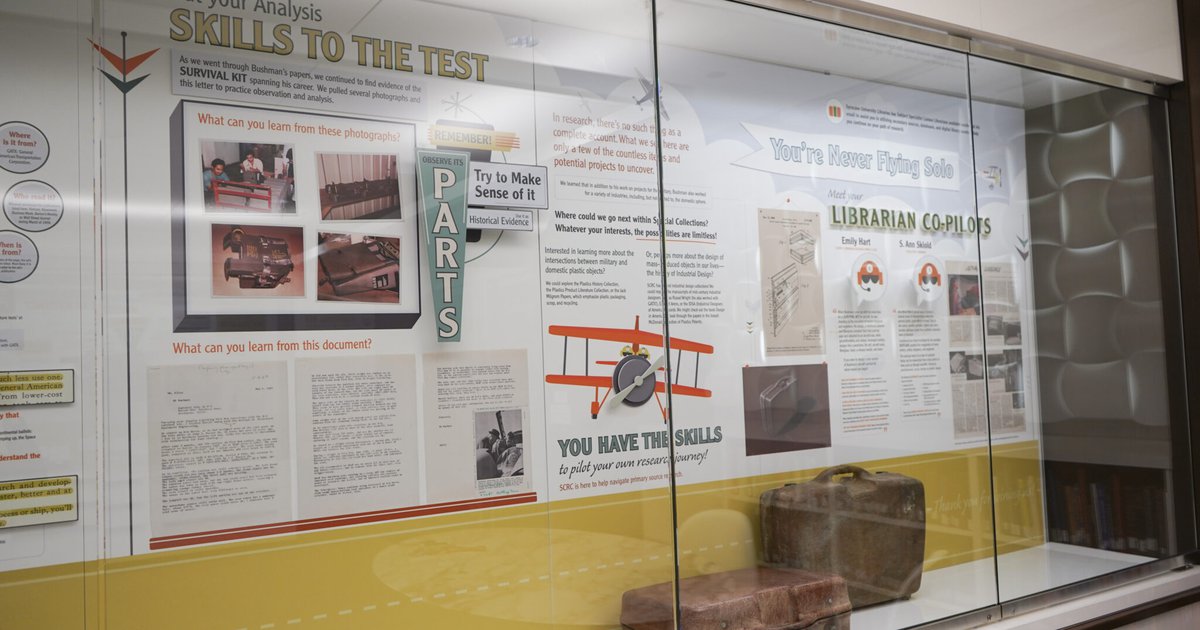 Syracuse University Libraries' Special Collections Research Center (SCRC) announces a new exhibition located in the Plastics Pioneers Reading Room on the 6th floor of Bird Library. The exhibition, entitled 'Survival Kit: Provisions for Your Research Journey',  is on display now throughout 2021. It utilizes a selection of artifacts, documents, and photographs from the Edwin F. Bushman Papers, a mid-century plastics engineer, and the Plastics Artifacts Collection, to guide students and visitors through developing primary source-based research projects that dare to inquire into the unexpected.
From the discovery of materials, to the unfolding of their analysis, this unique exhibition has been designed to function as a standalone resource for students, as well as a scaffold for instruction in any course that emphasizes primary source research. An artifact can be an object of inquiry even on its own, but in finding and articulating relationships among artifacts, a world emerges with its own history to tell. SCRC intends to provide live-streamed interactive class sessions, as well as asynchronous video tours, to immerse students in the environment of the exhibition. 
"Our plastics-related collections are unique to Syracuse University and I am excited for students to walk away empowered with skills for primary source research and the knowledge that these collections are available for them to engage with and interpret," said Courtney Asztalos, Curator of Plastics and Historical Artifacts. "Immense potential exists within the plastics collections in discovering untold histories and imagining new plastics futures—my hope is for this exhibit to inspire students to follow their curiosities within this unique resource."
The labor, skills, and perspectives that built this interdisciplinary exhibition were a collaborative effort between Courtney Asztalos, Curator of Plastics and Historical Artifacts; Jana Rosinski, Curatorial Assistant of the Plastics Collection and PhD student in Composition & Cultural Rhetorics; Lynn Wilcox, Design Specialist, Syracuse University Press; Ann Skiold, Librarian for Visual Arts; and Emily Hart, Science Librarian, Research Impact Lead. Exhibition curators also acknowledge the invisible labor and absent voices of those who made the manufactured objects from which the plastics collections were created.
Visit the website for more information about the plastics collections in SCRC at https://plastics.syr.edu/.