POSIT presents: Contemporary Bibliography on March 27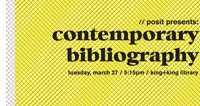 Organizers of POSIT, a digital collection of architectural content compiled by students at the School of Architecture, are hosting an opening reception for its new series, entitled Contemporary Bibliography, on Tuesday, March 27 at 5:15 p.m. in the King + King Architecture Library.
Addressing the importance of having a variety of perspectives and inputs through previous works of practitioners, historians, and theorists, Contemporary Bibliography is a curated collection of influential resources that faculty have deemed important. Title pages of these books and magazine articles will be displayed in a bookcase outside of the King + King Architecture Library for the next several weeks.
During the reception, faculty members will comment on their reasons for suggesting certain titles. Refreshments will be served.
For more information, please contact Barbara Opar at baopar@syr.edu or at 315.443.3518.