Additions and Expansions to the Principal Collection, Spring 2018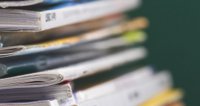 The Libraries' have added many new and expanded resources to the Principal Collection to support your research and teaching.
AustLit: Provides access to information on Australian literature and authors, as part of a collaborative effort by the University of Queensland and numerous institutions. Covers Australian literature and storytelling, with biographies, manuscripts, and articles in full text, along with images, digital exhibitions, and more.
Comprehensive Biomaterials II: A seven volume set on all facets of biomaterials, articles address the current status of nearly all biomaterials in the field, their strengths and weaknesses, their future prospects, appropriate analytical methods and testing, device applications and performance, emerging candidate materials as competitors and disruptive technologies, research and development, regulatory management, commercial aspects, and applications, including medical applications.
IGI Global Teaching Cases: These cases include an executive summary, background information, project description, current status of the case/project, epilogue and lessons learned, additional resources for further research covering real-life examples of global implementation, utilization, and management of Information Science and Technology.
Jewish Studies Source: Provides access to numerous multidisciplinary publications on the study of Jewish civilization, from past to present. Offers full-text articles from journals, magazines and newspapers, as well as books and biographies. Among the subjects covered are Judaism, Jewish history and heritage, mysticism, Kabbalah, and Jewish philosophy.
UC Press Journals: UC Press Journals includes scholarship that spans many topics in the humanities and social sciences. It also includes Case Studies in the Environment, peer-reviewed case study articles, case study pedagogy articles, and case study slides on best practices in the environmental sciences and studies.
New Journal titles:
New ebooks:
For additional information on accessing these resources, please ask us or contact your subject librarian. To suggest a new resource to the Libraries, use the Suggest a Title form.