Resource Spotlight: Academic Video Online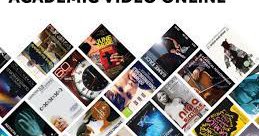 Looking for streaming video? Academic Video Online,  a recent addition to SU Libraries' collections, offers over 63,000  streaming videos from  1889-2017 in a wide range of disciplines and subject areas, including  art and design, business, education, fashion, health sciences, history, politics as well as other  humanities, social sciences, and sciences areas.  Some videos are short and some full-length; genres include documentaries, news stories, television programs, interviews, animations, archival footage, instructional resources, and more. Content is from a number of providers, including the BBC, Bloomberg, Microtraining, PBS, and Universal Pictures, to name a few.
Academic Video Online includes transcripts and options for creating clips and playlists.
This resource is one of several Alexander Street Press products to which SU libraries subscribes. Additional information, and tutorials, are available on the Alexander Street Press Academic Video Online (AVON) guide and the Alexander Street Press product site.
SU Libraries continues to develop video collections, and we welcome feedback regarding video content that will be useful to SU researchers.  Please send suggestions for the collection and comments to Tasha Cooper, Collection Development and Analysis Librarian, Syracuse University Libraries.
Review:
Griffin, D. (2014). Alexander Street Press: Academic video databases. Information Today, 31, 28. Retrieved from https://search.proquest.com/docview/1535262982?accountid=14214.