Resource Spotlight: Oxford Handbooks Online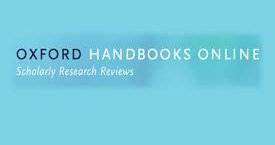 Handbooks are essential resources in the humanities, social sciences, and other academic areas. Oxford Handbooks Online, a new addition to SU Libraries' collections, offers nearly 900 handbook titles published by Oxford University Press from 2004 to the present.
Each handbook offers a thorough introduction to research topics as well as a critical survey of the current state of scholarship in that field. Coverage spans sixteen disciplines, from music, history, and law to archaeology, political science, and religion. Content is browsable by discipline, title, and chapter, and all chapters are full-text searchable. External links to sources cited in the bibliographies of each chapter are included, facilitating easy access to the full text of other related sources.
Access is for an unlimited number of simultaneous users, so these titles are suitable for use as textbooks as well as for individual research. Each chapter is viewable in HTML or is downloadable as a PDF, and static URLs are available for posting in Blackboard reading lists.
Review:
Fisher, J. (2013). Oxford Handbooks Online. Choice, 50(11), 1980. Retrieved from https://search.proquest.com/docview/1400461290?accountid=14214