SparkCharge shares top prize in FuzeHub 2017 Commercialization Competition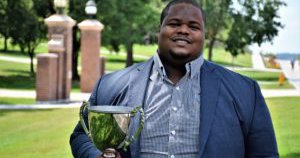 SparkCharge was among the five companies taking top prize in FuzeHub's 2017 Commercialization Competition. A field of seventeen entrepreneurs from across New York State, including SparkCharge founder Josh Aviv, came together in the Capital Region In November to compete for the $250,000 in prize money.
Finalists covered a wide variety of industries, including Clean-Tech, IT, Semiconductor, Bio/Life Sciences, and Energy. Other companies taking home the $50,000 prize were Ferric Contrast: non-toxic MRI contrast agents (Buffalo); NanoHydroChem: proprietary nanomaterial capable of generating hydrogen gas from water on demand. (Buffalo); Potsdam Sensors: field-deployable IOT sensor for accurate sensing of airborne particles. (Potsdam); and Praxis Biotechnology: new rosacea cream that blocks a specific change that occurs in rosacea skin without affecting the rest of the body. (Albany).
FuzeHub is a nonprofit organization that assists small to medium manufacturing companies by matching them with technical and business resources. It is an Empire State Development-designated Manufacturing Extension Partnership, and works with innovation organizations to help ensure that New York State companies are competitive and receive world-class technical expertise.
Josh Aviv, co-founder and CEO of SparkCharge, won grand prize at the Blackstone/Techstars global venture pitch competition in New York City on October 18.  He was also the grand prizewinner in the 2017 New York State Business Plan Competition. He holds two degrees from Syracuse University, a master's degree in information management from the School of Information Studies (2017) and a bachelor's degree in economics from the Maxwell School (2015).
Aviv received early and continued support from the faculty in the iSchool's minor in Information Technology, Design, and Startups, and from the professional mentors in the Syracuse Student Sandbox. He has made full use of the services of the Blackstone LaunchPad in Bird Library and now serves as entrepreneur in residence at the Couri Hatchery in the Falcone Center, Whitman School of Management. His research and development offices are located at the Syracuse Center of Excellence, where he is creating two Syracuse CoE Fellows positions for students who are interested in exploring renewable technologies and energy systems.
Learn more about the FuzeHub competition at: fuzehub.com/competition.