Student Matt Shumer Selected for Blackstone LaunchPad Techstars Summer 2019 Lift Program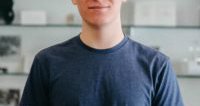 Matt Shumer '22 (Martin J. Whitman School of Management), founder of OptechVR/Visos, is part of an elite cohort of seven university teams from the United States, selected for the Blackstone LaunchPad powered by Techstars LaunchPad Summer 2019 Lift program.
The LaunchPad Lift accelerator program, which kicks off this week, includes one LaunchPad team from Syracuse University (OptechVR/Visos), University of Texas Austin (Via), Cornell University (Antithesis), University of Buffalo (Aviate Audio), University of Central Florida (Ridesurf), Michigan State University (May West), and UCLA (ROSEN).  Participants were selected based a review process conducted by Blackstone and Techstars to assess the strength of each team's business model and concept, coach-ability, and venture stage, as well as the team's passion and ability to work with a Techstars mentor to grow.
Inaugurated this spring, LaunchPad Lift is a personalized mentorship-driven program for LaunchPad student-led ventures, designed to help student-led ventures with their next big steps, whether applying to an accelerator program, raising capital, building a team, or acquiring key customers. At the completion of the intensive 10-week program, each participating student-led venture will receive a $10,000 grant from the Blackstone Charitable Foundation.
"After seeing the tremendous impact from the inaugural Lift cohort earlier this year, we're excited to be offering this unique and powerful startup program once again," said Erica Lock, Vice President at the Blackstone Charitable Foundation. "As the LaunchPad network grows to reaching nearly a million students, we need smaller, more focused programs like this to offer unparalleled network-building opportunities to the nation's top operating collegiate entrepreneurs."
Shumer founded OptechVR/Visos as a freshman and worked extensively with the Blackstone LaunchPad powered by Techstars at SU Libraries to create a product development roadmap and business model to help position the company for strategic partnerships and investment. He was awarded 2019 Syracuse University Student Entrepreneur of the Year at the Panasci Business Plan Competition, and is an officer of SU's student entrepreneurship club.  OptechVR/Visos is building an enterprise scale virtual reality (VR) platform that is accessible, easy-to-use, and affordable.  He is currently recruiting electrical, mechanical and software engineers to build out his team.
"I am so impressed by the LaunchPad Lift program," said Shumer.  "It is amazing to have such personalized access to world class Techstars mentors who can help me craft milestones and refine my commercialization strategy.  This is a unique opportunity to work with global experts, and leverage the power of this incredible network, while still working with Syracuse University campus program.  This partnership will truly accelerate momentum this summer."
Shumer was also selected by the Syracuse LaunchPad to participate in the recent Blackstone LaunchPad powered by Techstars Startup Weekend.  He was part of a cohort of 70 student attendees representing 20 universities from six states and two countries. Upon completion of that program, he earned the title "Student Entrepreneur in Residence" and is now empowered by Techstars to lead campus Startup Weekends.  Shumer is working with SU's LaunchPad to create the first ever Blackstone – Techstars Startup Weekend at Syracuse University, September 20 – 22 at SU Libraries.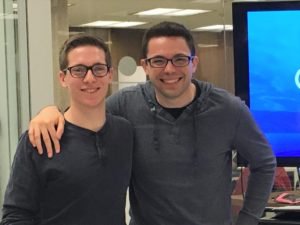 Matt Shumer '22 (left) coached by SU Blackstone Techstars alumnus AJ Damiano '18, founder of Power-Spike
About the Blackstone LaunchPad powered by Techstars at Syracuse University Libraries:
The Blackstone LaunchPad in Bird Library is Syracuse University's innovation hub, connecting the entire University's resource-rich ecosystem with a global network that provides support for aspiring entrepreneurs, inventors and creators. The program serves faculty, staff, students, and alumni across disciplines who are interested in venture creation and taking ideas for products, services or technologies from concept to commercialization. The program prepares participants to be trailblazers in an entrepreneurial world.