Libraries and Department of Chemistry collaborate on chemical composition of Plastics Artifacts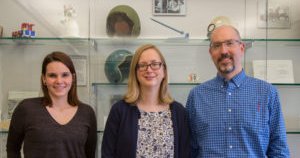 Syracuse University Libraries has collaborated on a first-of-its-kind project between the Special Collection Research Center (SCRC) and the Department of Chemistry. Courtney Asztalos, the Libraries' Plastics Pioneers Curator of Plastics and Historical Artifacts, partnered with Syracuse University Chemistry Professor Dr. Timothy Korter to investigate the chemical composition of objects from the Plastics Artifacts Collection, located on the 6th Floor of Bird Library. Along with Professor Korter, Dr. Mary Boyden and Chemistry PhD candidate Elyse Kleist created the Syracuse Chemistry of Artifacts Project (SCOAP) to use Raman spectroscopy to analyze plastic items from the Plastics Artifacts Collection. Raman spectroscopy is a non-destructive technique using a laser beam to enhance knowledge of the chemical composition of plastics. This information is critical to the Plastics Artifacts Collection's conservation, preservation, and curation.
In addition to the benefit to the Libraries, the collaboration is also providing a research opportunity for the Chemistry Department. With a solid foundation now in place through the creation of a comprehensive reference database of known plastics and formation of research protocols, the SCOAP team has set the stage for undergraduate students to engage in undergraduate research beginning in the fall of 2019. "It is magnificent to see the plastics artifacts being utilized in new and exciting ways, especially in contributing to SCOAP's chemical research," said Courtney Asztalos, Plastics Pioneers Curator. In the fall 2019, students enrolled in CHE450 (Introduction to Chemical Research) will work alongside Prof. Korter and Dr. Boyden on the project as part of their American Chemical Society certified degrees. They will use Raman spectroscopy to identify the chemical composition of items in the Plastics Collection and will also work with Libraries staff to understand the historical and cultural value of important plastics artifacts. "From a chemistry perspective, this is an outstanding example of applying rigorous analytical chemistry techniques in a real-world scenario where the students can immediately see the positive impact of their investigative work," said Dr. Korter.
"We are delighted to partner on this innovative research project," added David Seaman, Dean of Libraries and University Librarian, "which combines skills and materials from the Special Collections Research Center with faculty and student expertise, and which adds to our knowledge of important items in our collections to benefit future research. This is exemplary of the kind of work an R1 research university is engaged in."
This initiative was made possible through financial support from Invest Syracuse and the Department of Chemistry for the purchase of a portable Raman spectrometer, microscope, computer, and supplies, as well as SU Libraries for project space and the purchase of modern polymer reference samples that were used to create a plastics reference library. Members of the Plastics Pioneers Association also donated reference samples to SCOAP's plastics reference library.
For additional information, visit SCOAP website at https://tmkorter.expressions.syr.edu, Plastics Artifacts Collection, or SCRC website.