Syracuse University Teams Continue Winning Streak at 2019 New York Business Plan Competition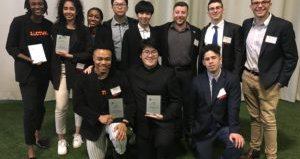 Syracuse University teams sustain highest level of success in the history of the state competition
Syracuse University student teams competed in the 10th annual New York Business Plan Competition (NYBPC) organized by Upstate Capital Association of New York on April 26 in Albany and came home with five prizes. This is the most of any university at the 2019 event.  Syracuse University teams captured five awards in 2018, and in the 2017 competition S.U. teams won the top prizes in four categories, along with the grand prize.  No other university has achieved this level of sustained success in the history of the state competition.
This year's competition featured nearly 100 student-led teams at the event on Friday, April 26. Cash prizes were awarded in six tracks, with winners selected by a panel of venture capitalists, angel investors, investment bankers, business leaders and seasoned entrepreneurs.
Syracuse University winners included:
$10,000 first place in technology and entertainment category: Our Song, , a company that writes custom songs for couples who want unique wedding songs based on their story, Molly D'Agostino (College of Law '19);
$2,500 second place in ag-tech and food category: FEI Technology, an online food platform focused primarily on Asian cuisine, Chenghao Zhang (Whitman '21), Yongqian Wen (iSchool '22), Yijie Huang (Whitman '21), Yangdi Jiang (Whitman '21), and Tianni Xu (Whitman '20);
$1,000 third place in technology and entertainment category: CLLCTVE, a platform that develops college creatives and delivers creative solutions to brands, Kelsey Davis (Newhouse '19) and Ryan Williams. This team also won the $2,000 Minority and Women-Owned Business Enterprise (MWBE) excellence award;
$2,000, MWBE excellence award, PAANI, a clean water filtration solution for low-income communities in India, Nikita Chatterjee (Whitman '20) and Brianna Howard (Falk '20).
The NYBPC regional qualifier was organized by the Syracuse University Libraries' Blackstone LaunchPad, whose staff also accompanied the teams to Albany.
"The Blackstone LaunchPad provided business planning expertise, mentorship, collaboration space and pitch guidance to teams," said Dean of Libraries David Seaman. "Strong showings over three years demonstrates the impact this Libraries service has had since it cut the ribbon in April 2016."
For more information about the NYBPC: https://www.nybpc.org/