Syracuse's InVenture winners, Elizabeth Tarangelo '19 and Kayla Simon '19, advance to ACC finals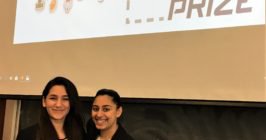 Elizabeth Tarangelo '19 and Kayla Simon '19 will represent Syracuse University at the Atlantic Coast Conference (ACC) InVenture Prize Competition on April 5-6 at the Georgia Institute of Technology. Co-founders of In-Spire, a patent-pending bracelet that can work as a wearable asthma inhaler, they were selected as the top team from among eight finalists in a campus qualifier held on February 16.
The competition was coordinated by the Blackstone LaunchPad at Syracuse University Libraries. The teams pitched novel ideas for products, services, and technologies to a panel of judges with expertise in law, finance, marketing, design, product development, and social enterprise.
Tarangelo and Simon, College of Engineering and Computer Science majors, also took first place at the 2017 Invent@SU competition in New York City, and won the 2017 Impact Prize Competition. They developed their prototype at the Invent@SU invention accelerator this past summer and worked on their path to commercialization this academic year.
Farm to Flame, founded by William Lee Mendes McKnight '18, winner of the campus Hult Prize competition, was selected as Syracuse University's alternate for the April ACC event.
The ACC's 15 member universities come together once a year for the ACC InVenture Prize, with top student innovators competing "Shark Tank"-style before a live audience and panel of expert judges at an ACC campus.  At the April event in Atlanta, the top ACC team will win $15,000, the second-place team will receive $10,000, and $5,000 will go to the fan favorite, based on live text voting during the PBS-televised show. Five finalists will be selected in a semi-final round April 5 to compete in the televised finals on April 6.
In-spire will face off against teams from Boston College, Clemson University, Duke University, Florida State University, Georgia Institute of Technology, North Carolina State, University of Notre Dame, University of Louisville, University of Miami, University of North Carolina Chapel Hill, University of Pittsburgh, University of Virginia, Virginia Polytechnic Institute & State University and Wake Forest University.
Other finalists for the recent Syracuse University campus qualifier were:
Anything but Beer: team leader Brittany Berry (VPA), for a line of gluten-free alcoholic craft beverages;
Com Energy: team leader Tyler Vartabedian (Engineering & Computer Science), for a highway barrier-mounted vertical axis wind turbine to provide clean energy;
Drop Top: team leader Jason Kuperberg (Arts and Sciences) for a drip irrigation utilizing REVLAR, a waterproof, tear-proof, durable paper-thin material;
Farm to Flame: team leader William Lee Mendes McKnight (Arts and Sciences), for a biomass combustion system that can be used to power micro-grids in rural communities living in energy poverty;
Fibre Free: team co-leaders Serena Omo-Lamai and Charles Keppler (Engineering & Computer Science), for a laundry ball that traps microfibers, preventing them from entering aquifers and the atmosphere;
ModoScript: team leader David Zuleta (Arts and Sciences), for a Pill-Safe Digital Health System to address overdosing and underdosing;
WAYV: team leader Julia Dorie Haber (S.I. Newhouse School of Public Communications), for an immersive pop-up unit that will revolutionize the way brands interact with college students.
"Syracuse University continues to gain recognition for the number of students here who are engaged in innovation and entrepreneurship," said Vice Chancellor and Provost Michele Wheatly. "The ACC InVenture Prize competition is another great opportunity to showcase their good work at the national level. Congratulations to the In-Spire team who will proudly represent Syracuse at the finals—and to all the students who participated."
"I'm delighted that the Blackstone LaunchPad at SU Libraries coordinated this campus-wide competition and provided extensive coaching and mentoring to the competitors," said Dean of Libraries and University Librarian David Seaman. "We are very impressed by the strong and diverse slate of innovations that were developed by Syracuse University students."
"We are incredibly proud of Kayla, Elizabeth, and all of the students who participated in the ACC InVenture Prize competition," said Dean of Engineering and Computer Science Teresa Abi-Nader Dahlberg. "It is particularly exciting to see students who completed the Invent@SU invention accelerator program continue to be recognized as innovators. The skills they developed in Invent@SU—to design, prototype, and pitch a novel device—were on full display in this competition. I encourage all students to follow their example and take advantage of the resources offered by the Blackstone LaunchPad, Invent@SU, and the entire entrepreneurial ecosystem at SU."