Thrive Together Fair celebrates Syracuse's cultural diversity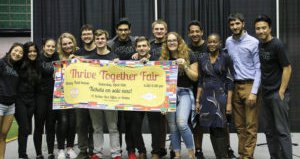 Thrive at SU, a registered student organization based in the Blackstone LaunchPad in Bird Library, is hosting its second annual Thrive Together Fair on Saturday, March 3, 11 a.m. to 2 p.m. in the Goldstein Auditorium at the Schine Student Center. Tickets are $7 and are on sale now at the Schine Box Office. A $10 ticket option includes $3 that is donated directly into the transportation fees for New American families attending the event.
Hosted by Student Association president James Franco and vice president Angie Pati, the Thrive Together Fair is an interactive event that features performances and speakers from campus and community, in a celebration of cultural diversity. The event will feature Olive Sephuma, director of the Center for New Americans, and Nada Odeh, an SU graduate student from Syria. A variety of cuisines from around the world will be available.
Thrive at SU is the student organization affiliate of Thrive Projects, a nonprofit that works with underserved and vulnerable communities around the world. The organization works to bridge the gap between the SU student body and the local Syracuse community by collaborating with local nonprofits that serve marginalized communities in Syracuse.
Each year, Thrive at SU partners with a nonprofit to raise awareness for the organization's mission and work. This year, Thrive at SU is again working with InterFaith Works and its Center for New Americans, which provides resettlement and post-resettlement services to help refugee families reestablish their lives and overcome the barriers to successful integration in their new communities. All proceeds from the 2018 Thrive Together Fair will be donated to InterFaith Works.
"Thrive at SU firmly believes that the strength of Syracuse is rooted in both its diversity and sense of togetherness," said Thrive at SU president Amanda Chou. "Thrive at SU recognizes the important role that refugees play in the community and hopes this event will serve as a reminder that we are at our best when we face times of struggle together."
Communication Access Realtime Translation (CART) will be available. If you need an accommodation in order to fully participate in this event, please contact Amanda Chou at aychou@syr.edu.